U.S. Serviceman's Son Is Latest Threat to Abe's Trump Strategy
(Bloomberg) -- The guitar-playing son of a U.S. serviceman could become the latest obstacle in Japanese Prime Minister Shinzo Abe's efforts to keep his relationship with President Donald Trump on an even keel.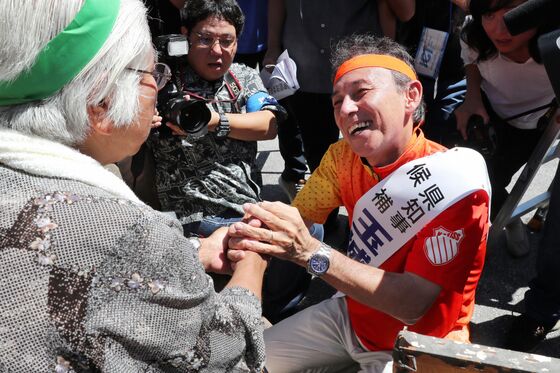 Former disc jockey Denny Tamaki is running for governor of Okinawa, the southern island chain that bears the brunt of the U.S. military presence in Japan, in a Sept. 30 election.
If elected, the 58-year-old -- fathered by an American military man he never met, and raised in Okinawa by his Japanese mother -- has vowed to block the construction of new runways for the U.S. Marines. Japan's government has struggled to build them for two decades, amid outcry from a local population that says the U.S. bases have brought crime, noise, accidents and pollution.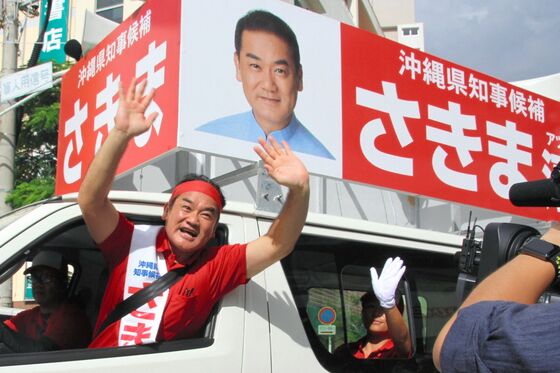 Abe's ruling Liberal Democratic Party and its coalition partner are throwing their weight behind Tamaki's rival, Atsushi Sakima, in a bid to break the deadlock over the base and bolster military ties with the U.S. -- Japan's only treaty ally -- amid lingering concerns over China's growing assertiveness.
As Japan, which relies on the U.S. "nuclear umbrella" as a key component of its national security, bows to Trump's pressure for trade talks, it remains sensitive to his barbs on defense.
"Okinawa is the biggest symbol of the U.S.-Japan alliance," said LDP lawmaker Katsuei Hirasawa. "Japan and the U.S. have a security treaty under which the U.S. will protect Japan and in return Japan provides bases. We are asking Okinawa to provide those bases. That has a great influence on the degree of cooperation with the U.S."
Unnerved by Trump's apparent willingness to turn his back on traditional U.S. allies, the ruling parties are anxious to show that Japan is keeping its end of the military bargain. An opportunity presented itself when anti-base Okinawa Governor Takeshi Onaga, died in August, forcing an election earlier than expected.
"They are afraid that a short-tempered leader like Donald Trump could just say forget it and pull the Marines out altogether" should the project not go forward, said Hiroshi Meguro, research fellow at Hosei University Institute of Okinawan Studies in Tokyo. If Abe's coalition manages to defeat Tamaki, construction on the base could speed up, he added.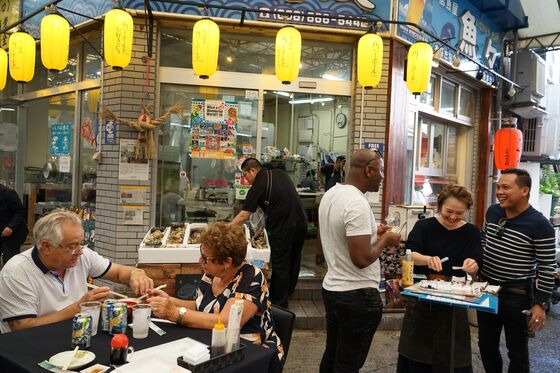 Despite comprising just 0.6 percent of Japan's total land area, Okinawa is home to more than 1.4 million people and welcomed more tourists last year than Hawaii. One of the country's poorest prefectures, it also hosts roughly half of the 50,000 Japan-based U.S. military personnel, a legacy of the postwar occupation that ended in 1972.
At the core of the dispute is the planned move of the Marine Corps Air Station Futenma -- located in the heart of Ginowan city -- to a less heavily populated area.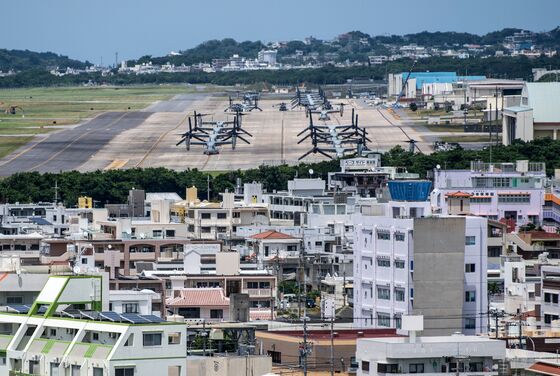 In exchange for closing the facility and freeing the land for development, Japan agreed to allow new runways to be constructed on reclaimed land off the coast at Henoko. Abe agreed in 2016 to suspend work on the project in a bid to end the ongoing battle with the island's government and residents over the issue.
Polls show the relocation is opposed by most Okinawans, who want the base moved out of the prefecture altogether -- or even out of the country. Tamaki and his supporters agree, though many say they are not against Japan's alliance with the U.S.
"We can't allow the base to be built using bayonets and bulldozers, against the will of the people," said Morimasa Goya, chairman of Okinawa-based business conglomerate Kanehide Group, who is campaigning for Tamaki.
Tamaki has said his father returned to the U.S. before he was born. But he grew up fascinated with Western rock music -- hanging around outside bars catering to the military as a teenager just to hear what was being played on the jukebox. He learned the guitar, and videos on YouTube show him playing a Jimi Hendrix cover with his "middle-aged man band."
A national lawmaker, he emerged as a candidate last month after former Okinawa governor Onaga -- who won a landslide victory four years ago -- reportedly named him as a successor in a recording made shortly before dying of cancer. He has since faced both a rushed timeline and the might of Abe's long-ruling LDP and its partners.
A Yomiuri newspaper poll carried out from Sept. 21-23 found he and Sakima were neck-and-neck, though it didn't report percentages.
If Tamaki wins, the base's opponents will dig their heels in, said Keiko Itozaku, an independent upper house lawmaker campaigning for him.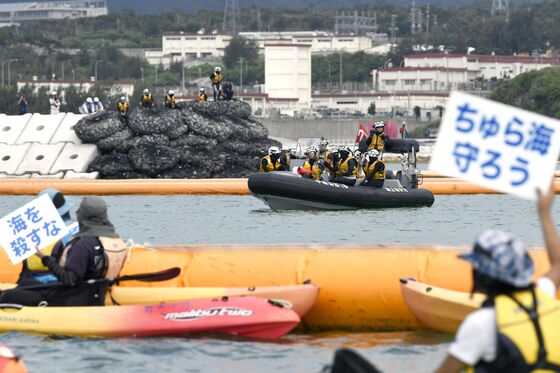 "The people of Okinawa will do anything, they will stage sit-ins, and they will block it," she told Bloomberg News. "They have done this all along and it has prevented the base being built for 20 years."
But a victory for Abe's favored candidate would embolden Tokyo to push ahead with construction by any means at its disposal, she said.
"As Okinawans, all of us would prefer it if Henoko weren't built and the facility could be outside the prefecture or outside the country," said Tetsuji Matsumoto, mayor of the Okinawa town of Urasoe and Sakima's campaign manager. "But our opinions differ on whether that is realistically possible."
He said the decision on the base should be left to Japan's court system, and that local people should seek to make the best use of the returned land. Matsumoto also wants help from Tokyo to improve infrastructure and relieve the congestion that has turned Okinawa into an "island of traffic jams."