U.S. Sanctions Lukashenko's Spokeswoman, Top Prosecutor
(Bloomberg) -- The Biden administration sanctioned the top prosecutor in Belarus as well as President Alexander Lukashenko's top spokeswoman, other associates and a prison where the U.S. alleges Lukashenko's regime has tortured political opponents.
The U.S. Treasury Department announced the moves against Lukashenko's government on Monday, in conjunction with the U.K., EU and Canada. The sanctions come less than a week after President Joe Biden met in Geneva with Russian President Vladimir Putin, Lukashenko's closest ally.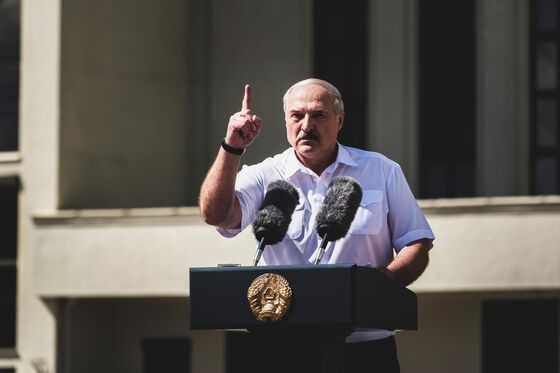 The targets of the sanctions "have harmed the people of Belarus through their activities surrounding the fraudulent August 9, 2020, presidential election in Belarus and the ensuing brutal crackdown on protesters, journalists, members of the opposition, and civil society," Treasury said. The move also is retaliation for Belarus's forced diversion of a Ryanair flight last month carrying a dissident journalist, Raman Pratasevich, who was arrested.
In addition to Lukashenko's press secretary, Natallia Mikalaeuna Eismant, the U.S. also sanctioned Natallia Ivanauna Kachanava, the chairwoman of the Council of the Republic of the National Assembly, the upper house of the country's parliament, and several people and organizations alleged to have been involved in the August election and a violent crackdown on protesters afterward.
They include Andrei Ivanavich Shved, the prosecutor general, who has issued arrest warrants and extradition requests against Pratasevich and other Lukashenko opponents.
The U.S. and other Western nations allege Lukashenko's re-election was fraudulent.