U.S. Sanctions Iran Oil Minister as Trump Ramps Up Pressure
(Bloomberg) -- The U.S. sanctioned Iran's minister of petroleum and some related entities as tensions between the two nations continue to rise in the days before the American presidential election.
The Treasury Department announced sanctions against Minister Bijan Namdar Zanganeh in a statement on Monday, saying Iran uses its oil industry to fund activities of the Islamic Revolutionary Guard Corps and its elite Quds Force.
"The Iranian regime continues to prioritize its support for terrorist entities and its nuclear program over the needs of the Iranian people," Treasury Secretary Steven Mnuchin said in a statement.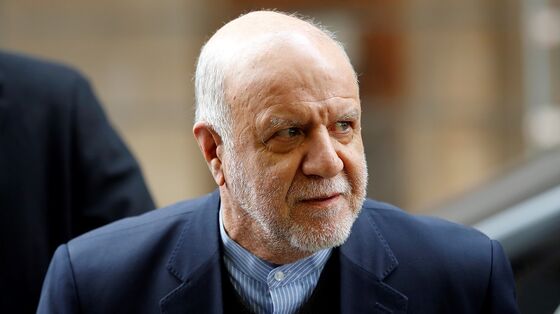 The Trump administration has ramped up its already intense pressure on Iran ahead of the Nov. 3 election, partly to help ensure that a potential Joe Biden administration would find it more difficult to ease sanctions. The U.S. announced sweeping new restrictions on Iran's financial sector this month, as well as blacklisting 18 banks that had escaped earlier sanctions.
In a tweet, Zanganeh dismissed the measures as a sign that President Donald Trump's efforts to eliminate Iranian crude exports had failed and said they wouldn't hamstring the country's oil industry. He added that he does not own any assets outside of Iran and it's unclear whether the designation would affect his attendance at any future OPEC meetings in Vienna.
Monday's move will have little impact on current oil prices, with existing sanctions already keeping most Iranian crude out of the global market. Brent is trading just above $40 a barrel, down about $5 a barrel since late summer as the latest pandemic surge sweeps through Western Europe and the U.S.
Zanganeh is a veteran of Iran's oil sector and widely seen as a skillful technocrat who shepherded the Islamic Republic's revival within OPEC after the 2015 nuclear deal. He is also one of President Hassan Rouhani's most moderate aides.
The architect of the Iranian oil industry's post-sanctions recovery, Zanganeh helped secure several multibillion dollar joint-ventures with foreign investors, including France's Total SA and China National Petroleum Corp., before the Trump era abruptly ended Iran's tentative economic recovery.
Since Trump reimposed sanctions on Iran and sought to cut the country's oil sales to zero, Zanganeh has maintained a strict policy of not publicly discussing Iranian output and production levels and has frequently condemned the U.S. for trying to directly influence and intervene in OPEC policy and decision-making.
Trump has said he thinks Iran will return to the negotiating table after he wins re-election, something Rouhani's government has repeatedly rejected. Biden has signaled he'd be open to talks with Iran if it agrees to return to the terms of the 2015 nuclear accord, which Trump abandoned, and consider a broader agreement.