U.S. Sanctions Bosnian Serb Leader Dodik Over Graft
(Bloomberg) -- The U.S. government sanctioned Bosnian Serb leader Milorad Dodik and a media outlet linked to him for engaging in destabilization and corrupt activities that threaten to split apart Bosnia-Herzegovina. 
For years, Dodik has wanted to pull his Republika Srpska region out of Bosnia and break the power-sharing agreement that's kept the country united in a fragile peace since the 1995 Dayton Peace Accords. 
Frequently name-checking Russian President Vladimir Putin as his long-time friend, Dodik has been ramping up talk of independence for the Serb entity of 1.2 million, or about a third of Bosnia's 3.5 million population. 
Last month, he blocked joint institutions and threatened to pull troops out of Bosnia's military to create a separate force in Republika Srpska. Bosnia is divided into two entities along mainly ethnic lines between Bosnian Serbs, over which he presides, on one side and Muslims and Croats on the other.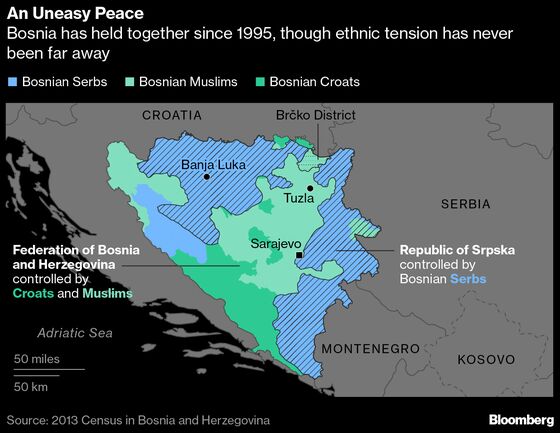 But his activities have drawn criticism from officials in the U.S. as well as the European Union, which has been seeking to engage western Balkan nations into committing to reforms to one day be able to join the bloc.
"Milorad Dodik's destabilizing corrupt activities and attempts to dismantle the Dayton Peace Accords, motivated by his own self-interest, threaten the stability of Bosnia and Herzegovina and the entire region," Under Secretary of the Treasury for Terrorism and Financial Intelligence Brian E. Nelson said in the statement Wednesday. 
The Treasury Department decided to freeze assets in the U.S. belonging to Dodik and an affiliated broadcaster, Alternativna Televizija d.o.o. 
The move comes days ahead of a Jan. 9 meeting between U.S. and Russian officials in Geneva aimed at discussing Putin's demands for binding guarantees on NATO's eastern expansion. 
"The west is looking at Dodik as someone who is too close to Putin," said Zarko Puhovski, a political science professor at the University of Zagreb. "Before major talks, the sides usually don't move their strongest pieces, they move the pawns. The West is trying to show its control and presence in this region."
Read More:
Top Bosnia Envoy 'Strongly Condemns' Serb Autonomy Push
Radovan Kovacevic, Dodik's adviser, said the measures won't change the aims of Dodik or Bosnian Serbs. 
"This has nothing to do with corruption -- it's purely political pressure," Kovacevic said by phone, adding that Bosnia's own institutions had investigated Dodik "countless times" and found nothing. 
Dodik himself appeared defiant, telling local media that the sanctions won't affect him.
"If they think they're are going to discipline me with this, they are hugely mistaken," he said on state television RTS. "I even have new motive to fight for the rights that are being wrestled from us for 26 years."
The war, in which an estimated 100,000 people were killed on all three sides, was stopped by the U.S.-negotiated Dayton agreement. But the peace deal left the country with weak centralized rule and the deep political division has continued well into the 21st century.
Christian Schmidt, appointed by western powers to serve as international envoy overseeing Bosnia, welcomed the sanctions against Dodik as a "logical consequence of the destructive and dangerous attitude."
"If there are political differences, then the way forward is to resolve them through dialog," he said in an emailed statement from his Sarajevo-based Office of High Representative.