U.S. Representatives' Favorite Stocks Date Back to the Gilded Age
(Bloomberg) -- On Capitol Hill, stock selection can be a bit, well, quaint.
While Wall Street loves the Internet behemoths, members of the U.S. House of Representatives are putting a lot of their money into companies that made their way with the telephone and the light bulb.
Apple Inc. was the most widely held stock by lawmakers, no surprise there. But six of the 10 most owned stocks trace their histories to before the turn of the 20th century, according to data collected by Bloomberg Government from annual financial disclosure reports that cover the year 2017.
Only Microsoft Corp. and Apple were founded within the last 50 years. None of the FANG stocks, comprised of Facebook Inc., Amazon.com Inc., Netflix Inc. and Google parent Alphabet Inc., makes an appearance in the top 10.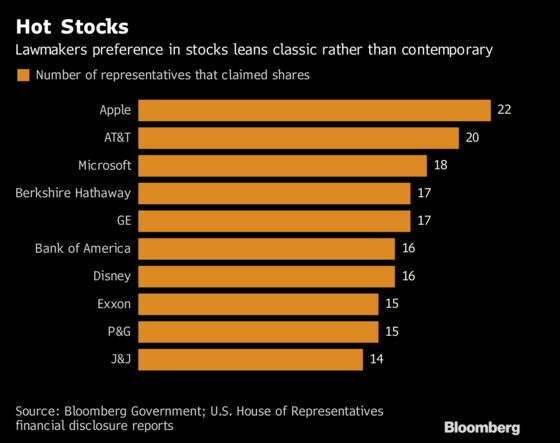 Nancy Pelosi, the Democratic House minority leader, claims the biggest single holding stock positions. Her annual disclosure includes stakes in Apple and Visa Inc. owned by her husband Paul both valued at between $5 and $25 million. (The federal forms allow House members to report the value of stock owned in broad ranges that top out at over $50 million.)
That's not to say lawmakers eschew growth. Their favorite mutual fund is the Growth Fund of America, which counts each of the FANGs among its top 10 holdings. The fund returned 15.3 percent after the sales charge in the year ending Sept. 30, compared to the S&P 500 Index's 17.9 percent during the same period.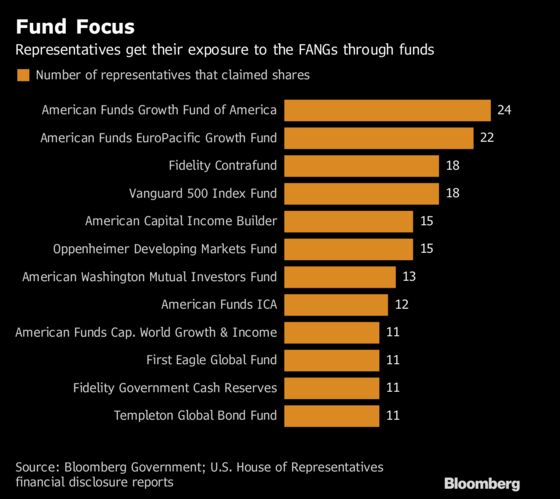 Retiring GOP Representative Darrell Issa claimed ownership in three separate funds that were each valued at over $50 million: First Eagle Global Fund, Principal MidCap Fund and the Victory Sycamore Established Value Fund.