President Sees Trade Deal If U.K. Loses Shackles: Trump Update
(Bloomberg) -- President Donald Trump landed in the U.K. for a three-day state visit at a sensitive time, with rivals jostling to replace outgoing Prime Minister Theresa May. The so-called special relationship is under strain on a range of issues, including Huawei's role in U.K. broadband networks and what to include in a post-Brexit trade deal.
Trump had said he could meet Boris Johnson and Brexit Party leader Nigel Farage during his visit. Johnson hasn't been approached yet
Trump says a trade deal is possible "once U.K. gets rid of the shackles"
Trump calls London Mayor Sadiq Khan a "stone cold loser"
May says NHS should be off table in U.S. trade talks
Trump to urge U.K. government to keep Huawei Technologies Co. Ltd. out of the country's 5G telecoms infrastructure
Protesters prepare "Carnival of Resistance" against Trump on Tuesday
Trump Says Trade Pact Possible Once U.K. Loses 'Shackles'


Trump has spent the first portion of his trip advocating for a potential U.S.-U.K. trade deal, and tweeted on Monday evening that the countries are already starting to talk. A pact is possible once the "U.K. gets rid of the shackles," the president wrote, in an apparent reference to its split from the European Union.
Trump, who has spoken in favor of a hard Brexit, told reporters in Washington on Sunday that "I think there's an opportunity for a very big trade deal at some point in the near future" between the two countries.
Corbyn to Speak at Anti-Trump Rally on Tuesday (5 p.m.)
Opposition Labour Party leader Jeremy Corbyn will speak at the anti-Trump protests on Tuesday, his office said.
There's little love lost between the two men, who have never met. Corbyn made clear before the state visit that he wouldn't attend the banquet with Trump at Buckingham Palace, while the president told the Sunday Times in an interview that the Labour leader was "making a mistake" by not seeking to be on friendly terms with his administration.
Trump also said he'd have to know Corbyn before deciding whether to share intelligence with him.
Politicians React to Trump's Attack on Khan (4:20 p.m.)
There's been plenty of political reaction to Trump's tweet earlier attacking London Mayor Sadiq Khan.
Labour leader Jeremy Corbyn said in a tweet defending Khan that Tuesday's anti-Trump demonstrations would be an opportunity to "stand in solidarity with the those he's attacked America, around the world and in our own country."
By contrast, Conservative member of Parliament Jacob Rees-Mogg called the comments Sunday by Khan -- a member of the opposition Labour Party -- "an absolute disgrace" in an interview with the BBC.
But the reaction hasn't all been along party lines. Health Secretary Matt Hancock, who is running to replace Theresa May as prime minister, told the BBC that while he disagreed with Khan on many issues, "I'm proud that we have the first Muslim mayor of a major Western capital."
"We should respect the office of the mayor of London," Hancock said.
Trump Lays Wreath at Tomb of Unknown Warrior (4 p.m.)
After lunch at Buckingham Palace, Trump and the First Lady were whisked to Westminster Abbey for a visit with Prince Andrew. They laid a wreath of red, white and blue flowers at the tomb of unknown warrior, and then bowed their heads as prayers were said for peace led by the dean of Westminster, John Hall. He included a prayer for good governance.
The grave, which holds the body of an unknown British soldier killed on a European battlefield in World War I, is a potent symbol of the long and close security ties between the two nations. It therefore fits the theme of Trump's visit, which is scheduled around the commemoration of the D-Day invasion -- a key turning point in World War II.
After the unknown soldier was buried in Westminster in 1920, an unidentified American soldier who died on the European battlefields was buried at the Arlington National Cemetery in Virginia the following year. The British warrior has been granted the highest U.S. bravery award, the Medal of Honor, and the U.S. soldier was awarded the U.K. equivalent, the Victoria Cross.
Johnson Not Approached for Trump Meeting (1:30 p.m.)
Boris Johnson hasn't yet received an invitation to meet Trump during his state visit, according to a person familiar with the matter. The U.S. president on Friday said he might meet Johnson and Brexit campaigner Nigel Farage.
On his last visit to the U.K., Trump embarrassed Theresa May by saying Johnson would make a good prime minister, even though he had only just resigned from the government over her Brexit plan.
Trump's Tuesday Agenda (1 p.m.)
While Trump's Monday schedule is dominated by the U.K. royal family, events will turn more political on Tuesday, beginning with a business roundtable before May welcomes the president and first lady to Downing Street.
May and Trump will then hold talks with their delegations in the Cabinet Room, followed by lunch at the State Dining Room and a joint press conference. The two will then have a private tour of the Churchill War Rooms.
In the evening, Trump will host a banquet at Winfield House, residence of U.S. ambassador to the U.K., which May will also attend.
Spokesman Denies Trump-May Meeting Dropped (12:30 p.m.)
A Downing Street spokesman denied a BBC report that a planned one-to-one meeting between May and Trump had been dropped from the schedule. While the two will meet on Tuesday in the Cabinet room with their delegations, there are no plans for private talks.
"These are always how the discussions take place with any leader," May's spokesman, James Slack, told reporters in London. Foreign Secretary Jeremy Hunt will be among the officials at the meeting on the U.K. side, he said.
Slack did say, though, that there will be some one-to-one moments during the visit, including when May takes Trump on a tour of the Churchill War Rooms on Tuesday.
Trump Arrives at Buckingham Palace (12:15 p.m.)
Trump's state visit began with an official welcome by Queen Elizabeth, Prince Charles and the Duchess of Cornwall at Buckingham Palace, together with a royal gun salute from nearby Green Park. The Queen then hosts a private lunch, after which they'll view a collection of items from with historical significance to the U.S.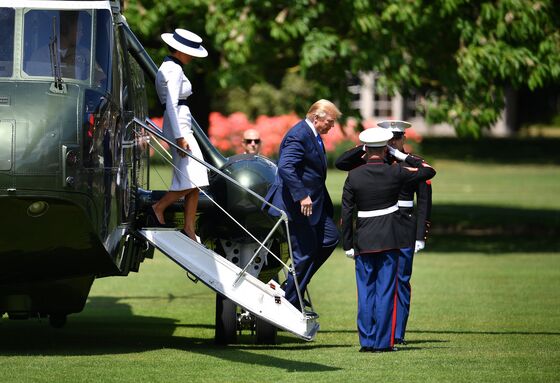 This afternoon, the president and First Lady Melania Trump visit Westminster Abbey with the Duke of York to lay a wreath at the grave of the Unknown Warrior. They'll join Prince Charles and the Duchess of Cornwall for tea at Clarence House later.
This evening, the state banquet will begin with speeches from the Queen and the president. U.K. government attendees include Prime Minister Theresa May, her de facto deputy David Lidington, Foreign Secretary Jeremy Hunt, Chancellor of the Exchequer Philip Hammond, Defence Secretary Penny Mordaunt and Environment Secretary Michael Gove.
May Agrees NHS Must Be Off Table in Trade Talks (11:50 a.m.)
Prime Minister Theresa May agrees with Foreign Secretary Jeremy Hunt's comments (see 8:25 a.m.) that the U.K.'s state-funded health service should be off the table in any trade talks with the U.S.
Briefing reporters in London, James Slack said the prime minister will discuss trade during Trump's visit this week, and May is looking forward to a "deepening" relationship with the U.S. -- but that the National Health Service was not up for grabs in any negotiations.
The focus on the NHS comes after U.S. ambassador to the U.K. Woody Johnson told the BBC on Sunday that the "entire" U.K. economy would be on the table. The NHS is a much-loved institution which regularly comes near the top of British voters' priorities, amid fears it is under threat from privatization.
Trump Backs Brexit That Won't Affect Stability (11:25 a.m.)
The White House said in a statement Monday that Donald Trump supports a Brexit that doesn't affect global economic stability "while also securing independence to the United Kingdom." It also referred to "expanded trade and economic cooperation" between the U.S. and U.K. after Brexit.
"As the United Kingdom continues to work toward a plan to leave the European Union, the United States pledges to maintain a strong relationship with both," the statement read. "The United States will continue to prepare for all outcomes and coordinate with governments, financial institutions, and international bodies to protect its interests."
The statement also referred to U.S.-U.K. cooperation on Iran, China and on the Korean peninsula.
Trump's History With London Mayor Khan (10 a.m.)
Trump's tweet against Khan (see 9 a.m.) is just the latest in a long-running spat between the two leaders. In 2016, Trump said Khan's views on Islam -- Khan is the first Muslim mayor of a Western capital -- were "ignorant." A year later, he called the mayor's response to the deadly London Bridge terrorist attack "pathetic."
Khan has said Trump isn't welcome in London and called for the offer of a state visit to the U.K. to be rescinded.
In an editorial in the Guardian newspaper over the weekend, Khan wrote: "Donald Trump is just one of the most egregious examples of a growing global threat. The far right is on the rise around the world, threatening our hard-won rights and freedoms and the values that have defined our liberal, democratic societies for more than seventy years."
Trump Lands, Tweets Against London Mayor Khan (9 a.m.)
President Donald Trump landed at the U.K.'s Stansted Airport at 8:56 a.m. to be met by U.K. Foreign Secretary Jeremy Hunt, as well as U.S. ambassador to the U.K. Woody Johnson.
He managed to stir controversy even While Air Force One was still in the air, tweeting that London Mayor of London Sadiq Khan -- with whom he has a long-running dispute -- a "stone cold loser who should focus on crime in London, not me."
Hunt: Won't Use Huawei to Share Intelligence (8:25 a.m.)
Foreign Secretary Jeremy Hunt told BBC Radio that the government takes "careful notice" of "everything" the U.S. says around the use of Huawei technology in telecommunications networks. He said the U.K. hasn't made a final decision on whether to use Huawei, and it's mindful not to be "technologically over-dependent on a third country for a vital technology."
"We've been very clear from the outset that we wouldn't take any decisions that affect our intelligence sharing," Hunt said. "Huawei equipment would never be involved in" intelligence-sharing channels.
The foreign secretary also said a trade deal with the U.S. represents a "very, very big opportunity," noting that both sides will have red lines. In the U.K., he said, that means the National Health Service. "The ownership of the NHS and NHS services, I can't imagine that ever being part of trade talks."
Hunt flagged international issues including Iran, Yemen and the Russian use of cyberspace to destabilize Western countries. "In all these issues, if the U.K. and USA work together, we can achieve real results," he said.
Trump May Meet With Farage, Johnson During Visit (Earlier)
There's still an open question as to whether Trump will meet with Brexit Party leader Nigel Farage and the favorite to succeed May, Boris Johnson, during his visit.
While meeting Johnson might be considered political meddling, given there are 12 other candidates to replace May, and meeting Farage would be undiplomatic, given he's a fierce opponent of the ruling Tories, those considerations aren't likely to trouble Trump, who on Thursday said he may meet them.
Over the weekend, Trump told the Sun newspaper that Johnson would make an "excellent" prime minister. And the Sunday Times reported his advice to Britain that Brexit Party leader Farage be appointed to negotiate Britain's departure from the European Union.
Tory Leadership Race Weighs in on Huawei Decision (Earlier)
Both Home Secretary Sajid Javid and Foreign Secretary Jeremy Hunt offered strong hints on Sunday that they wanted to block China's Huawei Technologies Co. Ltd. from U.K. telecommunication networks, as sought by U.S. President Donald Trump.
"I would not want any company, whichever country it's from, that has a high degree of control by a foreign government to have access to our very sensitive telecommunications network," Javid told the BBC. On the question of security, Hunt told CBS: "We'd never take a decision that affected our intelligence sharing capability with the U.S."