U.S. Steps Up Pressure on Germany Over Huawei Security Concerns
(Bloomberg) -- President Donald Trump's administration is stepping up pressure on Germany over security concerns tied to China's Huawei Technologies Co. as Chancellor Angela Merkel's government prepares an auction for ultrafast 5G wireless networks.
A U.S. delegation met on Friday with German counterparts in the Foreign Ministry in Berlin to discuss risks posed by the Chinese company, according to people with knowledge of the talks who asked not to be identified because the matter is private. The American officials used the closed-door talks to raise their concerns about Huawei's role in expanding Germany's 5G network. The auction is scheduled for next year.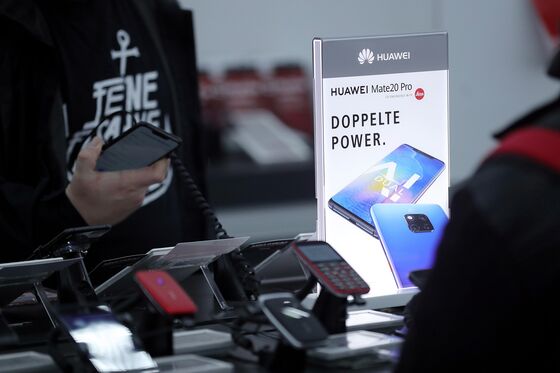 U.S. officials are optimistic that their warnings are getting a hearing, though any detailed talks are in early stages and no concrete commitments have been made, according to one of the people.
The U.S. pressure on Germany underscores increased scrutiny of Huawei as governments grapple with fears that the telecom-equipment maker's gear is an enabler for Chinese espionage. The Berlin meeting took place a day after German carrier Deutsche Telekom AG said it will re-evaluate its purchasing strategy on Huawei, an indication that it may drop the Chinese company from its list of network suppliers.
German officials have become increasingly wary of the prospect of Huawei supplying 5G equipment. Merkel's coalition government is looking at potential modifications to rules and standards that would affect the Chinese company, though it hasn't yet arrived at a consensus, people familiar with the talks said earlier this month.
U.S. representatives have previously held talks -- including with German lawmakers -- to warn about Huawei's surveillance operations. Germany currently has no legal basis to partially or fully exclude Huawei from supplying equipment for 5G, a technology that will enable users to download full-length films in a matter of seconds.
France is also raising its defenses, including adding items to the French government's "high-alert" list that tacitly targets Huawei. The Chinese company is confronting bans in the U.S., Japan, Australia and New Zealand.
U.S. warnings over espionage are a delicate matter in Germany. Revelations over the scale of the National Security Agency's signals intelligence, including reports of tapping Merkel's mobile phone, are still fresh in Berlin five years after they came to light.
Huawei is pushing back against the accusations. The company's rotating chairman warned this week that blacklisting the Chinese company without proof will hurt the industry and disrupt the emergence of new wireless technology globally. Ken Hu, speaking at a Huawei manufacturing base in Dongguan, cited "groundless speculation,'' in some of the first public comments since the shock arrest of the company's chief financial officer.