U.S. to Call for UN Security Council Meeting on Venezuela
(Bloomberg) -- The U.S. called for a United Nations Security Council hearing Tuesday on Venezuela, according to a Security Council diplomat, after a weekend of deadly clashes raised questions about the opposition's next steps in its efforts to oust President Nicolas Maduro.
The meeting, expected to take place at 3 p.m. New York time, comes after Vice President Mike Pence's visit on Monday to Bogota, where he met with Venezuelan opposition leaders and representatives of allied governments from Latin America and Europe.
After a failed effort over the weekend to deliver humanitarian aid over the Colombian-Venezuelan border, the U.S. is renewing efforts to pressure the council to call for free elections in Venezuela. The U.S. circulated a draft resolution earlier this month calling for the "immediate start of a political process leading to free, fair, and credible presidential elections."
Diplomats from Russia -- which has backed Maduro's government -- have crafted their own resolution expressing concern over threats of force and voicing support for Venezuela's political independence.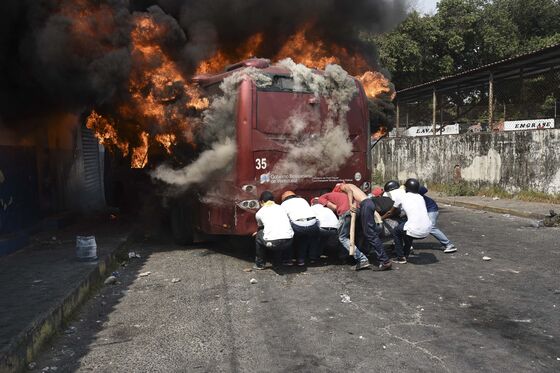 The Tuesday meeting could face a procedural hurdle requiring nine votes in favor, but the last meeting the U.S. called regarding Venezuela in late January yielded the necessary votes to move forward.
Venezuelan National Assembly leader Juan Guaido said in a tweet Feb. 23 that "all options" should be considered to liberate Venezuela, echoing similar comments by President Donald Trump. The U.S. and more than 50 other governments recognize Guaido as Venezuela's interim president, and are calling for Maduro to step down.