U.S. Concerned About Chinese Yuan's Recent Drop, Official Says
(Bloomberg) -- The Trump administration is concerned about the Chinese yuan's depreciation as the Treasury Department weighs whether to name China a currency manipulator in a report due out next week, a senior Treasury official said Monday.
Treasury Secretary Steven Mnuchin has faced pressure from the White House to formally designate China a currency manipulator in the report. The yuan has tumbled 9 percent against the dollar in the last six months in one of Asia's worst performances, raising speculation that China has been deliberately weakening its currency as trade tensions with the U.S. have escalated.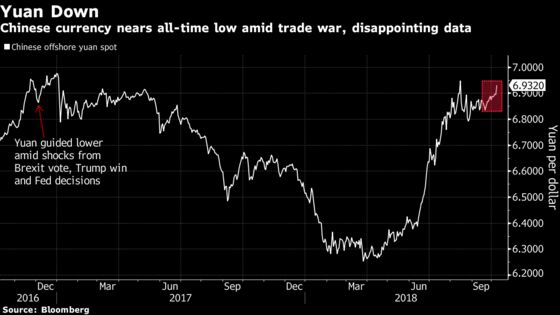 The senior official said the U.S. is closely monitoring the Chinese currency and is concerned about the recent depreciation. The official didn't provide further elaboration.
The official was responding to a question during a briefing ahead of a visit Mnuchin will make this week to Bali, Indonesia, for a meeting of finance minsters and central bankers under the auspices of the International Monetary Fund and World Bank. The official briefed reporters under condition of anonymity.
The U.S. accusation was followed by the lowest yuan daily fixing in more than a year on Tuesday, with the central bank setting the reference rate weaker than 6.9 per dollar for the first time since May 2017.
Declaring China to be a currency manipulator wouldn't trigger any sanctions or other U.S. penalties, but it would escalate trade tensions, would likely upset markets and could pave the way for other actions down the road.
Under a 1988 law, the Treasury is required to report to Congress twice a year on international economic conditions and exchange-rate policies. The Treasury must enter direct talks with a country deemed to be manipulating its currency, and also seek redress through the IMF. The last country labeled a manipulator was China, in 1994.
Markets don't need to worry too much on recent yuan fluctuations, and the yuan is still relatively strong because the dollar has strengthening quickly, PBOC adviser Liu Shijin wrote in an article published on the state-run Economic Daily on Monday.
President Donald Trump accused China and the European Union of manipulating their currencies in a July tweet, saying the move are "taking away our big competitive edge."