U.S. Sends Team to Haiti While Holding Off on Troop Request
(Bloomberg) -- The U.S. is reviewing Haiti's request for American troops to help stabilize the country after the assassination of President Jovenel Moise, a Pentagon spokesman said, even as the Biden administration signaled its wariness to provide forces.
The U.S.'s priority is to help Haiti's government investigate the circumstances of last week's assassination, Defense Department John Kirby said on "Fox News Sunday." A team including Department of Homeland Security and FBI officials is headed to Haiti on Sunday for that purpose, he said.
A senior official in President Joe Biden's administration said Saturday there are no plans for U.S. military assistance for now to Haiti, where gang violence, natural disasters and the coronavirus have taken their toll on the hemisphere's poorest nation.
"We are aware of the request by the Haitian government" for U.S. troops, Kirby said. "We're analyzing it, just like we would any other request for assistance here at the Pentagon. It's going through a review. I'm not going to get ahead of that process."
The crisis in Haiti has coincided with the final phase of the U.S. withdrawal from Afghanistan after almost 20 years, which Biden defended in a speech on Thursday. The request for U.S. troops to protect Haitian infrastructure and prepare for planned elections came during a conversation Wednesday between interim Prime Minister Claude Joseph and U.S. Secretary of State Antony Blinken.
Kirby said "our energies are best applied right now" to helping Haiti's government "get their arms around exactly what happened."
"I don't know that we're at a point now where we can say definitively that our national security is being put at risk by what's happening there," he added.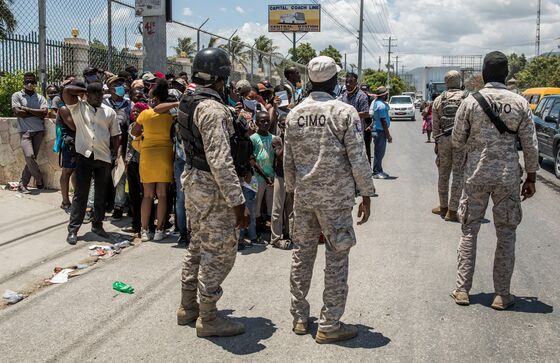 Haitian police say Moise was killed by a hit team led by retired Colombian soldiers, and that they have detained 19 men in connection with the attack. It remains unclear who ordered the assassination.
The FBI and Homeland Security officials will be sent to Port-au-Prince to "assess the situation and how we may be able to assist," White House press secretary Jen Psaki said Friday.
The State Department remains in regular contact with Haitian officials to discuss how the U.S. can help, according to a department spokesman. The administration official and the spokesman both requested anonymity discussing diplomatic conversations.