U.S. Goes AWOL at Davos as Global Role Fades
And then there were none. President Donald Trump's decision to pull the U.S. political delegation from Davos after cancelling his own attendance shows the impact of the government shutdown spreading beyond domestic affairs.
Officials from Brazil to Japan to Germany will no longer have the opportunity to meet U.S. counterparts at the World Economic Forum in the Swiss Alps, a gathering that also brings together top executives. Diplomacy suffers as a result.
The Chinese, led by Vice President Wang Qishan, won't see the likes of Treasury Secretary Steve Mnuchin, a missed chance to tamp down a trade war that's become one of the biggest threats to global economic stability.
Trump may be seeking to manage the optics of U.S. officials travelling the world – he denied House Speaker Nancy Pelosi a military plane for a trip to Afghanistan – as the shutdown heads toward the one-month mark, leaving government agencies shuttered and workers without pay.
But it's also another sign of his administration disengaging from the world. In Davos it hands the stage to the Chinese, who have used the forum before to tout values that Trump criticizes, such as globalization. And it denies allies a chance to coordinate with the U.S. on key issues.
Trump may say he's saving the U.S. government money, but at what cost?
The World Economic Forum begins on Tuesday. This year we'll bring you minute-by-minute, real-time coverage that you'll be able to follow on our website.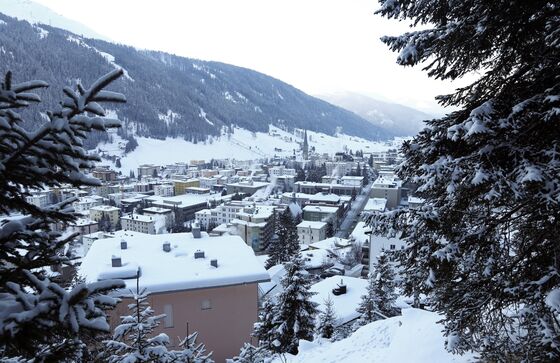 May stumbles | Theresa May's latest bid to end the Brexit deadlock is off to a bad start, with opposition leader Jeremy Corbyn refusing to enter talks unless she rules out leaving the EU with no deal. May called that "impossible," but with both Corbyn's Labour and her Conservatives facing splits over Brexit, there's no clear way forward. May canceled her Davos trip to handle the crisis. The uncertainty has put Britain's factories on a wartime footing, Alex Morales and Joe Mayes write, stockpiling everything from aircraft parts and tinned food.

What Kim wants | A top North Korean official's visit to Washington today is the strongest sign yet that Trump and Kim Jong Un are on the verge of announcing a second summit. The question, Youkyung Lee and Nick Wadhams write, is what's Trump willing to give up to break the deadlock in nuclear talks. Kim's agenda ranges from restarting economic projects frozen by sanctions to formally ending the 1950-53 Korean War to weakening the U.S.-South Korean military alliance.

Salvini's ambition | The ambitions of Italian populist Deputy Prime Minister Matteo Salvini for the European elections in May risk upsetting the fragile governing coalition because a good result may prompt him to call a snap election. Salvini and his allies staged a joint press conference last night to push back on rumors their relationship is on the slide.

New kingmakers | Shunned for centuries, India's lowest caste is now rising up. At close to a sixth of the population, Dalits form a crucial swing vote politicians can't afford to ignore. Fueled by anger over increasing violence and demanding better treatment, this 200-million-strong community could be a threat to Prime Minister Narendra Modi's bid for a second term.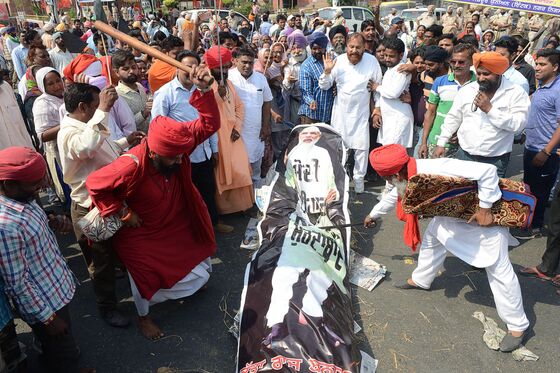 Troubled technology | 5G wireless technology will revolutionize transportation and manufacturing by allowing a myriad of devices to communicate instantly via millions of antennas. It'll also create potential openings for bad actors, which helps explain tensions between Huawei and the U.S. as the Chinese tech giant seeks a global leadership role in 5G. U.S. officials suspect that would help Beijing spy on other governments.
- Read more on Huawei CFO Meng Wanzhou, under house arrest in Canada.
- Canada is conducting a security review of 5G, but a decision on whether to restrict Huawei is some time off. U.K. authorities believe Huawei has failed to improve its devices and software – putting national security at risk.
The Democratic Republic of Congo's top court is due today to consider opposition leader Martin Fayulu's bid to overturn the outcome of last month's presidential election, a day after the African Union called for a delay of the final results proclamation because of "serious doubts" about their veracity.
California Senator Kamala Harris's decision to break with fellow Democrats last year and oppose a deal that allowed funding for Trump's border wall may help her stand out in a crowded 2020 presidential field, Sahil Kapur writes.
Click here for our roundup of the political week in photos

And finally... On a normal day, Kevin Kilps's commuter ferry vies for space with cargo barges as it navigates Germany's Rhine. But the bustling traffic at one of river's shallowest points ground to a halt for nearly a month late last year following a prolonged summer drought. The loss of a critical transport artery created a drag on growth, the latest sign that even advanced economies are increasingly battling the effects of global warming.