Mexico's New Government Says No Deal With U.S. on Asylum Seekers
(Bloomberg) -- Mexico's incoming government said no deal has been reached with the U.S. on the treatment of migrants attempting to cross into the U.S. from Mexico, pushing back on reports that such an agreement has been made -- even as a busy border crossing was closed Sunday.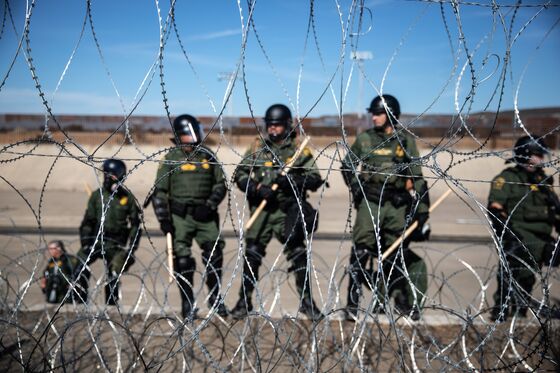 U.S. border officials temporarily closed the San Ysidro port of entry between Tijuana and San Diego, one of the busiest border crossings in the world, "to ensure public safety." U.S. agents shot several rounds of tear gas at migrants after some tried to breach a fence, leaving children screaming and coughing, the Associated Press reported.
An estimated 8,200 migrants from the so-called caravans heading to the U.S. from Central America are now in Mexico, authorities say. President Donald Trump has vowed to shut down the southern border with lethal force if necessary, and is calling on Mexico to intervene.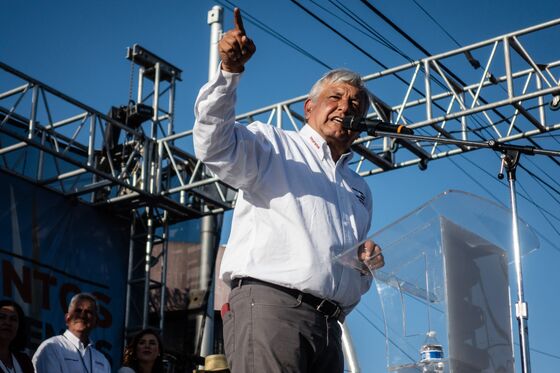 Jesus Ramirez, spokesman for Mexican President-elect Andres Manuel Lopez Obrador, commented on a potential agreement Sunday via text message, a day after reports that Mexico will allow Washington to use the country as, essentially, an ante-room for thousands of Central American asylum seekers waiting for their cases to be heard.
Earlier, Trump said Mexico would be "very smart" to stop groups of Central American migrants before they reached the southern U.S. border, and again laid the blame for U.S. immigration problems on Democrats, without offering evidence.
Under the apparent deal first reported by the Washington Post, the Central American migrants would be required to wait in Mexico until their claims move through U.S. courts before crossing the border. The newspaper reported that the U.S. and Mexico's new government have the framework of a deal with some details still have to be hashed out.
If it moves ahead, the agreement would install new barriers for Central American migrants attempting to reach the U.S., the newspaper reported, citing Mexican officials and senior members of Lopez Obrador's transition team.
It would be a win for the hard-line immigration advisers within Trump's administration. It may cause headaches, though, for the incoming left-wing government in Mexico City, days away from officially taking the country's reins on Dec. 1 after winning election in July.
The plan, to be known as "Remain in Mexico," would require asylum applicants at the border to stay in Mexico while their cases are processed, potentially ending a system Trump calls "catch and release" that's until now generally allowed those seeking refuge to wait on safer U.S. soil, according to the Post.
A press conference is scheduled for Mexico City at 8 a.m. local time, Ramirez said. Although the event is expected to focus on results of referendums being held across Mexico this weekend, the migrant issue is likely to be discussed as well.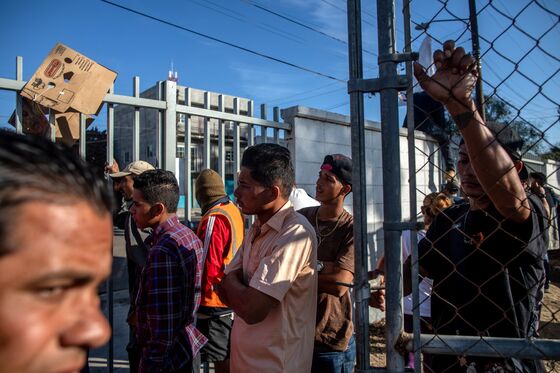 Trump said on Twitter late Saturday that migrants at the border wouldn't be allowed into the U.S. until their claims were heard in court, a process is usually lengthy. He again threatened to seal off the country's southern border "if it becomes necessary." Trump didn't comment on the specifics of an agreement with Mexico.
Olga Sánchez Cordero, Mexico's incoming interior minister, told the Post that "for now, we have agreed to this policy of 'Remain in Mexico,"' adding that "the medium- and long-term solution is that people don't migrate."
She later appeared to backtrack, telling the Associated Press that "there is no agreement of any sort between the incoming Mexican government and the U.S. government." Top officials from AMLO's administration planned to meet on the subject as early as Sunday, the New York Times reported.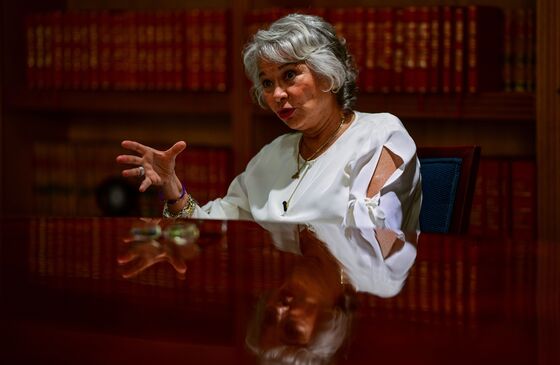 Should such a plan go ahead, it may deter people from attempting to migrate to the U.S. from Central America via Mexico. Trump deployed U.S. military forces to California, Arizona and Texas in recent weeks, and threatened to close border crossings after thousands of migrants traveling as part of a so-called caravan forced their way onto Mexican soil last month.
Democrats and human rights activists are likely to be cry foul about the "Remain in Mexico" strategy, and in the past have expressed concern that such a move may put migrants at risk and make it more difficult for them to apply for asylum. The new measures could also trigger fresh legal challenges.
Democratic Representative Elijah Cummings of Maryland said Sunday that asylum-seekers should "be allowed to come in."
"That's the law," Cummings said on NBC's "Meet the Press." "We have a system that has worked for a long time."
The mayor of Tijuana, Mexico, on Friday declared a humanitarian crisis, and has asked the United Nations for aid to deal with the thousands of recently arrived migrants. Most of the people from the migrant caravans, over 7,400, are in Baja California in the cities of Tijuana, on the Pacific coast, and Mexicali, about 112 miles (180 kilometers) to the east.
Closing the San Ysidro port was in response to some migrants trying to breach a fence and throwing "projectiles" at U.S. agents, Department of Homeland Security Secretary Kirstjen Nielsen said in a statement.
"DHS will not tolerate this type of lawlessness and will not hesitate to shut down ports of entry for security and public safety reasons," Nielsen said. The port was reopened to foot traffic at mid-afternoon local time.
After the border melee, Mexico's Interior Ministry said in a statement that it plans to immediately deport about 500 Central American migrants who tried to enter the U.S. illegally.
The CBP conducted a large-scale "operational readiness" exercise at the San Ysidro port on Thursday, the agency said in a Twitter message on Friday, adding, "we are prepared for any contingency." The attached video showed heavily armed agents dressed in riot gear.
Immigration, including recent issues tied to asylum seekers from Central America, was a flashpoint in this month's U.S. midterm elections and will probably continue to play a key role in the new Congress and in shaping the debate ahead of the 2020 presidential vote.
Democrats have rejected Trump's blame for immigration issues. Democratic Senator Amy Klobuchar said on ABC's "This Week" that Trump should have been working with Central American countries a long time ago to ease the caravan, that the president "has gut-punched us" on attempts to enact immigration reform.
The caravan and the topic of asylum seekers has become a source of frustration for Trump, and were a major part of his messaging in a series of pre-election rallies.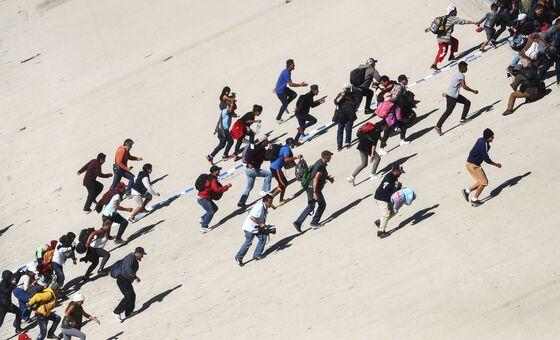 Earlier this month, a federal judge in California halted the Trump administration's latest attempt to seal the U.S. southern border by barring migrants from seeking asylum inside the country. The judge prevented the government from restricting asylum applications to those made at official ports of entry, although the Justice Department will likely appeal the order.
Senator Angus King said Sunday he thinks the Armed Services Committee, on which he sits, would want to examine the rules of engagement for the U.S. troops deployed to the border -- as well as its duration and cost, which the Washington Post reported could exceed $200 million.
"If indeed there was an invasion, which there isn't, clearly we can defend ourselves," King, a Maine independent who caucuses with the Democrats, said on CBS's "Face the Nation." "But using troops in a border situation with asylum seekers is, I think, not appropriate."