U.S. Envoy to Land in Taiwan Amid Uptick in Chinese Military Activities
(Bloomberg) -- One of the U.S. State Department's most senior officials landed in Taipei amid increased tensions between Washington and Beijing over Taiwan, including a sustained series of Chinese military activities close to the island.
Undersecretary Keith Krach landed Thursday evening in Taiwan, said the American Institute in Taiwan, the U.S.'s de facto embassy. Krach, who's responsible for economic growth, energy and the environment, is the second senior U.S. official to visit Taipei in the past two months after an August trip by Health and Human Services Secretary Alex Azar.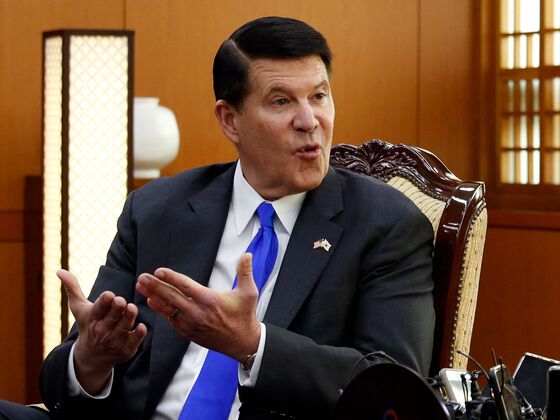 China has protested the visit, urging Washington to break off official exchanges with Taipei to avoid damaging relations.
Krach's visit comes at a fraught time between the world's two largest economies, as they spar on fronts ranging from Beijing's crackdown on Hong Kong to trade and technology. Less than 24 hours before his arrival, two Chinese anti-submarine aircraft entered the air-defense-identification zone around the island, the Taiwanese Ministry of National Defense said in a statement.
The incursion came after China's military sparked concern by sending more than 20 aircraft into the zone for two days in a row. Meanwhile, the U.S. was planning to sell as many as seven major weapons systems -- including mines and cruise missiles -- to Taiwan, Reuters reported Wednesday.
Ahead of the trip, Taiwanese media including the Central News Agency reported that Krach had intended to discuss greater economic cooperation with President Tsai Ing-wen's government. The State Department's announcement made no mention of economic talks, though, saying only that he would attend memorial service for former President Lee Teng-hui on Saturday.
On Thursday, China reiterated its opposition to official interaction between Washington and Taipei, saying it had lodged "stern representations" with the U.S.
"This violates the 'one-China' principle and the three joint communiques between the two sides," Chinese Foreign Ministry spokesman Wang Wenbin told a regular news briefing in Beijing. "China will make the necessary response in light of the development of the situation."