Florida Man Held in Probe of Mail Bombs Targeting Trump Critics
(Bloomberg) -- A Florida man has been arrested and charged in connection with mailing at least 13 suspected explosive devices that targeted high-profile Democrats including Barack Obama and Hillary Clinton and the cable network CNN, U.S. officials said Friday.
"The suspect has been captured -- great job -- and is now in federal custody," President Donald Trump said at a rally in Charlotte, North Carolina, on Friday night. "These terrorist actions must be prosecuted and punished to the full extent of the law, we all know that."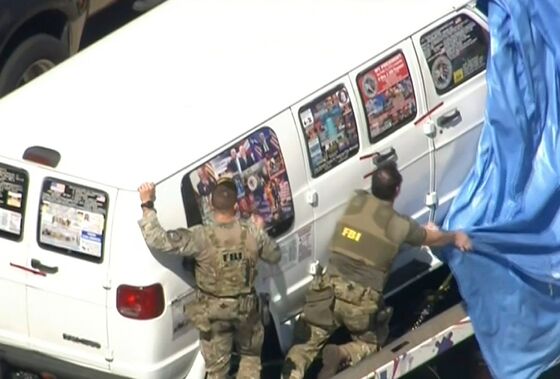 The Justice Department identified the suspect as as Cesar Altieri Sayoc of Aventura, Florida. According to a federal charging document, his fingerprints were found on one of the packages mailed to Democratic Representative Maxine Waters.
"These are not hoax devices," FBI Director Christopher Wray said in a news conference at the Justice Department. He said the devices were made with explosive materials even if they may not have been primed to go off.
Sayoc was charged with five criminal counts including assaulting federal officers and illegally mailing explosives "with the knowledge and intent that it would be used to kill, injure, and intimidate individuals, and unlawfully to damage and destroy buildings, vehicles, and other real and personal property."
Some of the mailings had photos of the targeted individuals marked with a red "X."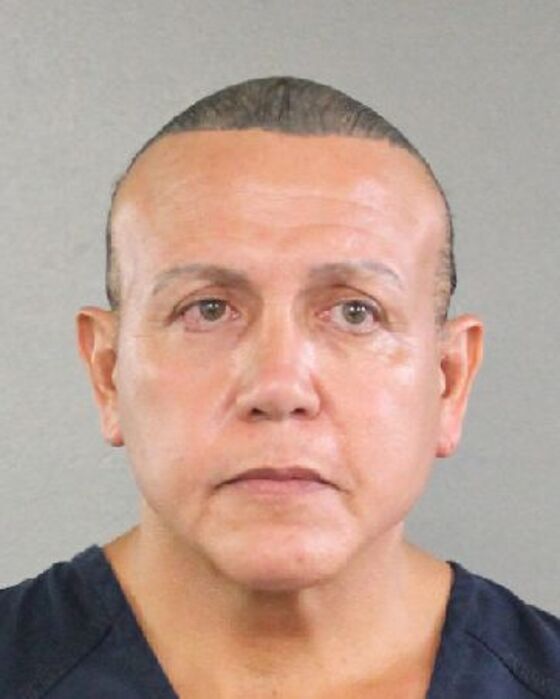 The suspect was arrested near an AutoZone store in Plantation, Florida, and was being questioned by FBI agents, according to the Miami Herald. Television images from the scene showed a white van being loaded onto a flatbed truck by law enforcement officers. The van was covered in pro-Trump and right-wing stickers.
Sayoc, 56, has a record of arrests and criminal convictions, including a 2002 arrest for making a bomb threat, according to court records. He filed for bankruptcy protection in 2012, citing $21,000 in debts and saying he lived with his mother. He registered to vote as a Republican in March 2016.
The Justice Department said 13 packages containing the devices have been intercepted by authorities so far. The intended recipients have all been targets of conservative vitriol, with the most recent packages discovered addressed to New Jersey Democratic Senator Cory Booker and former Director of National Intelligence James Clapper. The first device was found Monday after being delivered to the home of billionaire financier and Democratic contributor George Soros.
Asked about the suspect's motives, Attorney General Jeff Sessions said "he appears to be a partisan" but "I don't know why" he targeted Democrats.
Gary Barksdale, deputy chief inspector for the U.S. Postal Inspection Service, said postal employees will continue to monitor for any devices not yet discovered.
Wray, whose tenure heading the Federal Bureau of Investigation has been marked by partisan debate over the bureau's role in the continuing investigation of Russia interference in the 2016 presidential campaign, praised the success of law enforcement professionals from different federal, state and local agencies who worked together to crack the case.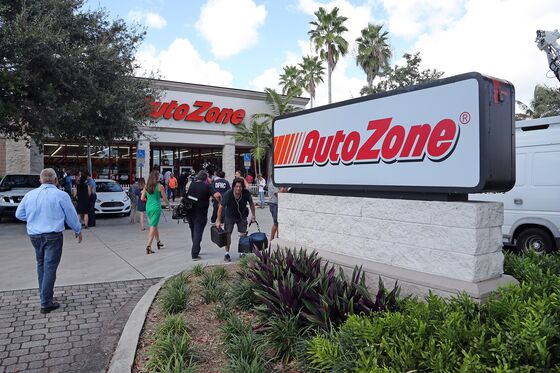 "It's exactly what the doctor ordered for the country at this time," Wray said.
Trump was briefed on the developments Friday by Chief of Staff John Kelly and law enforcement officials, according to a White House spokesman.
After initially calling for national unity this week as the suspected mail bombs were discovered, Trump, who announced the arrest at the White House earlier on Friday, began blaming the media for fostering divisiveness in the country. On Friday morning, he singled CNN -- which also was targeted by the sender of the explosive devices.
"Funny how lowly rated CNN, and others, can criticize me at will, even blaming me for the current spate of Bombs and ridiculously comparing this to September 11th and the Oklahoma City bombing, yet when I criticize them they go wild and scream, 'it's just not Presidential!"' Trump said on Twitter hours before the suspect was detained.
Hours later, as Trump praised law enforcement agencies for arresting a suspect, he also used the moment to complain about hostility directed at him.
"I get attacked also," he said. "I get attacked all the time. Who gets attacked more than me?"
He continued scolding the media at Friday night's rally.
"They have a major role to play as far as tone, and as far as everything. And we all say this, and in all sincerity, but the media's constant unfair coverage, deep hostility and negative attacks -- you know that -- only serve to drive people apart and to undermine healthy debate.
"For example, we have seen an effort by the media in recent hours to use the sinister actions of one individual to score political points against me and the Republican Party."
Republicans, he said, didn't try to exploit the 2017 shooting at a practice for the congressional baseball game that badly wounded Representative Steve Scalise of Louisiana. That attack was perpetrated by a "Bernie Sanders supporter," Trump said.