Esper Says Bigger Iran Attacks Were 'Days Away,' Offers No Proof
(Bloomberg) -- The top U.S. defense official said Iran had planned to attack U.S. sites within days before a top Iranian general was killed on President Donald Trump's orders but that he hadn't seen specific evidence to back up Trump's claim that four embassies would be targeted.
"I didn't see one with regard to four embassies," U.S. Defense Secretary Mark Esper said on CBS's "Face the Nation" when asked if he'd seen a specific piece of evidence. A top Democrat said here had been no discussion in a Congressional briefing of four embassies being targeted.
"I believe there were threats to multiple embassies," Esper said on CNN's "State of the Union," while explicitly mentioning only the U.S. embassy in Baghdad. "I think that the attack was days away" and would result in "open hostilities," he said.
Esper and National Security Adviser Robert O'Brien took to the Sunday news shows to bolster Trump's statement from Friday that Iran "probably" was targeting four U.S. embassies, as the rationale for the deadly Jan. 2 drone strike on Iranian General Qassem Soleimani continued to shift.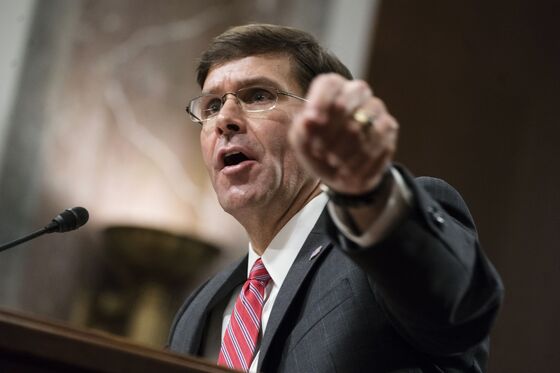 Even so, the administration officials offered little specific evidence about the decision-making and intelligence that led to Soleimani being targeted.
On CNN, Esper said the president said "he believed that they probably could have been targeting other embassies in the region" besides Baghdad. "I believe that as well," the defense chief said.
O'Brien, appearing on "Fox News Sunday," defended Trump's assertion.
"It's certainly consistent with the intelligence to assume that they would have hit embassies in at least four countries," O'Brien said. There were strong indications that Iranian plots aimed "to kill and maim Americans," he said.
Dissatisfaction in Congress
Esper said he understood the frustration of some rank-and-file members of Congress who complained of incomplete information presented in briefings about Soleimani's killing and the authorization of military force in Iran.
The content of those briefings was abbreviated compared with that provided to the so-called Gang of Eight lawmakers, he said, adding, "For every member that didn't like the brief, there were members that thought it was the greatest brief ever."
Senator Mike Lee of Utah, a Republican who has criticized the administration's briefings as inadequate, said Sunday that he "didn't hear anything" as specific as four embassies having been targeted by Iran.
"That was news to me," Lee said on CNN. "It does matter that we give the details to members of Congress and it does matter to figure out where we go from here and to make sure that any further action is authorized by Congress."
Democratic Senator Chris Coons of Delaware said that while the briefing by administration officials lasted 75 minutes, senators received less information than Trump divulged Friday in a Fox News interview. In an interview with Fox News's Laura Ingraham, Trump said: "I can reveal that I believe it would've been four embassies."
Representative Adam Schiff, who as chairman of the House Intelligence Committee is one of the Gang of Eight, said the administration was "overstating" what the intelligence showed about potential attacks. Trump and Secretary of State Michael Pompeo are "fudging," Schiff said on CBS.
"There was no discussion in the Gang of Eight briefings that these are the four embassies that are being targeted," Schiff said.
Esper said the U.S. is talking to its partners about how NATO troops may take on a bigger role in Iraq, potentially lowering U.S. troop levels there, said Defense Secretary Mark Esper.
Any decisions will be made in "full respect of Iraqi sovereignty," Esper said in the CBS interview. Iraq's parliament a week ago approved a non-binding resolution that empowered the nation's government to ask the foreign troops leave the country.
Trump's offer to meet with Iran's leaders without preconditions still stands, Esper. "The president has drawn no preconditions other than that we're willing to meet," Esper said.
While Iran and the U.S. stepped back from the brink of open military conflict last week, underlying tensions remain elevated.
The Trump administration imposed new sanctions on Iran on Jan. 10, including penalties on the Islamic Republic's metals industry and some senior leaders, after Tehran attacked U.S. military bases to retaliate for the killing of Soleimani.
The new measures seek to crack down on Iran's few remaining sources of export revenue and squeeze the nation's economy to force its leaders into negotiations for a new nuclear agreement.
"This is about cutting off money, oil sales, other revenue that would be funding their terrorist activities and their nuclear weapons development. We continue to allow for humanitarian transactions with Iran," Treasury Secretary Steven Mnuchin said on Fox News's "Sunday Morning Futures."
"We don't want to target the people of Iran."
Iran has repeatedly rebuffed the Trump administration's overtures to talk, even as existing sprawling sanctions have crippled the Iranian economy. Yet President Hassan Rouhani has confronted street protests against price increases and corruption that has left his government politically vulnerable, potentially benefiting hard liners even more opposed to Washington.
Protests swelled after Iran said Saturday that its military had accidentally shot down a Ukrainian passenger jet, killing all 176 people on board. Esper said Iran's government was attempting to "play the victim card" with the international community by blaming the U.S. for increasing hostilities.