U.S. Promises Economic Relief for Venezuelans to Oust Maduro
(Bloomberg) -- The U.S. dangled the promise of economic recovery to Venezuelans if they rally behind opposition leader Juan Guaido who Tuesday called for a military uprising to topple the regime of socialist President Nicolas Maduro.
"We have been planning for what we call the day after -- the day after Maduro -- for quite some time," National Security Advisor John Bolton said Tuesday at the White House. "It's been very much on our mind that we can provide a lot of assistance to the Guaido government when he assumes power to try to get the Venezuelan out of the ditch that Maduro has put it in."
The U.S. declared its support for Guaido after he went to a military base in the nation's capital to proclaim the end of Maduro's regime and called for a military uprising. Bolton called on Twitter for Maduro's top advisers to turn on their leader, singling out defense minister Vladimir Padrino, military counter-intelligence commander Ivan Hernandez, and Supreme Court president Maikel Moreno.
According to Provea, a human-rights organization, protests against Maduro have been reported in 22 of the nation's 24 states. Bolton, however, acknowledged that the situation in Venezuela was precarious.
"It's a very delicate moment," Bolton said. "If this effort fails, they will sink into dictatorship."
Earlier Tuesday, Secretary of State Michael Pompeo declared U.S. support for Guaido's move.
"Today interim President Juan Guaido announced start of Operación Libertad. The U.S. Government fully supports the Venezuelan people in their quest for freedom and democracy," Pompeo tweeted. "Democracy cannot be defeated. #EstamosUnidosVE."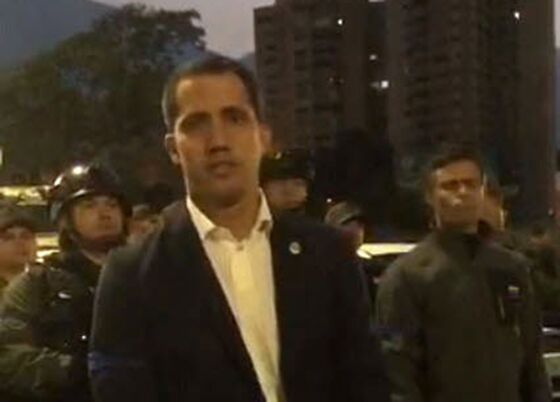 President Donald Trump said later that he is monitoring the situation in Venezuela "very closely."