U.S. Charges Nigerian Policeman in Instagram Influencer 'Hushpuppi' Scam
(Bloomberg) -- U.S. authorities charged a senior Nigerian police officer over his alleged role in an Instagram influencer's scam to steal more than $1 million, according to court filings.
A grand jury indicted Abba Kyari, a deputy commissioner in the Nigeria Police Force, and five others April 29 for conspiracy to commit wire fraud and money laundering. A federal judge in Los Angeles unsealed the documents this week.
Kyari heads Nigeria's Intelligence Response Team, a police unit that tracks suspected kidnappers and terrorists. U.S. prosecutors accused Kyari of imprisoning one of the charged individuals at the request of Instagram influencer Ramon Abbas to prevent him from interfering in a then-ongoing fraud, the documents show.
Kyari, 46, denied the accusations, while the police force said it's reviewing the allegations. An arrest warrant has been issued for Kyari, a U.S. Justice Department spokesman said by email.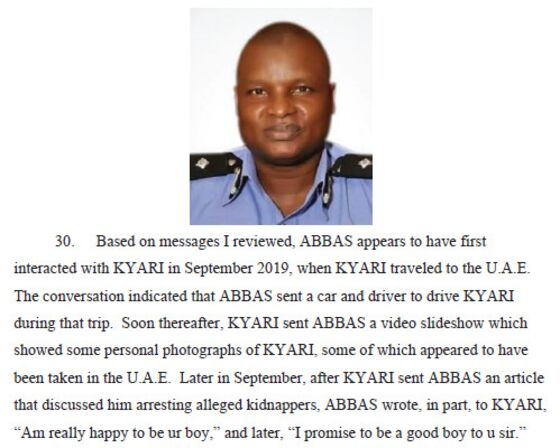 Abbas, known as Hushpuppi, has 2.5 million followers on Instagram, where he regularly posted photographs posing with celebrities, luxury cars and private jets. The Nigerian, 37, was arrested in Dubai in June 2020 and extradited to the U.S.
The social media star pleaded guilty in April to participating in the theft, between November 2019 and March 2020, of $1.1 million from an unidentified businessperson who was seeking a $15 million loan to build a school in Qatar, according to a plea filed this week. Kyari and the five others, including three residents of New York, were indicted in a related case centering on the same alleged crime.
Working with others, Abbas "fraudulently induced" the businessperson to transfer the funds to various bank accounts to release the non-existent loan, according to court filings. He used the proceeds to buy a luxury Richard Mille watch and a St. Kitts and Nevis passport, the filings state.
In January 2020, Kelly Chibuzo Vincent, a Nigeria-based member of the conspiracy, contacted the businessperson to expose the scam, leading Abbas to communicate with Kyari about having him arrested, the U.S. alleges. After receiving a message from Kyari saying that Vincent "is in my cell now", Abbas replied that he wanted him to experience a "serious beating" and "suffer for many years," according to the filings.
Kyari then allegedly sent bank details to Abbas, who had asked the police officer how he could transfer money to "the team." Although the men agreed to release Vincent in late February 2020, Kyari's actions allowed Abbas "to continue defrauding" the businessperson "undetected," according to the U.S.'s criminal complaint.
The Nigeria Police Force "has ordered an internal review of the allegations," it said in an emailed statement Thursday. The spotlight on Kyari comes at a time when disorder and insecurity are on the rise in Nigeria as the state struggles to contain an Islamist insurgency, mass kidnappings, intercommunal violence and separatist movements.
In rejecting the allegations, Kyari said Vincent was detained because Abbas claimed he had "threatened to kill his family" and was released as soon as "we discovered there wasn't an actual threat to anyone's life."
"Nobody demanded any money from Abbas Hushpuppi," Kyari said on his Facebook page Thursday. Nigerians should "beware of many fake/doctored documents," he said.
Kyari traveled to the United Arab Emirates in September 2019, where -- messages reviewed by the Federal Bureau of Investigation indicate -- Abbas provided him with a car and driver during the trip, the complaint states. "I promise to be a good boy to u sir," Abbas told Kyari the same month, it said.
Abbas admitted to taking part in other schemes that caused their victims more than $20 million in losses, the Justice Department said.
The case is U.S. v. Juma et al, 21-cr-00203, U.S. District Court, Central District of California