U.S. Beats Singapore To Top Of Global Competitiveness Rankings 
(Bloomberg) -- The U.S. is back at the top of the global competitiveness league, according to the World Economic Forum, which praised the nation's entrepreneurial culture and financial system while noting its "weakening social fabric."
In a report that President Donald Trump is likely to see as validating his "Make America Great Again" drive, the U.S. placed ahead of Singapore and Germany in the 140-nation table. The 2018 edition of the rankings used an overhauled methodology that focuses more on factors such as idea generation and agility.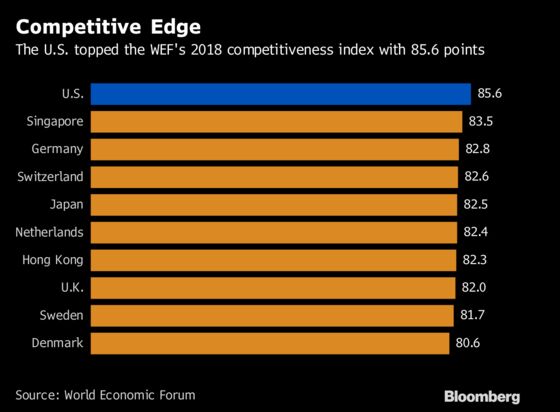 Despite the U.S. top billing for the first time in almost a decade, WEF -- which brings together leaders from public and private-sector institutions -- took a swipe at the protectionism advocated by the Trump administration. It said countries that ranked highly on measures such as low tariffs, ease of hiring foreign labor and collaboration in patent application tended to do well on innovation and market efficiency.
"At a time of escalating trade tensions and a backlash against globalization, the report also reveals the importance of openness for competitiveness," it said. "Global economic health would be positively impacted by a return to greater openness and integration."
U.S. companies scored highly for the speed with which they embrace change, but the nation fared poorly on metrics such as health and security. It is "far from the frontier" on checks and balances, judicial independence and corruption, WEF said.
Switzerland, which has long led the rankings, fell to fourth under the new methodology. China, one of the chief targets of U.S. criticism over trade, was 28th. Argentina, hit by a currency crisis, was lowest among Group of 20 countries at 81st.
Famous for its annual meeting in the Swiss town of Davos that attracts members of the global elite such as German Chancellor Angela Merkel and rockstar Bono, WEF called for policies to address inequality. Measures are needed for income redistribution, investment in education and training, and social safety nets, as long as they don't hinder competitiveness.
"It is critical that policies be put in place to improve conditions of those adversely affected by globalization within countries," according to the report. "It is possible to be pro-growth and inclusive at the same time."