U.K., U.S. Concerned by Hong Kong Rejection of FT Editor's Visa
(Bloomberg) -- Britain's Foreign and Commonwealth Office and the U.S. Consulate General in Hong Kong expressed concern over the Hong Kong government's rejection of a visa renewal for a Financial Times editor.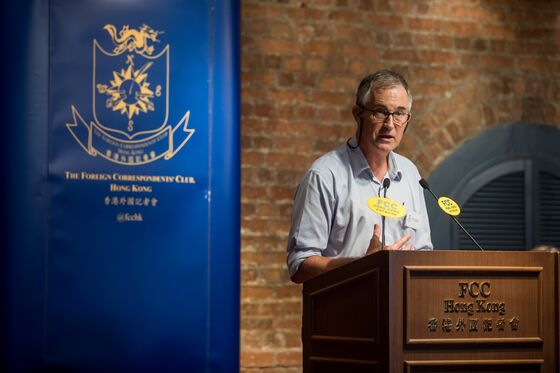 The editor, Victor Mallet, had his work visa renewal rejected without an explanation. The FT said it was the first time a journalist working for the group had a visa renewal denied in Hong Kong.
Mallet is the first vice-president of the Foreign Correspondents' Club of Hong Kong, and was the acting president in August when the FCC drew fire from Beijing and Hong Kong officials for hosting a talk by the leader of the pro-independence Hong Kong National Party. The FCC asked for an explanation of Mallet's visa denial, a request echoed by the Foreign and Commonwealth Office.
"Hong Kong's high degree of autonomy and its press freedoms are central to its way of life, and must be fully respected," the FCO said in a statement.
U.S. Consulate General spokesman Harvey Sernovitz said in an email that the visa denial is "deeply troubling" as it mirrors problems faced by foreign reporters in mainland China, and is inconsistent with the principles of Hong Kong's Basic Law.
At the time of the FCC event, the Chinese Ministry of Foreign Affairs accused the club of abusing the former British colony's right to free speech by giving the activist a platform. The ministry said the address by National Party founder Andy Chan, in which he denounced China as a "colonial master," touched Beijing's "red line" against challenges to its rule. The party was later deemed an illegal organization.