U.K. Tories Rage at Parliament's Speaker After Brexit Clash
(Bloomberg) -- Outrage in Britain's House of Commons is often confected, but on Wednesday the fury of senior politicians in Theresa May's Conservative Party was genuine -- and the target was the Speaker, John Bercow.
His role is supposed to be a neutral one, umpiring disputes and championing the interests of the politicians who sit in the Commons chamber. Tories have long argued that Bercow is biased against them, but on Wednesday many felt he had gone to a new level in frustrating May's Brexit strategy.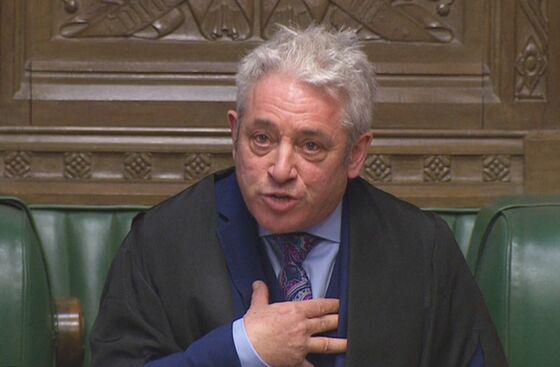 Their complaint was that he had unilaterally changed parliamentary rules to allow a vote that would let opponents of a so called no-deal Brexit take over the timetable of events, at May's expense.
Bercow's defense was that the rules can be changed. His larger point was that it's his job to allow the House to express its views, and the fact that May lost the vote that followed showed he was right.
Relations between the prime minister and the Speaker were already appalling.
They have now got worse. May's spokesman James Slack did not hide his frustration during a briefing with journalists, pointing out that the premier's team were "very surprised" that Bercow had allowed the contentious amendment to be debated, and voted on. May believed that such an amendment would not be put to a vote under Commons rules.
"What happened today is that the speaker today, instead of being the guardian of the rules, decided to unilaterally change the rules," said Andrea Leadsom, the minister in charge of the government's legislative program. "It creates a very damaging precedent," she told ITV's Peston show on Wednesday.
Meanwhile, those who want a soft Brexit -- or no Brexit at all -- see keeping Bercow in place as essential. Hilary Benn, chairman of the Brexit Committee, urged the speaker last year to take care when crossing roads.
"The Speaker has never been a stranger to controversy and there's also no doubt that he's consistently sought to stand up for what he sees as the rights of backbenchers," Dominic Grieve, who proposed the successful amendment, told Peston. "Had his ruling been that he couldn't allow my amendment, I couldn't possibly have complained about it. But I submitted the amendment, and the amendment was allowed -- and it is his right to make the ruling."
Bercow's role will be crucial next week when he presides over the crunch Commons vote on whether to accept or reject May's Brexit deal.
Once again it will be up to Bercow, 55, to decide which amendments to the motion on approving the EU withdrawal agreement are debated and potentially voted on. In the 11 weeks before the U.K. is due to leave the EU, the Speaker could have a major influence on the direction of Brexit.