Johnson Backs May, Pushes Her to Rip Up Brexit Plan: Tory Update
(Bloomberg) -- Boris Johnson left it late in his long-awaited speech to back Prime Minister Theresa May -- but pushed her to rip up her Brexit plan. The issue had dominated the Conservative Party conference in Birmingham.
Javid: U.K. Didn't Have Right Laws to Jail Bankers (6:45 p.m.)
Asked at a fringe event if he agreed with Boris Johnson that more bankers should have gone to jail for behavior leading to the financial crisis, Home Secretary Sajid Javid said the U.K. "didn't have the right laws in place.''
"Anyone who breaks the law should go to jail whether they are bankers or not,'' he said.
Javid said it was the 2008 global financial crisis that inspired him to become a lawmaker. He was working at Deutsche Bank in Asia at the time, and said watching the collapse of the banking system meant "in a funny way it had something to do with me thinking more about politics.''
"Not just in Britain, but in many economies at the time I thought it would be nice to have more people around who understood about finance and the economy,'' he said.
May: Still Working on Brexit Compromise (5:40 p.m.)
In an interview with ITV News, May was asked if the Northern Ireland Democratic Unionist Party, which she relies on to govern, would prevent her from making a compromise offer to the EU on the post-Brexit Irish border. May said the government is "continuing to work on that new offer and we will put a new offer before the European Commission."
May said the government had committed to "no changes in that regulatory environment without that consent of the people of Northern Ireland" in the December joint report with the EU. "I think it's important that we are able to deal with their needs and requirements as we do with people across the U.K."
Bloomberg reported Monday the government is preparing to make a significant new Brexit offer to the EU to try to unlock talks, which are stuck on the issue of how to avoid police and customs checks on the border between the U.K. and Ireland.
A senior government official said the offer would involve the U.K. backing down on its opposition to new checks on goods moving between the British mainland and Northern Ireland. In exchange, May's team would need the EU to compromise and allow the whole of the U.K., including Northern Ireland, to stay in the bloc's customs regime as part of the so-called backstop agreement.
But earlier Tuesday, the DUP reiterated that it wouldn't accept either customs or regulatory checks on goods crossing the Irish Sea. The issue is "our one red line," DUP leader Arlene Foster told Bloomberg.
May 'Cross' at Johnson's Brexit comments (5:06 p.m.)
In an interview with the BBC, May said "there are one or two things Boris said that I'm cross about." Johnson's idea for a free-trade agreement with the EU, she said, would ignore the pledge the U.K. gave to avoid a hard border between Northern Ireland and the Irish Republic -- a key sticking point in Brexit talks.
"He wants to tear up our guarantee to the people of Northern Ireland," she said. "We have a guarantee for the people of Northern Ireland and we are upholding that."
Johnson Backs May, Not Her Brexit Blueprint (2 p.m.)
Johnson kept the audience and markets waiting to the very end of his speech before delivering the news: he wants Conservatives to back Theresa May, but push her to rip up her Brexit plan.
In a wide-ranging and at times meandering speech that lasted almost 40 minutes, the former foreign secretary -- who has been a constant thorn on the prime minister's side -- didn't launch a leadership bid many thought was coming.
The criticism came, but it was much of the same language he used in the past. His parting line was "to back Theresa May by supporting her original plan." That suggests veiled threat to ask May to return to her Lancaster House vision of 2017 -- to leave the EU's single market and the customs union without any ambiguity.
The markets were underwhelmed, with the pound holding on to earlier losses throughout his speech, recovering slightly as Johnson closed by backing May. It was down 0.5 percent at $1.2973 as of 2 p.m.
Queues for Johnson, Empty Seats for Javid (12:35 p.m.)
As delegates lined up in their hundreds for Boris Johnson's speech at a fringe venue, Home Secretary Sajid Javid faced plenty of empty seats for his address to the main hall.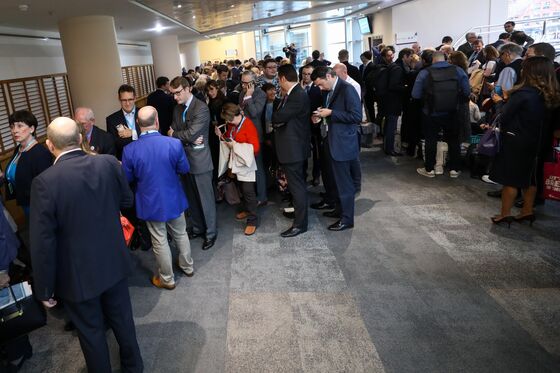 Javid spoke hours after the government launched its post-Brexit immigration plan, and he devoted large parts of his speech to "what it means to be British."
"Britain has high expectations too of the behaviors, standards and values of which we're proud," he said, pointing out that he's had the chance to design a new immigration system "without being constrained by the EU." Javid said the government will raise the standard of English required to become a U.K. citizen, and will alter the current test to make it better reflect knowledge of "British values."
For more on the U.K.'s new immigration system, read here.
Rees-Mogg Says U.K. Should Be Tax 'Heaven' (12:15 p.m.)
Rees-Mogg said the U.K. needs tax reform -- but not to become a tax haven. "I think it should become a tax heaven," he said, adding "we need to get rid of" dirty money that's channeled through London -- referencing Russian President Vladimir Putin.
Coffey Mulls Consolidation in Water Industry (11:55 a.m.)
Therese Coffey, the minister in charge of water, suggested the government could push for consolidation among the 25 private companies in the industry -- a measure she said could help boost security of supply and infrastructure.
"We have this curiosity that we have these huge companies and we have these absolutely tiny companies -- Bristol Water, Cambridge, South Staffordshire," Coffey told a Social Market Foundation think tank event.
Water has risen up the political agenda after the opposition Labour Party set out more detailed plans to nationalize water utilities at its own conference last week, saying the current chief executives would be replaced with new bosses hired on reduced salaries, while more control would be given to workers, local authorities and customers.
Brexit Costs Already Mounting: Business Lobby (11:52 a.m.)
The cost of Brexit already runs to billions of pounds even before the U.K. leaves the European Union, Carolyn Fairbairn, director-general of the Confederation of British Industry, told Bloomberg.
"There is the direct cost of what businesses are having to put into their businesses and their supply chains to protect themselves" from the impact of Brexit, she said. "The other cost, which is less easy to see, is the investment that hasn't happened as a result of Brexit uncertainty."
Rees-Mogg pushes back on fears of early election (11:38 a.m.)
Rees-Mogg says that the U.K.'s fixed-term Parliament Act means he and fellow Brexiteers are free to oppose May's Brexit plans without triggering a snap election and risking a new government led by Labour's Jeremy Corbyn. The act, he says, means "the government can lose a major vote and not have lost the confidence of the house."
Rees-Mogg hates May's latest Brexit thinking (11:37 a.m.)
Down the road from the conference, Brexiteer-in-chief Jacob Rees Mogg addressed a packed room in a nearby hotel. He was asked about May's latest Brexit compromise, reported first by Bloomberg: "That is not Brexit, that is remain. It would be a disgrace. The story in today's Times would be the most serious breach of trust between the government and the governed that I could think of in relation to Brexit."
Rees-Mogg renews hostilities with Chancellor of the Exchequer Philip Hammond, who hardliners like him see as an enemy of Brexit. "There are some forces within the state that are desperate to stop it," he says. "And most of them are centered in number 11 Downing Street." That is Hammond's office.
Rees-Mogg Says 'No Vacancy' for Johnson as PM (10:55 a.m.)
One person who won't be watching Boris Johnson's speech later is arch-Brexiteer Jacob Rees-Mogg, who will be talking at his own fringe event at the same time. We caught up with him earlier signing autographs and having photos taken with fans outside the conference center.
While he backed the "competent, capable and charismatic" Johnson to become leader in 2016, Rees-Mogg said he's supporting Theresa May and doubts the member of Parliament for Uxbridge will set out his stall today. "There is no vacancy," Rees-Mogg said.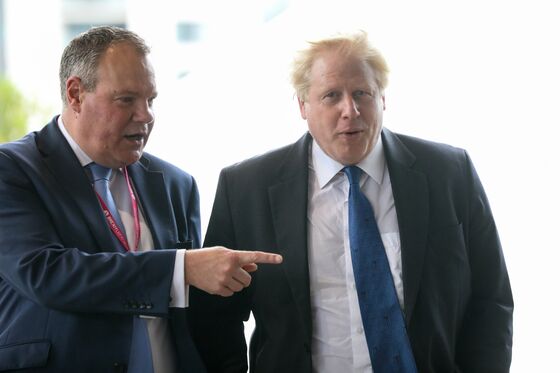 Rees-Mogg also defended Johnson's previous attacks on business, arguing he was specifically criticizing the CBI, Britain's biggest business lobby group -- and not the business community as a whole.
"He just doesn't think the CBI is any good and that's right. The CBI is not in favor of free markets, it's an organization that's got everything wrong throughout its whole history," Rees-Mogg said.
Climate Change and Capitalism (10:45 a.m.)
"Climate change should be a great cause of joy for capitalists," Business minister Richard Harrington told a fringe meeting at the conference. "Even if the science is rubbish -- which I don't think it is -- even then, it's still a huge industry producing new products and services in a new way."
"It's not incompatible with economic growth at all, quite the opposite," he said.
Javid Says Tories Must Appeal to Minorities (10:35 a.m.)
Home Secretary Sajid Javid tells a fringe event the Conservatives must win over ethnic minorities if the party wants to win the next election. For his father's generation, he says, the party was summed up in two words: Enoch Powell.
Javid, who used to be Cabinet minister in charge of housing, also said "housing is a major, major problem for us." Anyone under the age of 40 cannot comprehend how they will own their own homes, he said.
"You have so many faces pressed up against the estate agent windows with a dream that will never come true, and then they turn to Corbyn with all the lies he promises," Javid said, referring to the leader of the opposition Labour Party.
Javid: Examining High-Skilled Immigration Cap (10:30 a.m.)
Home Secretary Sajid Javid said he is examining whether the U.K. should get rid of the cap on the number of high-skilled workers it admits after Brexit.
"The Migration Advisory Committee report recommends that we look at scrapping the cap,'' Javid told a fringe event. "I will look at that, but we haven't made a decision yet.''
He added that there will be a salary threshold for high-skilled workers, and the figure will be set later this fall. Under current rules, migrants must have a job earning over 30,000 pounds before being granted a work visa.
The U.K. is also examining how to fill shortages in low-skilled labor such as agriculture, with a pilot scheme set up a few weeks ago, Javid said.
Hunt: 'We are very angry as well' (9:58 a.m.)
In an interview with Bloomberg Television, Foreign Secretary Jeremy Hunt was asked if he regretted comparing the EU to the Soviet Union and if he thought it would be helpful to make that comparison in getting a Brexit deal given that it's angered some politicians in Europe.
"I think they need to understand that we are very angry as well. If the EU's view is that every time we put constructive views on the table all they have to do is say no come back with something different that's not a negotiation," he said.
Foster: Border in Irish Sea 'Our One Red Line' (9:40 a.m.)
Arlene Foster, leader of the Northern Ireland Democratic Unionist Party, told Bloomberg TV the party won't accept customs or regulatory checks in the Irish Sea as a means of breaking the Brexit deadlock.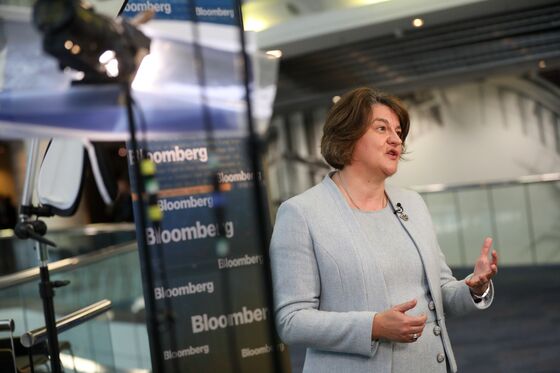 "It's been very clear all along that has been our one red line: We cannot have either a customs border down the Irish Sea or a regulatory border, because that would make us separate from the rest of the U.K.," Foster said. Prime Minister Theresa May has been "on message" so far on the Northern Irish issue, she said.
Brexit negotiations are stuck on the question of how to avoid the need for police and customs checks on the border between the U.K. and Ireland, but a senior British government official told Bloomberg Monday May is preparing to make a significant offer to break the deadlock. Under the plan, which the U.K. would back down on its opposition to new checks on goods moving between the British mainland and Northern Ireland.
Foster plans to meet the EU's chief negotiator, Michel Barnier, next week.
May concedes Boris's fringe event will be "lively" (8:21 a.m.)
Theresa May's morning interview round has been focused on her immigration policy. The main message is aimed at voters who don't much like immigration, and it's that the numbers of people coming will reduce. She sounded slightly stumped about what it will mean for British people who want to go and work in the EU (it will be likely to be more difficult). She also swerved questions about Johnson, simply saying it would be a "lively event."
Sun: Johnson to Delay Brexit If He Topples May (11:20 p.m.)
Johnson has told senior Conservatives he plans to delay Brexit by six months to reset talks with Brussels if he becomes prime minister, the Sun newspaper reported.
The idea would be to prepare more fully for a no-deal Brexit to give Britain the upper hand in talks, according to the newspaper.
DUP Leader Foster Praises 'Positive' Johnson (11:15 p.m.)
Arlene Foster, leader of Northern Ireland's Democratic Unionist Party which the Conservatives rely on to govern in Westminster, handed Boris Johnson a significant boost ahead of his speech on Tuesday. In an interview with the Daily Telegraph, Foster praised Johnson's "belief" and "spirit" and said she'd be happy to work with him as prime minister.
Foster made clear that her party's agreement with the Tories doesn't hinge on Prime Minister Theresa May staying in power, and also refused to rule out backing the type of Canada-style free-trade agreement with the European Union that Johnson has been pushing.
"People want hope, they want to be positive," Foster told the newspaper. "I think the reason why so many people are turned off by Brexit is because they are being fed a diet of negativity -- whether it's infighting, Brussels, being disrespected by people over there."
Foster is scheduled to speak to Bloomberg TV at around 9 a.m. on Tuesday.
May Sets Out Post-Brexit Immigration Rules (10:55 p.m.)
Prime Minister Theresa May set our her plans for the U.K.'s post-Brexit immigration system, notably dropping the priority status for workers coming from the European Union. The focus will be on skills rather than nationality, according to an emailed statement from the Conservative Party.
The issue is a crucial one both for British businesses, who want to ensure they're able to fill vacancies in an economy that's at close to full employment, and for the dynamics of Brexit negotiations: the U.K. is seeking a trade deal with the EU and may have to make concessions on labor access to do so.
Earlier, Immigration Minister Caroline Nokes told Bloomberg TV Britain needs a system that treats all nations equally but gives ministers the flexibility to tailor rules for countries striking trade deals.
Asked if the U.K. might make a better offer on immigration to the 27 remaining EU nations than to the rest of the world, Nokes said: "Or it could be the case that there is something better for other parts of the world, and I think that's the flexibility that we're certainly going to need going forward."
Javid Believes in 'Freedom' to Move Countries (10:30 p.m.)
Home Secretary Sajid Javid earlier said that if Britain stops hiring doctors from the developing world it would curtail the freedom of people to pursue their dreams by moving countries.
"I do believe in personal freedom," he said. "If you're someone in India, China or another developing country you do have your personal freedom if you want to go abroad," he said when asked whether Britain had a moral responsibility not to steal poorer countries' medics. "We shouldn't be trying to limit their personal freedom."
He had earlier acknowledged that controlling movement of movement is a key legacy of the Brexit vote. "I have the unique opportunity to build an immigration system from scratch," he told delegates at a fringe meeting.