Johnson Warns of New Covid Wave as U.K. Plans to Live With Virus
(Bloomberg) -- U.K. Prime Minister Boris Johnson said Britain must stand ready for another wave of coronavirus later this year, as he launched a new program to find home treatments to limit the impact of mutant Covid strains.
Johnson insisted the U.K. is still on track to reopen the economy according to the government's "road map" -- which aims to end restrictions by June 21 -- but warned: "We cannot delude ourselves that Covid has gone away."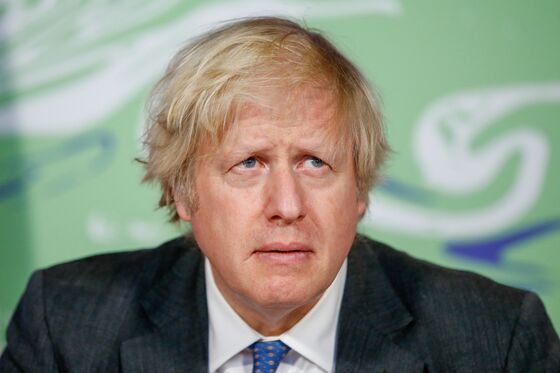 Cases of the disease have been steadily falling in the U.K. since January but infections have hit dangerous levels in some European countries and there are growing concerns that new variants could knock Britain's progress off course if one emerges that can evade vaccines.
Globally, more people were diagnosed with Covid-19 during the past seven days than any other week since the start of the pandemic. "The majority of scientific opinion in this country is still firmly of the view that there will be another wave of Covid at some stage this year," Johnson told a televised press briefing on Tuesday.
"And so we must, as far as possible, learn to live with this disease as we live with other diseases."
In a bid to curb the potential spread of infections, a new government antiviral task force will seek to identify home coronavirus treatments that can be rolled out ahead of the winter flu season.
The aim is to secure at least two antiviral drugs, either in a tablet or capsule form, for people to take at home if they test positive for Covid-19 or have been exposed to the virus. Scientists believe they could help protect those who have not been vaccinated.
The government is looking into how best to reopen the economy in the coming months using a Covid certification program, which Johnson said would not come into force before May 17. He did not rule out this including proof of vaccination but said immunity and testing were also important factors.
According to the Guido Fawkes website, a job ad posted by the government said the National Health Service is "developing both digital and non-digital options to enable U.K. residents to assert their Covid status, including both vaccination history and test results." The government did not immediately respond to a request for comment.
The U.K.'s vaccination program has already delivered over 40 million doses -- with more than 10 million people fully inoculated -- but the emergence of new variants has sparked fears among scientists. On Monday, the U.K. put India on its travel ban list due to a variant first identified there that could prove partly resistant to vaccines.
There is also a risk of more homegrown variants in the U.K. if coronavirus cases surge again in the colder winter months.
The task force will work alongside an existing group identifying and supplying treatments for patients with Covid-19, including those seriously ill in hospitals. This includes the anti-inflammatory drug dexamethasone, which the government said has already saved 22,000 lives in the U.K. and an estimated 1 million worldwide.