U.K. Suffers Brexit Trade Setback Over Copy-and-Paste WTO Terms
(Bloomberg) -- International Trade Secretary Liam Fox said his plan to quickly normalize the U.K.'s World Trade Organization commitments had failed, forcing the government to enter into what will likely be lengthy negotiations with other members on basic terms of trade after Brexit.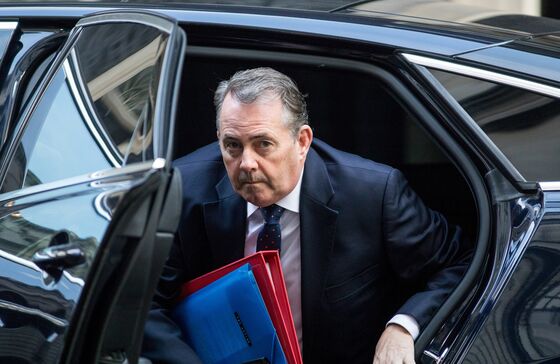 It's a significant blow to the U.K., which was proposing to replicate the European Union's current WTO trade terms after it leaves the bloc. Without certified WTO commitments on market access and tariffs, it's still possible for the U.K. to trade but could make it more difficult to strike new trade deals -- which are a key rallying cry among Brexit supporters.
In a written statement to Parliament Thursday, Fox said several WTO members "expressed reservations" about the U.K.'s plan to copy-and-paste the EU's international trade commitments. His letter didn't specify which countries opposed the approach or include the justification for their objections.
"This was expected and does not impact our ability to trade independently," a spokesman for the U.K.'s department of trade said in an emailed statement. "The terms we have set out will form the basis of our trade policy while we engage with our WTO partners to address their concerns."
This month, the U.S., New Zealand and more than a dozen major agricultural exporters said they opposed the U.K.'s approach, which called for Britain and the EU to split their current tariff rate quota commitments that set import limits on sensitive goods such as beef, lamb and sugar.
The opposing countries said that would harm their ability to sell goods to Europe.
Fox said the U.K. will now pursue a modification of its WTO commitments under Article 28 of the General Agreement on Tariffs and Trade -- which can be a laborious and lengthy process that could delay for years the U.K.'s ability to have a certified set of WTO commitments.
"This is uncharted territory for them," New Zealand Trade Minister David Parker said in an interview on the sidelines of a WTO ministerial meeting in Ottawa, adding that it was the right decision for the U.K. to invoke the Article 28 process. "We'll engage in that to protect our interests. We are confident it will have a fair outcome given the undertakings that have already been made by Liam Fox. No one should be worse off as a consequence."
Though the U.K. is a WTO member in its own right, its schedule of concessions -- which reflect tariff commitments and terms relating to trade in goods and services -- are established in the European Communities' schedule.