U.K. Spending Rules Could Be Torn Up As Sunak Reviews Javid Plan
(Bloomberg) -- Just days into his new role as U.K. Chancellor of the Exchequer, Rishi Sunak is considering tearing up the spending framework that underpinned Prime Minister Boris Johnson's victory in last December's election.
Sunak, who took the top job at the Treasury on Thursday, is examining whether to keep the fiscal rules his predecessor Sajid Javid agreed to with Johnson last year, according to a person familiar with the matter. Those rules, which restrict day-to-day spending and commit the government to cutting debt, are designed to keep the U.K.'s budget under control.
The result could be increased investment to charge up the economy as Britain embarks on life outside the European Union and the development of new guidelines for tax and spending, with implications for investors and taxpayers.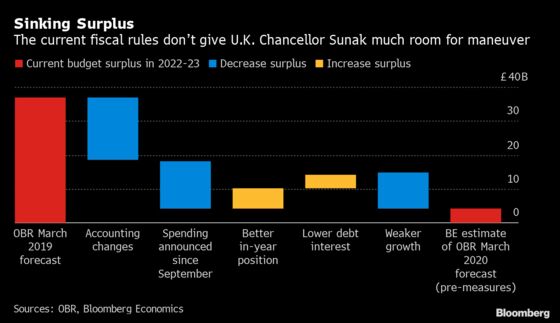 Javid's shock resignation on Thursday saw the inexperienced Sunak catapulted into the role of chancellor just four weeks before the Budget, scheduled for March 11. He's now considering whether to delay announcing that budget as he settles into his new job. A decision is expected later this week, two officials said.
The change at the Treasury opened the door for Johnson to rewrite or even scrap the fiscal rules Javid fought to establish last year. Prior to quitting, officials said Javid was planning to keep his budget closely aligned to the costings set out in the Conservative election manifesto.
Those spending plans were built on Javid's guidelines, under which the government pledged to cut debt, keep public sector net investment below 3% of GDP and not to borrow for day-to-day spending. The former chancellor liked a tweet on Sunday which warned that Britons are already "overtaxed."
The Javid plan allowed for 100 billion pounds ($77 billion) of spending on infrastructure over the next five years, but if the rules were relaxed, it could open the way for investment in eye-catching projects as Johnson seeks to cement support for his government in former Labour heartlands in the north of England.
Javid expected his plans to have a neutral effect on the government budget. By 2024, the costs of tax cuts and increased spending would be offset by new sources of revenue, according to his published plans.
Now those costings are up for review, according to the person, and, with the former chancellor out of the way, Johnson and his team are central to the discussions.
While Javid quit because the premier's office was seeking to take too much control over the Treasury, Sunak has agreed to the establishment of a joint economic unit that will help determine the fate of the fiscal rules and the overall budget. So far the unit includes at least three advisers from Johnson's office, Robert Oxley, Liam Booth-Smith and Douglas McNeill.
"Boris Johnson is less fiscally conservative, less focused on getting borrowing and debt down -- that's not something that necessarily excites him," said David Gauke, who was a Treasury minister in Theresa May's government. "He wants to be doing things and doesn't like anything that gets in the way of him doing what he wants to do."