U.K. Softens Brexit Red Line as May Faces Lawmaker Backlash
(Bloomberg) -- The U.K. is blurring more red lines in the Brexit negotiations, raising the chances of clinching a deal but also heightening the danger Theresa May will be toppled before she can deliver it.
On Monday, the prime minister will face angry lawmakers as she defends in Parliament the progress she's made in talks so far. She'll say that headway made over the past three weeks means a divorce deal is 95 percent done. But it's the trickiest part that's outstanding.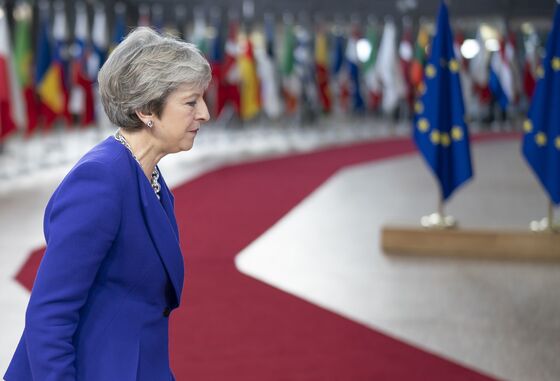 May's attempt to reassure Parliament comes at a time of maximum political peril for her. She's faced a chorus of dissent for months from her fractured party, and it's reaching a crescendo with both pro-remain and pro-Brexit lawmakers threatening to try to topple her. In a sign the country remains as divided as ever, some 700,000 people took to the streets of London on Saturday demanding a second referendum to overturn the 2016 result.
The prime minister is under pressure to attend a meeting of rank-and-file lawmakers -- called the 1922 committee -- on Wednesday to explain her Brexit strategy. The Sunday Telegraph reported that as many as 46 Tory lawmakers have written letters to Graham Brady, the committee chairman, demanding a leadership contest. That's just two short of the threshold needed to trigger a ballot.
May on Sunday held a conference call with ministers to muster support, with the Telegraph reporting that Work and Pensions Secretary Esther McVey told May she was "devastated'' by plans to extend the Brexit transition period. Home Secretary Sajid Javid asked the prime minister whether she'd threatened the EU with no deal, the paper said.
May was in Brussels last week attending a summit that at one point was supposed to put the finishing flourishes on the withdrawal deal. But negotiators remained deadlocked over fall-back plans to prevent a hard border with Ireland after Brexit in the event they fail to conclude a trade deal.
Negotiators are trying to formulate a guarantee clause, or "backstop," to include in the divorce treaty. The U.K. wants that to be time-limited, while the EU has said it must be open-ended. But Brexit Secretary Dominic Raab hinted Sunday they could live with an alternative to a fixed end-date.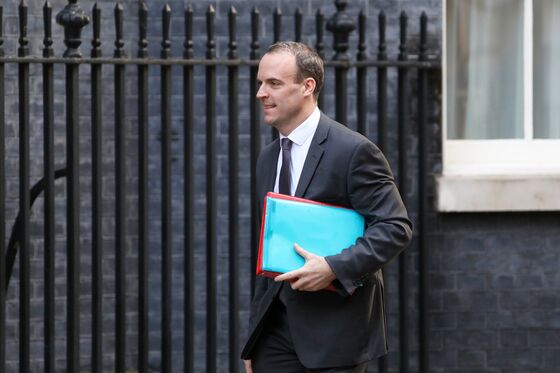 "It could be time-limited, there could be another mechanism," Raab said in a BBC TV interview. "I probably wouldn't call it an ejector seat, but I think there needs to be something which allows us to control how long we're there for, to avoid any sense that we are left indefinitely in a sort of customs union limbo. That wouldn't be acceptable."
The remarks are the first overt signal of flexibility on the matter by May's administration. Publicly, she's maintained that the backstop must be strictly time-limited. But on Friday, Bloomberg reported that her team is considering dropping that requirement to give new impetus to talks with the EU, and Raab's comment suggests it's under consideration.
The backstop is an insurance policy intended to kick in after a 21-month transition period if no trade deal is reached that can keep the border with Ireland free of customs checks. The EU proposal would essentially carve off Northern Ireland into a separate regulatory and customs area from the rest of the U.K., a situation May says no prime minister could accept. The U.K. instead proposes that the entire country remain tied to EU customs rules.
The difficulty for May is Brexit-supporting lawmakers in her party who fear the proposal will leave the U.K. stuck in perpetuity in a customs union with the EU, unable to strike its own trade deals. Already angered by May's suggestion last week that she's open to extending the transition period, they're likely to be further enraged by Raab's concession on the backstop.
"We have conducted the negotiations as though we were engaged in a slow capitulation," former Tory leader Iain Duncan Smith wrote in the Sun on Sunday. "Government negotiators have no self-belief."
Adding to May's headaches, former Brexit Minister Steve Baker on Friday tabled five amendments to a piece of Northern Ireland legislation that would make the EU backstop proposal illegal. Votes on the bill are due Wednesday in the House of Commons.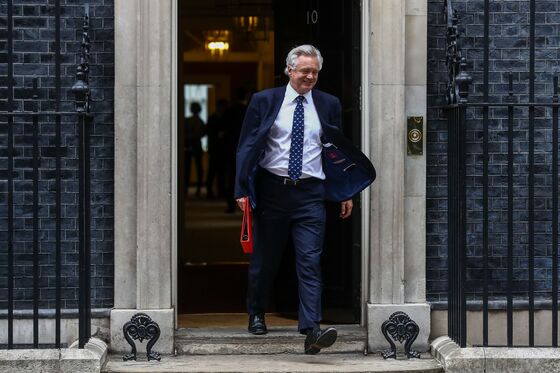 Former Brexit Secretary David Davis -- who quit the cabinet in July over May's plans -- wrote in the Mail on Sunday that "now is the time to stand up for the national interest and plot a better course." Davis, who's been touted as a possible caretaker prime minister should May be ousted, outlined a series of tax measures Britain should take after Brexit.
"The government is in serious danger of treating Brexit as a problem to be minimized when, properly handled, it is a golden opportunity," he wrote.
It's not just the Brexiteers who are critical of May.
In The Sunday Times, former Education Secretary Nicky Morgan called on May to "press the reset button" and pursue a staged withdrawal through membership of the European Free Trade Association. Next to her article was one by the Tory backbencher Johnny Mercer, who earlier in the week used unusually candid language to criticize May. In his latest piece, he wrote: "I cannot continue to support an administration that cannot function."