U.K. Soccer Star Rashford Seeks Review of Free School Meals
(Bloomberg) -- Manchester United soccer star Marcus Rashford, whose campaigning on free school meals has damaged Prime Minister Boris Johnson in the past year, called for an urgent review in the provision of food to the poorest children.
Rashford on Thursday put his name to a letter calling for the review to be conducted by the summer in order to feed into the government's next spending review, for which no date has yet been set. More than 40 charities signed the letter, as well as education and health chiefs.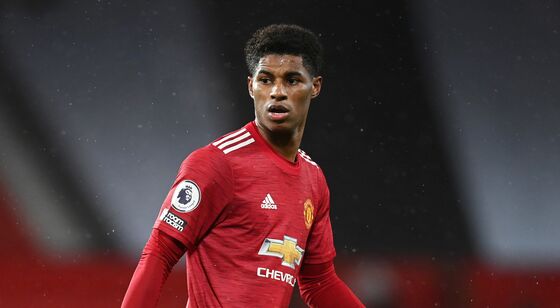 "This would allow the government to provide strong national leadership on children's food so that our nation's most disadvantaged children and their families, already disproportionately impacted by Covid-19, don't continue to bear the brunt," the signatories wrote in the letter organized by the Food Foundation, a nonprofit.
Rashford's campaigning on the issue has already embarrassed Johnson, forcing him into a U-turn in June over the 120-million pound ($164 million) provision of free school meals over the summer break. He again bowed to pressure from the soccer star in November, announcing 170 million pounds of winter funding under a different program to help families buy food.
That winter program will again be available to vulnerable families over the February half term, the Department for Education said Thursday in a statement. That decision was criticized as "chaotic" by National Education Union Joint General Secretary Kevin Courtney, because schools are currently changing over to a voucher program for free school meals.
"That happens for the next four weeks, then we change the system entirely for the half term week and councils run a voucher scheme using the Covid winter grant, and then we go back to schools doing it," he told Times Radio. "Our real worry is that this will cause enormous confusion. It all seems chaotic."
Some 4 million U.K. children are living in poverty and 2.3 million experience food insecurity, according to Food Foundation.
The review should examine eligibility thresholds for free school meals, the nutritional content of the food provided, the stigma attached to recipients and how to enable families to afford quality food out of school time, according to the letter.
Rashford earlier this week reignited his criticism of the government's free school meals program, slamming the food packages on offer as "unacceptable" after images on social media showed the meager contents of some of the supplies.