U.K. Soccer Review Chief Faces Questions Over Super League Links
(Bloomberg) -- The head of a U.K. government-commissioned inquiry into soccer is drawing scrutiny over her links with a public relations firm advising the breakaway European Super League.
Tracey Crouch, the former sports minister appointed to oversee a review into the way the game is run, collaborated with iNHouse Communications as a member of the parliamentary women's football team and in her role as co-chair of an informal group of lawmakers interested in women's soccer.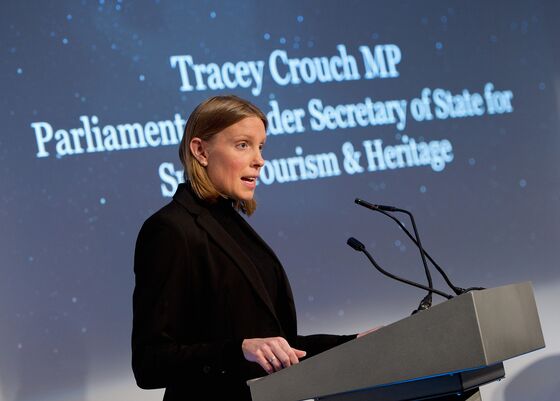 As part of Parliament's women's soccer team, Crouch has been photographed alongside one of the directors of iNHouse wearing sports kit bearing the company's logo. The advisory firm has also been providing administrative support to the All-Party Parliamentary Group on women's football.
In response to questions from Bloomberg News, Crouch and the all-party group's other co-chair, Alison McGovern, issued a statement saying they had decided to drop iNHouse's services and are switching the group's registered secretariat to the Football Association.
The register published on the official Parliament website on April 21 still lists iNHouse Communications as the "public inquiry point" and secretariat for the all-party group.
The register states the firm provided secretariat services with a value of 10,501 pounds to 12,000 pounds ($14,630 to $16,720) for this year. It also records iNHouse as providing in the range of 3,001 pounds to 4,500 pounds worth of soccer pitch fees, refreshments, fitness classes and a fitness instructor in the year to Jan. 27.
iNHouse Communications declined to comment.
The planned soccer super league has drawn condemnation from clubs, fans and politicians for freezing out smaller teams. By Wednesday, the venture was close to collapse as a public outcry pushed a succession of big clubs to withdraw from the venture.
The U.K. government also brought forward a proposal to review all aspects of the game's governance -- which Crouch is leading -- and hasn't ruled out changing the law.
"Recent events have done untold damage to fans' confidence in football, so it's critical that the forthcoming review maintains the highest standards when it comes to openness and accountability," said Steve Goodrich, senior research manager at Transparency International U.K.
"Those involved should declare any potential conflicts of interest they hold and ensure they are managed appropriately," Goodrich said. "Failing to do so risks undermining trust in its findings."
While there is no suggestion Crouch or iNHouse Communications are involved in any wrongdoing, the photographs again demonstrate the closeness some parliamentarians have with lobbyists. Prime Minister Boris Johnson has spent recent weeks trying to shrug off a controversy surrounding the business activities of his predecessor, David Cameron.
Crouch, a qualified soccer coach who has managed a local girls' team, said the idea that there was any potential conflict of interest was "nonsense."
"The fan-led review was triggered by the news of the European Super League, but was already in pipeline," she said in a separate text message. "I've spent the last 72 hours criticizing ESL, so I'm not sure what the story is."
The Department for Digital, Culture, Media and Sport, which commissioned the review, defended Crouch's appointment and said "there are no conflicts of interest."
"The appointment was scrutinized on financial and governance grounds," a spokesperson said in an emailed statement. "Tracey Crouch has a well-known passion for our national game. As a former Minister for Sport, qualified grassroots coach and an ardent football fan, she is well-placed to deliver the review."
Fortnums of Communications
The iNHouse political communications agency has strong connections to Johnson's ruling Conservative Party. Johnson attributes his successful 2008 campaign for mayor of London to help provided by the firm's bosses Katie Perrior and Jo Tanner. Perrior also stepped down from the company to act as press secretary to former Prime Minister Theresa May before returning in 2017.
"They are the Fortnum and Mason of communications," Johnson writes on the company's website, referring to the luxury goods store in London. "They deliver and they deliver quality. Without them, I simply would not have been made mayor."