U.K. Aims to Hit Covid-19 Test Target Despite Minister's Warning
(Bloomberg) -- Boris Johnson's government said the U.K. is still pushing to meet a key target for coronavirus testing on Thursday, and disputed its own minister's assessment that the goal is likely to be missed.
The government set itself a deadline of carrying out 100,000 Covid-19 tests a day by the end of April, to help trace the spread of the virus more accurately and prepare the ground to start easing lockdown restrictions.
Speaking to reporters on Thursday, Johnson's spokesman shot down Justice Secretary Robert Buckland's earlier comments to Sky News that it's "probable" the goal wouldn't be met by the end of the day, but would be soon.
"We're very clear what the target is," spokesman James Slack told reporters, noting that testing capacity had increased to 77,365, with 52,429 tests completed, in the latest daily numbers. "You can see the progress that's been made in terms of getting the capacity up. We're working hard to today to get people the tests that they need."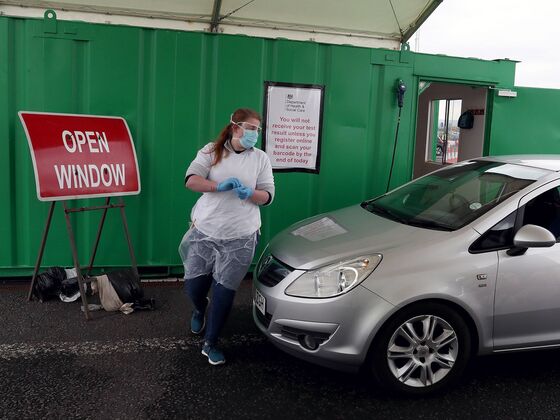 Though Slack said he didn't know if "someone's had a word" with Buckland since his remarks, the exchange illustrates what's at stake for the government over the target. Ministers are already under fire for abandoning testing and tracing of cases and their contacts in March, as capacity was overrun by the rate of infections.
Both are now again seen as crucial if lockdown restrictions are to be lifted, as the U.K. seeks to rebuild its battered economy once the peak in infections has been passed. The government says it won't risk a second wave of cases that could force another economic shutdown, a red line that requires the ability to accurately measure transmission of the disease.
"People have made huge sacrifices to bring down the rate of infection," Slack said. "We're not going to gamble those sacrifices away."
The government has promised a mass program of testing and contact-tracing as it plots an exit from the lockdown, a similar system credited with reducing the pandemic's spread in countries including South Korea, Taiwan and Vietnam.
Work is ongoing to recruit 18,000 contact tracers, 15,000 of whom will do tasks like staffing telephones and giving advice, and 3,000 who will work in the field, Slack said. The government is also working on developing its contact-tracing app, he said.
The prime minister, who returned to work this week after being incapacitated by the disease and treated with oxygen in the hospital, will lead the daily 5 p.m. coronavirus briefing and chaired cabinet earlier on Thursday amid growing pressure for ministers to lay out the next steps.
With health officials warning the outbreak may last until a vaccine is found, the threat of a second spike is forcing ministers to move cautiously on lifting lockdown measures. Foreign Secretary Dominic Raab said Wednesday the example of Germany, where new cases of Covid-19 rose after some social-distancing restrictions were relaxed, showed the risk Britain faces.
Schools could be allowed to re-start classes in a phased way when it's safe to do so, while some outdoor businesses may be among the first to be able to open again, at the right time, Education Secretary Gavin Williamson and Communities Secretary Robert Jenrick said on Wednesday.
The government has also faced criticism over the growing death toll in care homes for the elderly, where many staff have been forced to work without sufficient protective equipment. On Thursday, the Treasury said it will scrap VAT on so-called PPE until July 31, a move it said would save such homes and businesses more than 100 million pounds ($125 million).
More than 26,000 people have now lost their lives to the virus in the U.K., according to latest figures reported Wednesday that included deaths in care homes and the community for the first time, not just hospitals. The Department of Health and Social Care was criticized for under-reporting the pandemic's toll by excluding that data.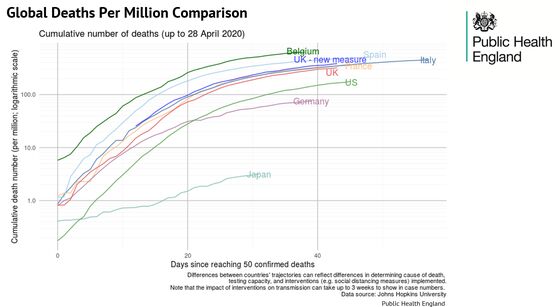 Britain will next formally review its lockdown on May 7, and Raab said the government is waiting to review the evidence from the Scientific Advisory Group for Emergencies, before deciding how to proceed.
Scotland's First Minister Nicola Sturgeon told reporters at her daily briefing in Edinburgh restrictions on movement are likely to remain after the review. "It may well be too early even by this time next week to reduce the current restrictions in any meaningful way," she said.
Data released Thursday showed two-thirds of U.K. firms have applied to make use of the government's wage subsidy program -- an indication of the widespread impact of coronavirus restrictions on businesses.
The government is expected to publish 10 papers by the weekend detailing how businesses in different sectors can get back to work when Johnson eases restrictions, the Financial Times reported.
The U.K.'s deputy chief medical officer, Jonathan Van-Tam, said Wednesday the virus could persist for "some time," potentially until a vaccine is available.
"This virus will absolutely come back," he said. "We have to be extremely sure-footed and extremely painstaking about this."