U.K. Seeks Early Deal With Australia to Boost Post-Brexit Trade
The U.K. will pursue an "early trade deal" with Australia as Prime Minister Boris Johnson seeks to deliver on his promise of a boost to the country's fortunes after it leaves the European Union.
"Australia is a natural partner and we are ready to negotiate a comprehensive trade deal," U.K. Foreign Secretary Dominic Raab said in an emailed statement ahead of his arrival in Canberra on Thursday. "The scope for win-win is huge." 
Having finally divorced from the U.K.'s largest trading partner five days ago, Johnson's government is under pressure to show it has options beyond the EU, especially as the two sides have already clashed over their future relationship. In a speech on Monday, the prime minister said he is willing to walk away without a trade deal when the Brexit transition period expires at the end of the year.
But the risk for Johnson is that trade negotiations with other countries the U.K. is prioritizing, including the U.S., Australia, New Zealand and Japan, will drag on too long. In that scenario, Brexit could quickly start to look like a failure.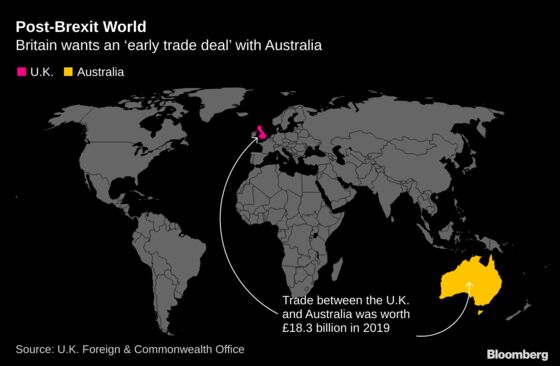 Raab will meet his counterpart Marise Payne as he tries to kick-start talks for an agreement to increase trade between the two countries, which was worth 18.3 billion pounds ($23.8 billion) last year, the U.K. Foreign Office said in a statement. Raab will also visit Japan, Singapore and Malaysia on his tour.
"Following the U.K.'s departure from the EU, we have the chance to broaden our horizons to embrace the huge opportunities in the Indo-Pacific region including with Australia," Raab said.