U.K. Cabinet to Discuss Draft Brexit Agreement on Wednesday
Theresa May's Cabinet will meet Wednesday at 2 p.m. to discuss the draft Brexit agreement reached by negotiators in Brussels.
EU and U.K. negotiators reached draft agreement in Brussels
U.K. Cabinet to meet Wednesday at 2 p.m. to discuss draft
The pound has surged against the dollar and euro
Corbyn: 'Unlikely to Be a Good Deal' (6:10 p.m.)
"We will look at the details of what has been agreed when they are available," Labour leader Jeremy Corbyn said in a tweet. "But from what we know of the shambolic handling of these negotiations, this is unlikely to be a good deal for the country."
Tory Brexiteers Slam May's Brexit Proposal (5:45 p.m.)
Without seeing the draft deal, a group of hardline Tory Brexiteers have made clear they have no intention of voting for it when it comes to Parliament.
Jacob Rees-Mogg, who heads the influential European Research Group, told reporters Cabinet should reject the terms, saying they move the U.K. "from being a vassal to being a slave." He also said the deal will only pass Parliament with Labour's help.
Boris Johnson also noted that he hadn't seen the terms, though he said the "direction of travel" has been clear for some time. Neither side wants a no-deal Brexit, he told the BBC, reiterating his demand that May pursue a much looser relationship with the EU akin to the bloc's free-trade deal with Canada.
And Nigel Dodds, deputy leader of the Northern Irish Democratic Unionist Party which props up May's government, said that if the deal is "as we are hearing, then we couldn't possibly vote for it."
In short, there's plenty for May to worry about. Here's a reminder of the parliamentary math facing her government.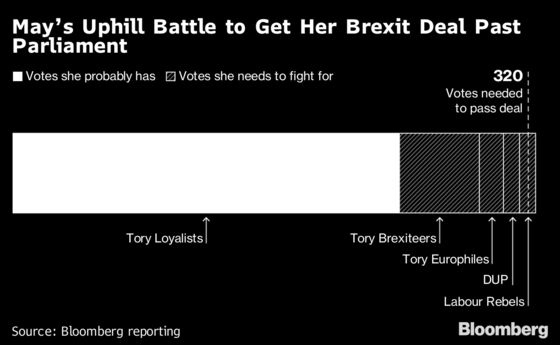 Coveney Spokesman Urges Caution (5:26 p.m.)
Meanwhile a spokesman for Irish Foreign Minister Simon Coveney injected a note of caution, saying talks between the EU and U.K. are ongoing and a number of issues are outstanding.
More Market Reaction (5:15 p.m.)
The pound climbed to the strongest level since April versus the euro, and rose as much as 1.5 percent to $1.3047 on news of Wednesday's Cabinet meeting and the potential breakthrough in talks.
The yield on the U.K. 10-year government bond increased six basis points to 1.52 percent. In the money market, short-sterling implied yields climbed, a sign traders may be raising bets on rate increases by the central bank, should a Brexit deal be concluded.
The pound has bounced in response to a "breakthrough in the Brexit negotiations," said Valentin Marinov, head of FX research at Credit Agricole SA. "What remains to be seen is whether the U.K. Cabinet will agree to the proposed text."
Read more: Pound Surges, Gilts Slide as Signs Point to Brexit Breakthrough
Cabinet to Meet 2 p.m. Wednesday (5:05 p.m.)
May's Cabinet will meet at 2 p.m. on Wednesday, her office said in an emailed statement, after negotiating teams in Brussels agreed the draft of a Brexit agreement. Ministers have been invited to read the terms beforehand.
Agreement Said to Be Reached at Negotiator Level (4:51 p.m.)
EU and U.K. negotiators have reached a Brexit deal at their level and it will go to the U.K. Cabinet on Wednesday, according to a person familiar with the situation.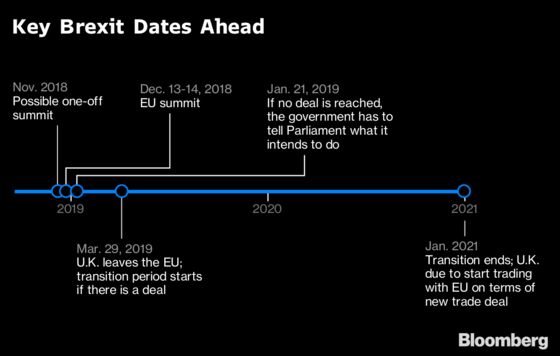 The pound surged to a six-month high against the euro, and is trading up 1.5 percent against the dollar following the news of Wednesday's Cabinet.
EU Envoys Summoned to Meeting Wednesday (4:45 p.m.)
Envoys from the remaining 27 EU members in Brussels were summoned to a meeting on Wednesday, an official familiar with the planning said. The official said the formal agenda of the meeting is preparation for a no-deal scenario, following the publication of the EU Commission's guidelines on Tuesday.
But the official didn't exclude the possibility of a draft treaty text being shown to the ambassadors, should such text has been agreed in the meantime, and asked not to be named discussing internal preparations.
Varadkar: Willing to Be 'Generous' (4:40 p.m.)
Speaking earlier to lawmakers in Dublin, Irish Prime Minister Leo Varadkar said he needed to tread carefully as talks are entering a very sensitive stage. Still he appeared to laying the ground for a deal, offering to have his officials brief opposition leaders if and when an accord is reached.
He hinted he wasn't hung up on what form the backstop took -- such as a "hybrid" or a "backstop to a backstop" -- as what matters is the outcome. That remains avoiding checkpoints or cameras on the border. He also signaled a willingness to hand May some wins, saying the EU must be willing to be "generous" in talks.
Cabinet Said to Plan Brexit Meeting Wednesday (4:30 p.m.)
May will hold a one-off Cabinet meeting to discuss Brexit on Wednesday, according to a U.K. official who asked not to be named.
Ahead of that on Tuesday evening, top ministers are being called in for a briefing at her office, according to another official familiar with the plans.
Irish PM Declines to Comment on Deal Report (4:10 p.m.)
Irish Prime Minister Leo Varadkar declined to comment on the RTE report that negotiators have agreed on the text of the backstop.
Irish broadcaster RTE reported that the text is now considered "stable," though it doesn't mean the deal is done. It still needs to be signed off by the U.K. Cabinet.
The text has an agreed review mechanism, and also includes "specific provisions" for Northern Ireland, RTE said. Ministers will want to look at the detail of the review mechanism to see how much power it will give the U.K. And the Northern Irish party that supports May's government will probably object to the inclusion of specific provisions for the region.
Negotiators Agree Text on Backstop: RTE (4:03 p.m.)
EU and U.K. negotiators have agreed a text on how to avoid a hard border on the island of Ireland, which will form part of the Withdrawal Agreement, RTE reporter said on Twitter, citing unidentified senior official.
A senior official said it would be wrong to say negotiations were "concluded," and that there was still some "shuttling" between London and Brussels, RTE reported.
EU Ramps Up No-Deal Plans (2:25 p.m.)
Just as a deal between the U.K. and EU comes into view, the European Commission issued warnings about what will happen if it falls apart. In a series of contingency notices it said it would prioritize areas including passenger rights, health treatment and border checks.
"In case of a no-deal scenario, EU law will stop applying to the U.K. at midnight on 29 March 2019 -- certain entry and exit checks at the EU's external border will be necessary."
The commission also said that it won't require U.K. citizens to have visas for short stays in the EU, even in the case of no deal, but this is "entirely conditional on the U.K. also granting reciprocal and non-discriminatory visa-free travel to EU citizens traveling to the U.K."
Government Caves on Legal Advice Fight (2:15 p.m.)
The government will abstain on the vote over publishing its Brexit legal advice. That's how it usually deals with impending defeats -- by pretending it wasn't trying to win. Unless Labour drops its motion, it's going to pass.
That means that before Parliament votes on the Brexit deal, it will get a look at the legal advice May received in the negotiating process. It probably spells more difficulty for May.
Fighting on the Home Front (2 p.m.)
While negotiators try to hash out a deal on the Irish backstop, the government is trying to put down a rebellion over it at home. Labour, pro-Brexit and Northern Irish lawmakers are pushing the government to publish the legal advice on whether there's a risk the backstop will trap Britain in the EU's rule system for years.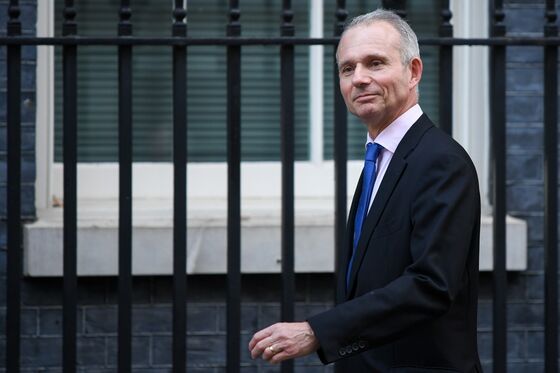 Cabinet Office Minister David Lidington is attempting to buy off the revolt by promising that the government will publish "a full reasoned statement laying out the government's both political and also legal position." He also said Attorney General Geoffrey Cox would make a statement to Parliament, and take questions. The question now is whether this is enough to satisfy Labour, or to persuade rebel Tories to vote Labour down.
Not There Yet (1:47 p.m.)
European Commission First Vice-President Frans Timmermans said Brexit negotiations are "ongoing." According to Timmermans, EU chief Brexit negotiator Michel Barnier told commissioners in a private meeting in Strasbourg, France that intensive talks were making good progress but they are "not there yet."
Movement Expected Later Today (1:20 p.m.)
Cabinet ministers expect the new text of the backstop -- the controversial clause that's a potential deal breaker -- to be sent back to London later today, according to two people familiar with the situation.
Cabinet will be asked to approve it on Wednesday or Thursday, the people said.
'Small Number' of Outstanding Issues (12:35 p.m.)
Progress has been made in talks, and a "small number" of outstanding issues, according to May's spokesman, James Slack. Once a text is negotiated, the Cabinet will be called back to sign off, he said. Negotiations went late into the night on Monday and started again on Tuesday morning.
Fox Says Deal Within Touching Distance (12:20 p.m.)
International Trade Secretary Liam Fox said at an event in London that the U.K. and EU are within potential touching distance of a deal, and that patience was needed to get the agreement right. It's still in both sides' interests to get a good deal, he told a conference organized by Citi and the FT.
U.K. Cabinet Poised to Take Backstop Decision (12:15 p.m.)
The U.K. Cabinet was told on Tuesday to expect to be asked to sign off on the Irish backstop clause this week, according to a person familiar with the situation.
Cabinet could be called back on Wednesday or Thursday, ministers were told.
May told ministers that it will be a difficult decision, but that they should do what's in the national interest, the person said.
The backstop is the thorniest bit of the negotiation as it could bind the U.K. to EU rules indefinitely.
No Vote on ERG Amendment on Legal Advice (11:35 a.m.)
The pro-Brexit European Research Group amendment to Labour's motion on the withdrawal agreement wasn't selected for House of Commons business. That means lawmakers will vote on the Labour version, which tries to force the government to release its legal advice on its proposal for the Irish backstop.
Labour had said the ERG amendment watered theirs down, but it was more likely that Brexiter Tories would vote for it rather than be seen to be backing the opposition. The expectation now is that they'll abstain, meaning the government still faces defeat on the issue -- and therefore could back down.
EU Steps up No-Deal Planning (10:25 a.m.)
The European Commission is launching a series of no-deal seminars to prepare member states and their industries for the worst, according to an agenda obtained by Bloomberg.
Financial services will be tackled on Nov. 15, and air transport on Nov. 22.
Irish Envoy Doesn't Expect No-Deal Brexit (10:10 a.m.)
Adrian O'Neill, Ireland's ambassador to the U.K., said he doesn't expect a no deal scenario to emerge, echoing Foreign Minister Simon Coveney. Intensive talks are continuing, O'Neill said in London. But interestingly, he said a hard Brexit could contribute to a turning of the dial on support for a united Ireland. 
U.K. Sees Deal This Week 'Possible But Not Definite' (8.40 a.m.)
Cabinet Office Minister David Lidington, effectively May's deputy, has been sharing his optimism about a deal with the BBC. He said talks went through the night again, that a deal is "almost within touching distance." But the problems that remain are the "knotty" ones.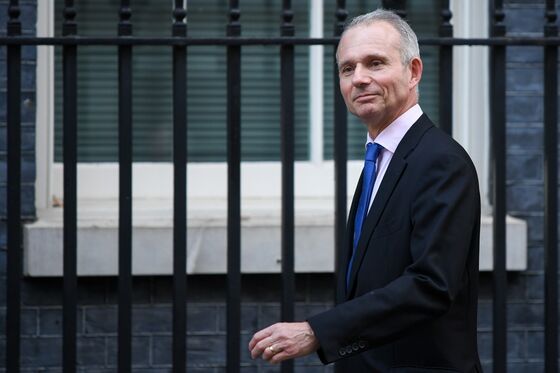 He refused to be drawn about reports in various newspapers about the unhappiness of pro-Brexit Cabinet members, including Brexit Secretary Dominic Raab. "There will have to be give and take on both sides," Lidington said. "Nobody's going to get exactly what they wanted."
On Monday, the opposition Labour Party set out plans to try to force the government to release its legal advice over the proposed withdrawal agreement. And this morning, members of the pro-Brexit European Research Group have tabled an amendment to Labour's motion.
Labour says it waters it down, but the amendment's backers say rebel Tories are more likely to support a Tory motion. In any case, that looks like a government retreat or defeat by the time of the vote at around 4 p.m.
And if that weren't enough, Brexit opponents led by Labour's Chuka Umunna and the Tory Anna Soubry have tabled an amendment to the Finance Bill, which implements last month's Budget. It calls for the government to publish an assessment of the economic impact of its proposed Brexit deal. It's been signed by more than 30 lawmakers, including nine Tories -- enough to defeat the government, if Labour backs it.