Raab Says He Won't Resign Over Missed Afghanistan Phone Call
(Bloomberg) -- U.K. Foreign Secretary Dominic Raab said he won't resign over a missed phone call to his counterpart in Afghanistan last week.
Raab has come under pressure from opposition politicians and some U.K. newspapers for staying on holiday on the Greek island of Crete as the Taliban rapidly seized control of Afghanistan. The Daily Mail reported Thursday he'd failed to make a crucial phone call last Friday to Afghan Foreign Minister Hanif Atmar to seek help airlifting Afghan translators out of the capital, instead delegating it to a junior minister, Zac Goldsmith.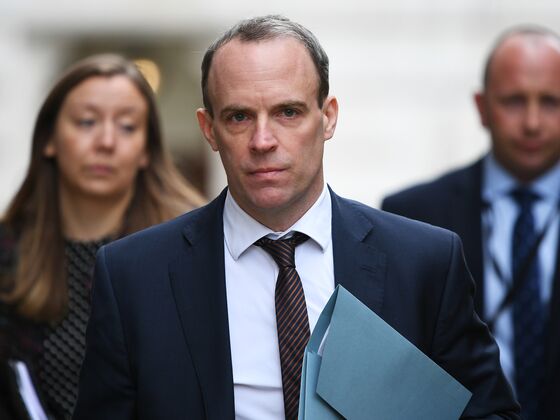 Asked on his way in to a meeting in Prime Minister Boris Johnson's Downing Street office if he would offer to resign, Raab told reporters: "No."
The delegation of the call has led to accusations that the U.K.'s evacuation efforts were set back -- the Mail reported that contact with Atmar wasn't made until the following day -- and that more people could have been brought to safety before Kabul was taken by the Taliban. But U.K. Defence Secretary Ben Wallace denied that was the case.
"Last Friday, the Afghan government was melting away quicker than ice and a phone call to an Afghan minister at that moment in time would have not made a difference," Wallace told BBC Radio. "You can speculate whether the phone call should or shouldn't have been made, but it wouldn't have made a blind bit of difference."
Wallace said the priority was keeping the airport operating. "Without a functioning airport, we were going to get nobody out, no matter how many calls were made to a disappearing government," he said.
Even so, the revelations are unwelcome for Johnson, who is already facing fierce criticism -- including from senior members of his own Conservative Party -- about its preparedness for withdrawing from Afghanistan and over the fate of Afghans who have served British troops and non-governmental organizations over the past two decades. 
On Wednesday, the House of Commons was recalled for an emergency debate on the situation lasting more than seven hours, with Johnson and his senior team accused of failing to rally NATO allies to step into void left by the departing U.S. troops.