Sunak Promises 'Fair' Plan to Plug Hole in U.K. Finances
Chancellor of the Exchequer Rishi Sunak promised he will be "honest" with the British public, signaling potential tax rises ahead to fill the gaping hole in the U.K. finances wrought by the pandemic.
"We do have a challenge in our public finances and if we don't do anything, borrowing will continue to be at very high levels even after we've recovered from Covid; debt will continue to rise indefinitely," Sunak said on Sunday in a Sky News interview. "That's not a good situation."
Speaking before Wednesday's budget release, he said he will "level with" the public and outline a blueprint to address the deficit in a "fair" way.
The chancellor's comments hint at tax rises and spending cuts to close a budget deficit that the Office for Budget Responsibility has said is on course to swell to 394 billion pounds ($549 billion) -- or 19% of gross domestic product -- this year. The Institute for Fiscal Studies has estimated he may need to bring in tax increases of about 60 billion pounds in coming years in order to balance the books.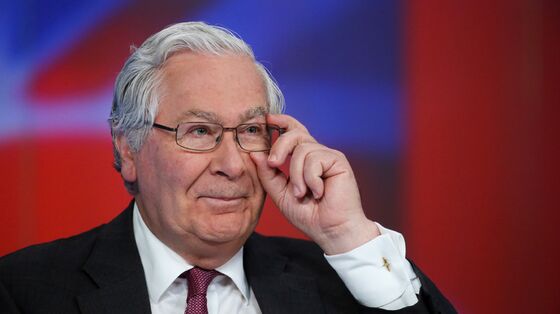 Officials have already suggested that U.S. plans to raise corporate taxes give the U.K. scope to do likewise, while still retaining the lowest rates in the Group of Seven major industrialized economies.
And the Sunday Times reported that the chancellor plans to freeze the thresholds at which people start paying both the basic rate of income tax and the higher rate, pushing 1.6 million people into a higher bracket before the next general election in 2024.
"Now is not the time for tax rises on struggling businesses or families," Sunak's opposition Labour Party counterpart, Anneliese Dodds, is due to say in a speech to Bloomberg on Monday. She'll call him "economically illiterate" for freezing the pay of millions of public sector workers in November, and blame him for causing tens of thousands of redundancies by only extending his furlough program for short periods at a time.
"That is the Sunak effect: while he dithers and delays, people right across the country lose their jobs," she'll say, according to emailed extracts. "Coronavirus may have closed large parts of our economy. But this government crashed it."
Sunak on Sunday refused to comment on specific fiscal measures, including when asked whether freezing income tax thresholds was consistent with the Conservative Party's election manifesto pledge in 2019 not to raise the three main rates of tax: income tax, national insurance and value added sales tax.
What Bloomberg Economics Says...
"The rise in bond yields over the past month, if it sticks, would mean debt interest costs as a share of GDP average 1.2% over the five years rather than 1%. Debt servicing costs have averaged 1.7% since 2000."
-- Dan Hanson, senior U.K. economist. Read full report here.
Conservative Party grandees including former chancellors Ken Clarke and Norman Lamont as well as opposition Labour Party Leader Keir Starmer have warned against putting up business taxes in the upcoming budget.
Sunak appeared to agree with them when asked whether now is the right time to raise corporation tax, telling BBC News on Sunday, "now is the time to keep supporting the economy." That suggests any tax increases he signals in the budget aren't likely to take effect immediately. Another budget is due in the fall.
Measures to Be Included in the March 3 Budget:
1.65 billion pounds for the U.K.'s coronavirus vaccination drive
5 billion pounds of grants worth

up to

18,000 pounds each to help nearly 700,000 eligible businesses in the retail, hospitality, accommodation, leisure and personal care sectors reopen
The world's first sovereign green savings bond for retail investors. The funds raised will be earmarked for projects such as renewable energy and clean transportation
A mortgage guarantee program for 95% mortgages to help people get on the property ladder
22 billion pounds of capital and loan guarantees to capitalize a new national infrastructure bank, with the aim of supporting 40 billion pounds of infrastructure investment
375 million pounds for a new public-private fund to invest in fast-growing tech

start-up

s
126 million pounds for traineeships, and an increase to 3,000 pounds in the for hiring apprentices
A new fast-track visa program to help financial technology and cyber companies attract international talent
The chancellor said he would lay out his plan to shore up the finances in his budget presentation. "I want to level with people about that, about the problem that that causes and the challenges that it presents us with and be honest about our plan to address those," he said.
Sunak told the BBC that he didn't "recognize" reports that he told Conservative members of Parliament he wants to cut taxes before the next general election in 2024, but stressed: "I'm a Conservative and I believe in lower taxes."
The chancellor has committed some 300 billion pounds to fighting coronavirus and supporting businesses and workers through the pandemic this fiscal year in an attempt to buttress the economy against the worst effects of three damaging lockdowns. He pledged to keep supporting workers and jobs as the economy reopens, telling Sky: "We went big, we went early, and there's more to come."
Prime Minister Boris Johnson has announced a four-step plan to ease pandemic restrictions that will mean some businesses have to wait until June 21 at the earliest to reopen. Sunak said he wants "to support people and businesses along that path."
"I said at the beginning of this crisis that I would do whatever it took to protect people families and businesses through this crisis," he said when asked if his flagship furlough program would be extended beyond the end of April. "I remain completely committed to that."
The outbreak plunged the U.K. into its deepest recession since 1709, pushing the national debt above 2 trillion pounds for the first time. While historically low interest rates mean the new pile of debt is manageable for now, Sunak warned of the risk future rises in interest rates pose to the Treasury.
"Interest rates have been at very low levels, which does allow us to afford slightly high debt levels but that can always change," he said. "I want to make sure, when the next shock comes along, whoever's sitting here can do the same thing that I've done. They need strong public finances to do that."