Raab Hints at Flexibility Over Brexit Red Line
(Bloomberg) -- Brexit Secretary Dominic Raab signaled flexibility on one of the U.K.'s red lines in divorce negotiations with the European Union, saying there's scope for negotiation on a key issue.
Negotiators are deadlocked over fallback plans to prevent a hard border with Ireland after Brexit in the event that they fail to conclude a trade deal. They're trying to formulate a guarantee clause, or "backstop," to include in the divorce treaty. The U.K. wants that time-limited, while the EU has said it must be open-ended. But Raab and one of his deputies, Suella Braverman, hinted on Sunday they could live with an alternative to a fixed date.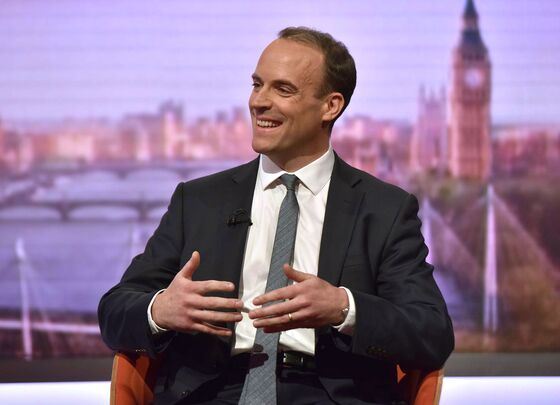 "It could be time-limited, there could be another mechanism," Raab told BBC TV's "Andrew Marr Show." Raab said he "probably wouldn't call it an ejector seat, but I think there needs to be something which allows us to control how long we're there for, to avoid any sense that we are left indefinitely in a sort of customs union limbo. That wouldn't be acceptable."
The remarks are the first overt signal of flexibility on the matter by Prime Minister Theresa May's administration. Publicly she's maintained the backstop must be strictly time-limited. But on Friday, Bloomberg reported that her team is considering dropping that requirement in order to give new impetus to talks with the EU, and Raab and Braverman's comments on Sky News's "Sophy Ridge on Sunday" show suggest it's under active consideration.
"We need a date or a very clear mechanism or clause in this agreement which enables us to get out of it," Braverman said. "We cannot sign up to anything which is in perpetuity, vague, and leaves us exposed to an indefinite membership of a customs union."
Before Raab spoke, French European Affairs Minister Nathalie Loiseau told the Marr program that "the ball is in London's court" over the backstop. She said the mechanism shouldn't be made up of "temporary measures which disappear."
Raab said that "on the vast range of other issues, we're pretty close to getting there," and that the remaining differences between U.K. and EU negotiators could be overcome "with goodwill and with a bit of oomph" on both sides. He also said he could envisage a three-month extension of a planned 21-month implementation period that's due to follow Brexit in March to serve as a "bridge" before a future trade deal comes in.
The impasse in Brussels and possible emerging compromises risk enraging May's restless Conservative Party. The most ardent Brexiteers in her party are already unhappy at a series of concessions she's made, which they say will make Britain a vassal state of the EU.
The Sunday papers won't have made happy reading for her, with The Sunday Times saying on its front cover that she's entered the "killing zone," and the Mail on Sunday saying she faces a "Show Trial'" by her own lawmakers.
May is under pressure to attend a meeting of rank-and-file lawmakers -- called the 1922 committee -- on Wednesday, to explain her Brexit strategy. The Sunday Telegraph reported that as many as 46 Tory lawmakers have written letters to the committee chairman, Graham Brady, demanding a leadership contest. That's two short of the threshold needed under party rules to trigger a ballot.
On Sunday, Former Brexit Secretary David Davis – who quit the cabinet in July over May's plans -- wrote in the Mail on Sunday that "now is the time to stand up for the national interest and plot a better course." Davis, who has been touted as a possible caretaker premier should May be ousted, outlined a series of tax measures Britain should take after Brexit.
"The government is in serious danger of treating Brexit as a problem to be minimized when, properly handled, it is a golden opportunity," he wrote. "It is time for our government to seize the moment and forge a fundamental transformation of our economy."
Meanwhile in the Sunday Times, the Conservative backbencher Johnny Mercer, who earlier in the week called the government a "shit show," wrote that Britain cannot be led by "technocrats and managers," a reference to the current administration. "I cannot continue to support an administration that cannot function,'" he said.