U.K.'s National Grid Creates More Jobs in America Than at Home
(Bloomberg) -- The company whose job it is to keep British lights on and houses heated is actually putting more money and creating more jobs in the U.S. than it is at home.
National Grid Plc, the U.K. gas and power network operator borne from Margaret Thatcher's privatization drive in the 1980s, offers the same services in the densely populated area spanning New York, Massachusetts and Rhode Island. The U.S. now accounts for most of the London-based utility's revenue and it gets the biggest share of investment.
National Grid's shifting center will come as cold comfort to a company that now has to deal with the threat of nationalization should Britain's opposition Labour Party win the next U.K. general election. If that happens, the party plans to take its transmission, distribution and interconnector networks into public ownership. It's a move Chief Executive Officer John Pettigrew has loudly rebuffed.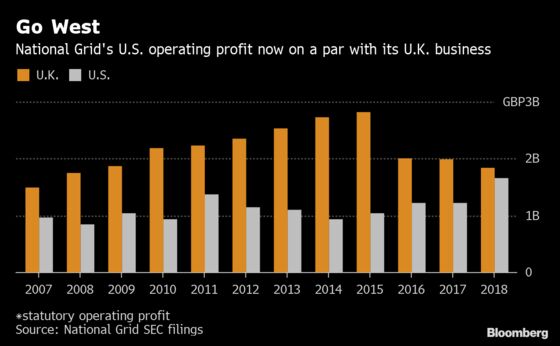 Putting National Grid into state ownership when most of its assets are in the U.S. isn't seen as an obstacle to Labour, and hiving off distinct arms should be straightforward, the opposition party said. Several of the utility's units can be easily identified in company accounts and brought under government control, a spokeswoman for the party said in an email.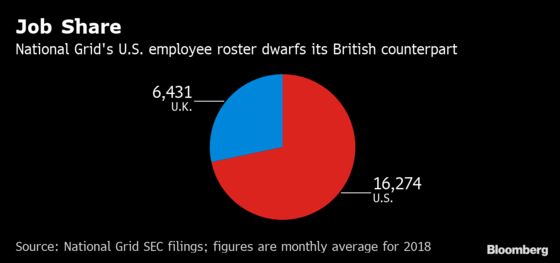 National Grid's spending in the U.S. spurred asset growth there of 9.2% in the year to March 31, helping underpin a group target of 7% annual growth over the next two years.
Pettigrew said that the U.S. makes up the larger proportion of investment and the firm plans to increase the $3.5 billion spent in the 2018-2019 financial year almost 5 billion pounds ($6.4 billion) in total.
The utility bought U.S. renewable energy firm Geronimo Energy LLC for $100 million earlier this year in a deal that also saw the company take a 51% stake in 378 megawatts for solar and wind projects developed by Geronimo for $125 million.
"The Geronimo deal gives us a really nice platform to build on the work we've been doing over the last few years in large scale renewable generation," Pettigrew said in an interview. "There is a pipeline of about 6 gigawatts of solar and wind so if they continue at the rate of about 400 megawatts a year that would be an investment for us of about $150 million per annum."