U.K.'s Mordaunt Urges Support for May in Brexit Effort
(Bloomberg) -- U.K. ministers should get behind Prime Minister Theresa May as she negotiates Britain's departure from the European Union, a key Brexiteer in her cabinet said.
International Development Secretary Penny Mordaunt -- who supported Brexit in the 2016 referendum, told Bloomberg Television that in "such an important moment for the U.K.," it's incumbent on ministers to ensure Britain secures a good Brexit deal.
"What we need to do is to support the prime minister," Mordaunt said when asked if she thinks about following former Foreign Secretary Boris Johnson and former Brexit Secretary David Davis in quitting her post over May's strategy. "The cabinet feel that responsibility very strongly."
Mordaunt's verdict will bolster the prime minister as she tries to forge a Brexit deal that can be accepted by the leave and remain wings of her party, as well as the European Union. The International Development Secretary has been largely silent about May's so-called Chequers plan for Brexit, amid speculation that she had considered quitting her post.
Asked whether she supports May's so-called Chequers plan -- rejected last week by European leaders -- Mordaunt replied: "the only deal that matters is the one that is going to be negotiated with her and her team and the commission."
Britain isn't afraid of a no-deal scenario and is "ready for any eventuality," Mordaunt said, adding that Brexit would be "fantastic."
The opposition Labour Party signaled this week it's likely to oppose any deal the premier puts before Parliament, and the slim majority her Conservatives hold with the support of Northern Ireland's Democratic Unionist Party means she can't afford to have more than a handful of rebels.
The EU has signaled May can either opt for a Norway-style deal, inside the European Free Trade Association, or a free trade agreement similar to Canada's. May has said both are unacceptable because a Norway-style deal wouldn't respect the referendum result, and a Canada-style one wouldn't keep open the border with Ireland, one of her red lines.
Moreover, opposing wings of May's party make movement toward either of those models difficult. On Tuesday, Mark Francois, a member of the pro-Brexit European Research Group which numbers 60 or more, said the group would vote down a Chequers-style deal in Parliament because "it doesn't represent Brexit."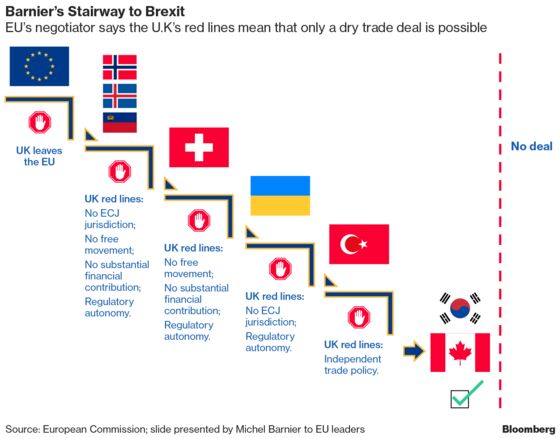 A Norway deal is even less palatable to them. But on Wednesday, former Home Secretary Amber Rudd said pro-European Tories couldn't get behind a Canada-style deal.
"There are conservatively about 40 of us who would not support a Canada-type deal," Rudd said in an interview on ITV's "Peston" show, broadcast live on Twitter. "There are so many reasons why the Canada-type deal doesn't work, starting with the Irish border, going on to manufacturing."
Rudd said if Brexiteers threw out a Chequers deal, it would lead to an impasse that could precipitate a second referendum, which campaigners are calling a people's vote. "It would be ironic if we got a people's vote because the more Brexity people in my party were unable to support the prime minister in her negotiated settlement, and then they might not even get their Brexit," she said.
Labour this week enshrined the option of a second referendum in party policy. Mordaunt rejected the option out of hand.
"A second referendum is a non-starter: the anger that would be felt in the electorate . . ," she said, adding that Britons had "agonized" over the decision in 2016. "They decided. We must honor that decision. We can't unpick it."