Theresa May Spells Out Her Case Against Another Brexit Referendum
(Bloomberg) -- Theresa May spelled out her reasons for opposing a second Brexit referendum on Wednesday in more detail than she has before -- a change in tone as momentum grows for a 'People's vote' on her deal.
The prime minister has previously stonewalled when asked if there could be another plebiscite, saying that the British people have given their instructions and her job is to deliver on them.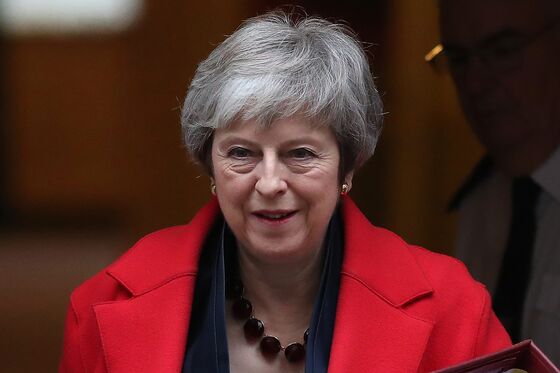 But on Wednesday, she went further -- explaining that there would be no time before Britain leaves the EU in March to hold a vote and she has no intention of delaying Brexit. The "best option" is to get on with delivering the result of the 2016 referendum, she said.
"It wouldn't be possible to hold a referendum before March 29 next year. That would mean extending Article 50, delaying Brexit or leaving with no deal," she told lawmakers in the House of Commons after she was asked if she would put the accord she's brought back from Brussels to the public.
The campaign for another referendum on the final deal has gathered momentum in recent months. The main opposition Labour Party has said it could press for another referendum if May's Brexit deal is voted down by Parliament next month.
Protesters calling for another vote attended a march in London last month and a poll of 1,030 voters by Survation in the Daily Mail newspaper on Wednesday found 48 percent backed a second referendum while 34 percent were opposed.