May Says She Has More to Do as Allies and Foes Threaten Her Brexit Vision
(Bloomberg) -- Theresa May dismissed questions about her future and pledged to be the prime minister to take the U.K. out of the European Union, even as her Brexit plans face wide opposition.
The deal May sealed last Sunday with the European Union looks certain to be rejected by parliament in a Dec. 11 vote, an outcome that one member of her cabinet signaled on Saturday could lead to a second referendum on Britain's membership. It's a result that would also put in danger her leadership of the Conservative Party -- and of the country.
"There's a lot more for me still to do, not least delivering on Brexit and being the Prime Minister that does take the United Kingdom out of the European Union," May told reporters in Buenos Aires where a Group of 20 summit concluded on Saturday. "The next nine days are a really important time for our country, leading up to the vote on this deal."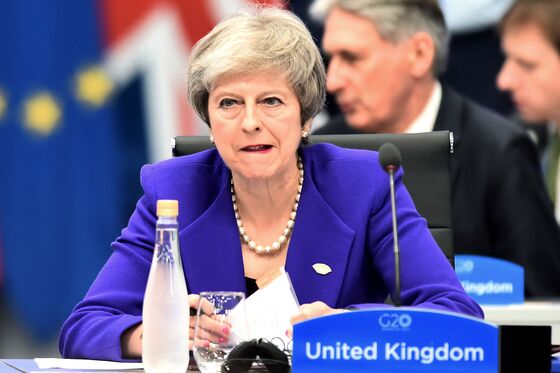 May spent two days at the summit discussing stronger trade ties with allies who will be important to showing there are benefits to Britain's EU departure, including Australia, Japan, Canada and Chile. She didn't meet with U.S. President Donald Trump after he suggested earlier in the week that her Brexit deal might make it hard to strike a trade agreement with the world's biggest economy.
But it's back home that the premier faces her biggest problem: She needs the approval of Parliament in order to pursue her Brexit strategy, and lawmakers don't look like giving it. All opposition parties say they'll oppose May's deal, as do her allies in Northern Ireland's Democratic Unionist Party, and about 100 members of her own Conservatives.
Passing the deal "will take us to certainty for the future," May said. "Failure to do that would only lead to uncertainty."
The front pages of the Sunday newspapers added to the sense of the PM being cornered.
Citing previously unpublished legal advice from the attorney-general, the Sunday Times reported Britain would be trapped indefinitely" in a customs union with Brussels if MPs back her deal. The Telegraph said the DUP will join Labour and other opposition parties in a bid to force the Government to publish its legal advice on Brexit.
And the Observer said a group of key Labour Party officials within Jeremy Corbyn's shadow cabinet is urging the party to be ready to campaign for a possible second Brexit referendum, something May has repeatedly shot down.
The ranks of opponents to May's deal were swelled late on Friday by the resignation of Science Minister Sam Gyimah, who slammed her Brexit deal in a lengthy Facebook post.
Under May's deal, Britain has "surrendered our voice, our vote and our veto," wrote Gyimah, who supported Remain in the 2016 referendum. "We shouldn't dismiss out of hand the idea of asking the people again what future they want, as we all now have a better understanding of the potential paths before us."
Gyimah is the 22nd ministerial resignation since last year's election. While Brexit-supporting Tories have been the most vociferous antagonists of the deal, which they say would turn Britain into a "vassal" state of the EU, Gyimah joins a growing group of pro-European Conservatives suggesting a fresh referendum.
Another Tory to broach the chance of another vote was Culture Secretary Jeremy Wright, who appeared to go off-message, suggesting that if Parliament rejects May's agreement with the EU it could lead to a second referendum.
The alternatives "don't look attractive," he told BBC radio on Saturday. "They are essentially either we leave with no deal which would have serious economic consequences, or we say to the British public: 'I'm sorry you got it wrong, you're going to have to do it again,' which I think would have serious democratic consequences."
On Saturday, May's counterparts from Australia, Japan, Canada and Chile all offered supportive remarks on trade ties. Australian Prime Minister Scott Morrison and Japan's Shinzo Abe expressed support for the Brexit deal. The Japanese leader issued an appeal for May "to avoid no deal as well as to ensure transparency, predictability as well as legal stability in the Brexit process."
May herself has stuck rigidly to the line that she can win the parliamentary vote, and refused to tell reporters traveling with her to Buenos Aires whether she had a plan B.
Canadian Prime Minister Justin Trudeau and Chilean President Sebastian Pinera both discussed with May progress on rolling over existing EU trade deals into bilateral agreements with the U.K. after Brexit. Trudeau said U.K. and Canadian officials have been "working behind the scenes over the past year plus to ensure that there is a seamless transition."
On Friday, May held a controversial meeting with Saudi Crown Prince Mohammed bin Salman, who's under fire over the killing of columnist Jamal Khashoggi. It was the sole bilateral meeting that May's office didn't invite the U.K. press to, only offering reporters a single official photo of a stony-faced May sitting a short distance from the prince.
The damage-limitation effort was thwarted by the Saudis, who invited a camera crew in to film the two shaking hands. She also raised the issue of Kashoggi's murder with President Recep Tayyip Erdogan in her final meeting on Saturday.