May Plans to Rush Brexit Deal Through Parliament
Prime Minister Theresa May's officials are drawing up plans to rush her Brexit deal through Parliament in an attempt to head off a rebellion from her own party, according to people familiar with the matter.
May's team want the final withdrawal agreement ratified by lawmakers within two weeks of signing the terms of the divorce in Brussels. Under that timetable, members of Parliament would vote on whether to accept or reject the divorce treaty by the beginning of December, the people said. May's office declined to comment.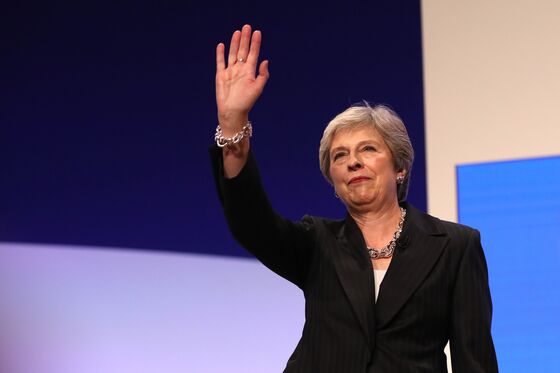 Fast-tracking the deal through the House of Commons is likely to prove contentious. It will open May up to accusations that she's denying lawmakers the chance to scrutinize the terms of Britain's exit from the EU, but the payoff for the government will be in limiting the opportunities for rebels to try to block the deal.
Ministers also believe that reaching a deal quickly will be vital to allow enough time in the parliamentary calendar to pass vital legislation before the U.K. leaves the bloc on March 29.
After months of lurching from one crisis to the next, May needs to seal the deal or risk getting ousted. But this latest move is a high-stakes gamble. With political opposition to her plan growing, she needs to face down those who want a clean break as well as does who want a redo of the 2016 referendum.
Brexit -- though presented as a binary choice between yes and no -- has proven to be a very complex set of technical negotiations and it's cost no end of antagonism for May back at home amid a hemorrhage of resignations. Her non-existent majority in Parliament, combined with Brussels negotiators playing hardball, have upped the ante as the end nears.
May survived her Conservative Party's annual conference largely unscathed this week, despite a fresh assault on her proposed deal from Brexit-backing rivals such as Boris Johnson. Now senior officials and negotiators on both sides are embarking on an intense round of talks aimed at thrashing out the terms of the exit deal.
May will meet European leaders at a dinner in Brussels on Oct. 17, and is then expected to finalize her settlement with Brussels at a special gathering penciled-in for Nov. 17. Ministers are aiming for a breakthrough on the biggest sticking point -- the future of the Irish border -- next week.
After the issue of how to avoid a hard border with Ireland is resolved, negotiators will focus on the future trade agreement between the U.K. and the EU. A political declaration on those trade terms must be signed as part of the final deal, but it won't contain detailed legal text.
For May, the main risk is that her own party refuses to support her plans when lawmakers get the chance to the vote on whether to accept or reject the Brexit agreement. Euroskeptics say her blueprint is unacceptable because it ties the U.K. too closely to EU rules forever, and want a cleaner break with the bloc.
Jacob Rees-Mogg, who leads the Tories' pro-Brexit European Research Group, claims to command the support of 80 lawmakers who would oppose May's plans. Other euroskeptics put the number nearer 45. A revolt of just seven Tories would in theory be enough to defeat May in the House of Commons.
Chief Whip Julian Smith has spent the last month talking to lawmakers from all parties to determine how much ground the government must give in order to secure a majority for its Brexit plans. According to people familiar with the matter, Smith is looking to secure a large majority for May's plans because the Brexit deal is so crucial to the national interest.
That would mean convincing a rump of Labour's caucus to back her deal, for fear the U.K. will head toward a no-deal Brexit.