Theresa May Fights for Her Job as Tory Brexit Splits Widen
(Bloomberg) -- Theresa May is battling to assert her authority as U.K. prime minister after a disastrous start to her party's annual conference threatened to explode into a full-blown leadership crisis.
Before the event had even begun, May found herself struggling to contain a row over a massive data breach and to fend off a brazen challenge over Brexit from her arch rival, Boris Johnson. The former U.K. foreign secretary called her plan "deranged."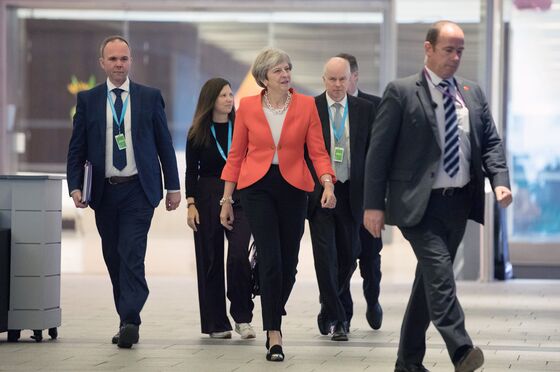 "My message to my party is let's come together and get the best deal for Britain," May said in an interview with the BBC's "Andrew Marr Show." She insisted her proposed blueprint for leaving the European Union is not dead and appealed to her critics to put the needs of the country first.
"What drives me, what drives the government is the national interest -- that's why I'm saying to everybody in politics today, let's focus on the national interest," the premier said.
May arrived in Birmingham for her third Conservative Party conference since becoming prime minister in the aftermath of the U.K.'s 2016 EU referendum, with her leadership and her Brexit strategy in peril.
Her proposal to keep close to the EU's single market in goods -- which would establish a new free trade area with the U.K. -- has been bluntly rejected by European leaders, and is under attack from her own side. Euro-skeptic Tories led by Johnson want a quick, clean split with the bloc and worry that May is binding Britain far too closely to EU tariffs and trade regulations, an outcome that they say amounts to a betrayal of the referendum vote.
On Sunday, Johnson stepped up his attack on May's Brexit proposal, known as the Chequers plan, and turned it personal. Her plan to require Britain and the EU to collect each other's tariffs was "entirely preposterous," he told the Sunday Times.
Former Brexit Secretary David Davis added to the pressure on May to ditch her Chequers plan, pinning the blame on her for the lack of success in talks with the EU. Speaking to Sky News, he said he spent much of his time in office telling May she was making major mistakes in her negotiating strategy. "I told her at each stage where I thought we were going the wrong way," Davis said.
Some Tories are openly demanding that May quits as prime minister and want her replaced with a leader who will deliver a decisive break with the EU. In the Times interview, Johnson made a pitch for the kind of leadership he thinks the party needs.
"Unlike the prime minister I fought for this, I believe in it," Johnson said. "I think it's the right thing for our country and I think that what is happening now is, alas, not what people were promised in 2016."
Johnson set out his own highly critical view of May's policies beyond Brexit, arguing the Tories should stop trying to copy Labour party leader Jeremy Corbyn if they want to win the next election. "We need to make the case for markets," he said. "I don't think we should caper insincerely on socialist territory."
May fought back. "I do believe in Brexit," she told the BBC. "But crucially I believe in delivering Brexit in a way that respects the vote, and delivers on the vote of the British while also protecting our union, protecting jobs and ensuring that we make a success of Brexit for the future."
The conference event is already becoming a battle for the leadership of the party, with May's future an open question that senior party officials are debating. A succession of Tory politicians were asked in media interviews on Sunday if she could survive as party leader, and each gave -- at best -- lukewarm endorsements.
"I hope she will and I think she will," Brandon Lewis, the Conservative party chairman, said when asked by Sky News if she would lead the Tories into the next election. "That's up to her frankly," Davis told the same channel.
The conference went wrong even before it started. On Saturday, Sky News reported that the party's official app for the event allowed anyone to access and change the details of attendees, including members of the government. According to the Telegraph, images were posted on Twitter showed users logging in as Johnson.