Boris Johnson Called Health Secretary Totally 'Hopeless,' Ex-Aide Says
(Bloomberg) -- U.K. Prime Minister Boris Johnson branded Health Secretary Matt Hancock "hopeless" in the early stages of the coronavirus pandemic, according to WhatsApp messages released by Johnson's former aide Dominic Cummings.
In his blog on Wednesday, Cummings published a series of screenshots that he said showed exchanges with Johnson in March 2020 about Hancock's handling of the pandemic.
On March 3, Cummings pointed to how the U.S. had ramped up testing and criticized Hancock's approach. "Totally f---ing hopeless," Johnson replied, according to the former aide's documents.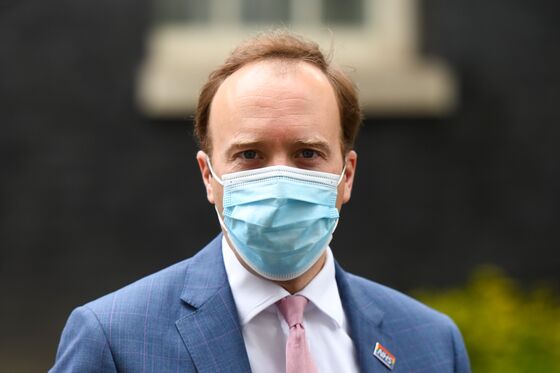 In an exchange of messages three weeks later, Cummings said government officials had been turning down ventilator offers because the "price has been marked up." Johnson's replied: "It's Hancock. He has been hopeless."
Johnson's spokesman Max Blain declined to comment on the messages but did not dispute they were genuine. Asked by reporters whether Johnson had "full confidence" in Hancock, he replied: "Yes."
Cummings, who had a front-row seat for much of the pandemic decision-making before leaving government late last year, told a parliamentary committee last month that Hancock was "disastrously incompetent" and should have been fired for "15 to 20 things."
Though the rapid rollout of vaccines this year has shifted the narrative in British politics, ministers faced intense criticism early in the pandemic -- including over the delay in ordering the first lockdown and the lack of testing available to control the spread of infections.
Hancock told members of Parliament this month he acted with "honesty and integrity" throughout the crisis, and denied Cummings's claims that he lied to Johnson about testing patients who were being moved into care homes.
In a WhatsApp message on April 27, Johnson apparently said the government's approach to protective equipment for health workers had been a "disaster" under Hancock and suggested that Cabinet Office minister Michael Gove should take responsibility instead.
Cummings also claimed that Johnson had a "clear plan to leave" after the next election because he "wants to make money and have fun." This was dismissed as "utter nonsense" by Johnson's press secretary in a briefing with reporters.
The controversy over Cummings's messages came as Parliament backed the government's plans to extend coronavirus restrictions in England to July 19. MPs voted by 461 to 60 on Wednesday evening to support Johnson's plan, which seeks to buy time to fully vaccinate more people before dropping the requirement for social distancing and lifting restrictions in areas such as large sporting events and nightclubs.