Johnson Battles to Contain Sleaze Row Engulfing U.K. Government
(Bloomberg) -- U.K. Prime Minister Boris Johnson is reeling from incendiary new allegations about his conduct during the pandemic, fueling a row over claims of sleaze and cronyism surrounding his government.
The Daily Mail newspaper reported that Johnson said he would rather see "bodies pile high in their thousands" than order a third lockdown.
The premier's spokesman called the report "just another lie," but it is the kind of claim that Johnson's Conservative Party allies will fear could sway voters, 10 days before important elections.
On Monday, the British government's most senior civil servant, Cabinet Secretary Simon Case, will be questioned over the raft of allegations against Johnson's administration at a parliamentary inquiry. A minister will also be called to the House of Commons to answer questions on sleaze, following claims that Johnson wanted a Tory party donor to cover the cost of refurbishing his apartment.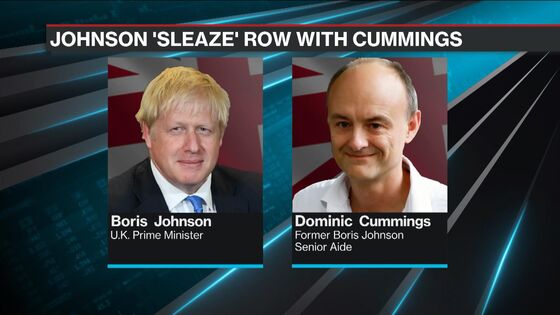 "It has potential to be extremely destabilizing," Gavin Barwell, a former chief of staff to Johnson's predecessor Theresa May, told Times Radio on Monday. "At the moment the story hasn't had any apparent impact on the opinion polls, but I think that there will be huge frustration among Conservative MPs, and councilors and candidates with the elections approaching in early May."
The latest developments follow explosive claims from Johnson's former top aide Dominic Cummings, who published a 1,000-word blog Friday that cataloged a litany of alleged failings and potential rule-breaking by his former boss.
Cummings is one of the most controversial figures in British politics, who masterminded the 2016 Brexit vote before becoming Johnson's most powerful strategist, with huge influence in government. He set about ripping up political conventions but sparked a public outcry when he pushed the pandemic rules to the limit by taking a 250-mile road trip while the public were ordered to stay home during the first national lockdown.
Cummings quit last year after an internal power struggle and is now shaping up to be Johnson's biggest problem, demanding an urgent investigation into the way the government handled the pandemic and leveling potentially devastating claims against his former boss.
The disillusioned ex-aide is likely to launch a fresh attack over the government's handling of Covid-19 when he appears before a parliamentary committee on May 26, and could personally blame Johnson for failures during the second wave that led to one of the worst death tolls in Europe.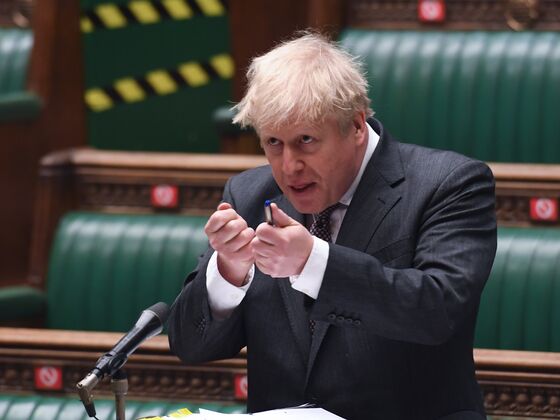 Case, who worked closely with Cummings in 10 Downing Street, will face questions over the claims at Parliament's Public Administration and Constitutional Affairs committee.
He will also be asked about collapsed lender Greensill Capital's links to the government, and the "effectiveness" of rules requiring ministers to conduct business "ethically and with propriety."
The multilayered accusations come at a highly sensitive time for Johnson's team. Rows involving lobbying by former prime minister David Cameron on behalf of Greensill, the revolving door between business and government, and claims that lucrative contracts were awarded to firms during the pandemic without proper scrutiny have deflected attention from the country's vaccination progress.
While polls still give Johnson a healthy lead over the opposition Labour Party, the furor also threatens to dominate campaigning ahead of key local and mayoral elections on May 6. The Conservative government is seeking to capitalize on the success of the U.K. vaccine program, with a first dose now having been given to more than half the population.
"We're getting into the comedy chapter now of these gossip and stories," Defense Secretary Ben Wallace told Sky News on Monday. "None of this is serious. The prime minister has been utterly focused on delivering, alongside cabinet colleagues, the response to Covid."
In his blog on Friday, Cummings claimed Johnson sought to halt a leak inquiry into who disclosed plans for November's national lockdown because he feared it would implicate a close friend of the prime minister's fiancee.
Cummings also alleged Johnson planned to have secret donors pay for a renovation to his official Downing Street apartment. The former aide denied leaking private text messages between Johnson and billionaire James Dyson which appeared to show the premier agreeing to "fix" a tax issue.
The controversy risks reviving memories of the lobbying scandals that plagued the Conservative government of the 1990s and helped usher in 13 years of Labour rule.
"The stench of sleaze coming from the Conservatives is overwhelming," Labour's deputy leader Angela Rayner said in an emailed statement. The government must immediately publish its delayed register of ministers' interests, reveal "who benefited from their VIP fast lane," and launch a probe into who paid for Johnson's apartment refurbishment, she said.