U.K.'s Hammond to Set Out a Budget That Brexit Talks Could Break
(Bloomberg) -- It was only a few weeks ago that U.K. Prime Minister Theresa May declared an end to austerity. In doing so, she made life easier for herself but much harder for her finance minister.
Chancellor of the Exchequer Philip Hammond is perceived by Brexit believers as an enemy. Terminating almost a decade's worth of belt-tightening was always going to be tough with a sluggish economy. To attempt it in the throes of a messy divorce from the European Union is unprecedented.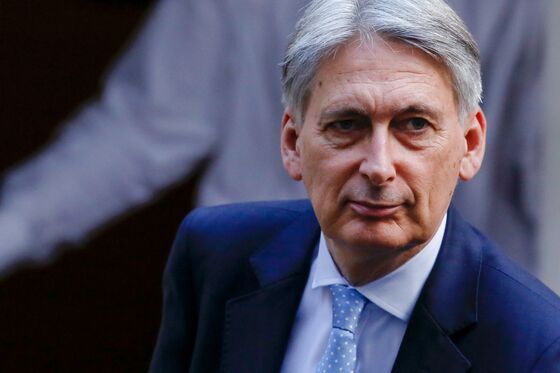 That is why this Budget, which should be about signaling tax and spending plans, has been more mired in politics than ever before. Hammond, who is unapologetic about voting to stay in the EU, is clear he can only loosen the purse strings if there is a Brexit deal -- something that's still uncertain.
When "Spreadsheet Phil" stands up in Parliament at 3:30 p.m. in London, it is in the knowledge that much of what he promises hinges on a successful outcome of talks in Brussels with the U.K. leaving on March 2019, deal or no deal.
On the eve of his Monday speech, he said Britain may need another emergency budget and prolonged austerity in the event of a no-deal Brexit. That means any freshly announced measures might only survive for five months.
"We would need to look at a different strategy and frankly we'd need to have a new budget that set out a different strategy for the future," he told Sky News on Sunday.
It is worth remembering this is a government with no majority in Parliament and even this Budget can become a bargaining chip. The date of the Budget itself was brought forward, falling smack in the middle of potentially game-changing EU summits where the fate of the U.K. outside the bloc will be decided. A November meeting is still a remote possibility.
Growth has already slowed since the 2016 referendum, and on Friday, researchers warned a no-deal Brexit would lead to gross domestic product increasing by only 0.3 percent in 2019. On the same day, government-owned Royal Bank of Scotland Group Plc said it set aside 100 million pounds ($128 million) to reflect the uncertainty.
The run-up to the Budget is usually an opportunity for the country's head of finances to dominate the government's narrative, showing he's in control of the economy and delivering on any political promises.
Hammond is also set to announce a new design for the 50 pence coin commemorating Brexit, in a move that will be seen as trying to win over hard-line Brexit voters and show them he's enthusiastic about the divorce, according to The Sun newspaper.
This year, Hammond's announcements on everything from boosting spending on mental health services to making it easier for places such as McDonald's restaurants to become a wedding venue have been drowned out by noises around the Brexit stalemate.
EU negotiations remain stuck on the question of how to avoid customs checks at Ireland's border with the U.K., while the threat of a leadership contest is ever-present for May as she struggles to unite the warring factions of her own Conservative Party.
Some are considering plans to keep the U.K. in the European Economic Area until the government reaches a trade agreement with the bloc. It would be the kind of Brexit that would mean preserving close ties to the EU's single market.
That was an idea anathema to many Brexit true-believers. However, some could be coming around to it. Jacob Rees-Mogg, leader of an influential group of pro-Brexit lawmakers, didn't close the door on the so-called "Norway for Now" plan.
"I think it is difficult, when would it end, would the EU entertain subsequent negotiations so does it merely postpone the WTO option?" he said.
All this goes to show that with such fundamental questions still unanswered -- where is the U.K. headed months and even years from now -- the Budget remains untethered.