U.K.'s Hammond Says Brexit Delay Is Possible If New Deal Reached
(Bloomberg) -- Chancellor of the Exchequer Philip Hammond said the EU and U.K. would agree to delay Brexit if more time is needed to pass the required legislation, the clearest signal yet that Britain is contemplating an extension to the March 29 deadline.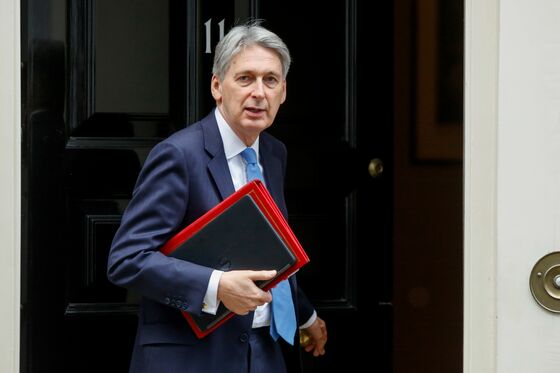 "If we do get the deal and we need a little bit more time to put all the legislation and so on in place then I'm sure everybody on both sides will take a reasonable approach to that," Hammond said in an interview with ITV News. "We've got to find a solution to the challenge of how we leave the European Union."
Hammond is the most senior figure in government to openly suggest that a delay might be necessary. His remarks echo comments on Thursday by Foreign Secretary Jeremy Hunt.
The government has already cancelled a planned vacation for lawmakers later this month to make room to pass legislation and May has pledged to return to Parliament in the middle of February after further talks with the EU over the Irish backstop.
"There's no point just kicking this can down the road," he said. "If we don't get a deal the stark choice is between no deal and no Brexit, neither of which is an acceptable outcome."