U.K.'s Hammond Warns No Deal Would Be 'Betrayal' of Brexit Vote
(Bloomberg) -- U.K. Chancellor of the Exchequer Philip Hammond warned that leaving the European Union without a deal would betray voters who were promised a "more prosperous future" if they chose Brexit.
"Not leaving would be seen as a betrayal of that referendum decision," Hammond said in a speech at the World Economic Forum in Davos, Switzerland. "But leaving without a deal would undermine our future prosperity, and would equally represent a betrayal of the promises that were made."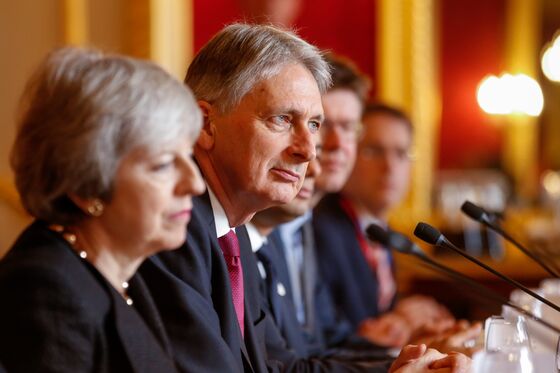 His comments are a departure from the government's official line, and suggest he is deeply reluctant to allow the U.K. to exit the EU with no deal in place. Hammond campaigned for remaining in the EU in the 2016 referendum and pro-Brexit politicians in Britain regard him as part of a movement to undermine that vote and keep the U.K. in the bloc, a charge he denies.
Many of these euro-skeptics would prefer a no-deal Brexit to the divorce terms Theresa May has negotiated. The chancellor's barbed comment about the promises made by Brexit campaigners is likely to further inflame his relations with euro-skeptics in his own Conservative party.
The U.K. is due to leave the EU on March 29 with or without a deal. So far, May has failed to persuade pro-Brexit Tories to support her withdrawal agreement and there's little sign of an imminent breakthrough to resolve the deadlock. Some pro-EU lawmakers in London want a second referendum to be called, in the hope that it would overturn the result of the first.
At a lunch with business leaders on the third day of the annual gathering, Hammond said pushing for a second referendum risked undermining the country's political stability, and could also bolster calls in Scotland for another national vote on independence.
One investor asked Hammond why ministers say it would be undemocratic to hold another vote on Brexit when people now have more details about how hard it would be.
"While people can construct routes out of the position we're in that will cause champagne corks to be uncorked in board rooms around the world," the chancellor replied. "If we trash the political settlement that underpins the stability of society and our economic system in the process, that will be a very short-lived celebration."
Hammond's answer is interesting because he is considered by pro-Brexit campaigners as an "arch-Remainer," and he's been the frequent object of attacks by those who want a clean break from the European Union and think he's trying to keep the U.K. in by stealth.
When another executive urged the government to rule out a no-deal Brexit -- the kind that businesses fear the most -- Hammond stuck to his theme, warning that ministers should not interfere in the referendum result.
"It would be a Pyrrhic victory to play games with the political consensus round our current government and system of democracy," he said.