Liam Fox Would Back Less-Than-Perfect Deal to Get Brexit Done
(Bloomberg) -- Britain's international trade secretary said he will back an imperfect Brexit deal with the European Union, on the basis it can be revised and improved after the U.K. has left the bloc.
In an interview with Bloomberg this week, Liam Fox said he supports Prime Minister Theresa May's blueprint for close trade ties with the EU -- despite having "reservations." Getting Brexit done is the priority, he said, because not implementing the referendum result would be disastrous for British politics.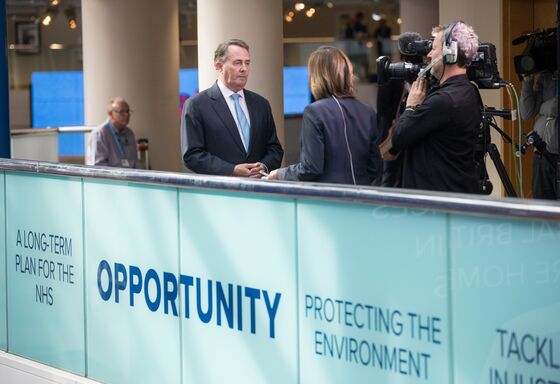 "We must leave, and we must leave on the 29th of March -- not to deliver Brexit is the greatest political risk we could run," said Fox, a longstanding euroskeptic who campaigned in 2016 for Britain's exit from the bloc. "We should try to get as much of a final deal as we can get by the 29th of March, but it's self-evident that if it's a bilateral treaty, it can be revised later on."
Fox's endorsement of May's plan -- and his appeal for pragmatism -- will help the premier as she battles to contain a backlash from passionately pro-Brexit politicians in her Conservative Party. Negotiations with the EU are in the final stages with less than six months before Britain's scheduled departure, though May has signaled she'll need to make more compromises to get a deal done.
Some Tory rebels already feel May's gone too far to accommodate European demands and is betraying their vision of a clean break from the EU. Senior Cabinet members Boris Johnson and David Davis quit her government in protest in July, and hardliners in her party say the prime minister could be toppled or face more resignations if she goes any further.
Fox warned that Brexit itself would be at risk without compromise.
"We all had our own reservations about it, but that is the collective decision," he said. "Whilst I may be very sympathetic with those who take an ideologically purist position, we are also politicians whose job is to be able to deliver."
The danger for the Tory Brexiteers is that May's weakness in Parliament -- where she relies on Northern Ireland's Democratic Unionist Party to win votes -- could lead to a no-deal Brexit, or to politicians trying to block the government from leaving at all.
"There are two things that some people don't quite seem to grasp," Fox said of those Conservatives considering an attempt to topple May. "One is that we have no majority in the House of Commons -- and even if we did, that doesn't guarantee that we have got a Leaver majority. And the reality is that we will have to get any deal through the House of Commons in the end."
More than any of May's ministers, Fox is responsible for ensuring Britain does benefit when it is free of EU rules. His job is to lay the groundwork for new free-trade deals the government wants with nations including the U.S., Australia, India and China.
His team has already held several rounds of preparatory talks with President Donald Trump's administration, and Fox said the U.K. and U.S. have the potential to revolutionize global finance if they can strike a deal.
Yet Fox said he's also cautious about Trump's attitude to the World Trade Organization, which the president has described as "unfair" and threatened to leave. Trump has also targeted allies and adversaries in an escalating trade war.
"We don't disagree with the American analysis on the issues they raise on dumping and subsidy and lack of transparency," he said. "We object to the mechanics they used to deal with them. We think it's done better on a multilateral basis, and we think the rules-based system needs to prevail."