U.K. Said to See Early Monday as Cutoff for Talks: Brexit Update
(Bloomberg) -- The U.K. sees late Sunday or early Monday as the absolute deadline for talks with the European Union, according to a person familiar with the government's thinking. Negotiations have been "difficult" so far, both sides say.
If May's deal is rejected Tuesday, officials won't head back to Brussels to seek more concessions, according to a person familiar with the plans
Government is braced for flurry of amendments next week as lawmakers try to force their own alternative Brexit plans
Lawmakers are stepping up efforts for a second referendum
May could go to Brussels at weekend to wrap up talks
Lords Vote to Keep U.K. in Customs Union (8:40 p.m.)
Parliament's upper chamber voted for the U.K. to remain in a customs union, the EU's trading regime.
It's a defeat for the government on its Trade Bill in the unelected House of Lords, but the amendment won't take effect unless the elected House of Commons votes the same way when the legislation goes back there for another vote.
The House of Lords has voted for a customs union before, only for it to be overturned by the Commons, so the result is unlikely to worry Prime Minister Theresa May. Her spokesman James Slack signaled to reporters before the Lords vote that she isn't wavering from her stance that leaving the customs union is a crucial component of Brexit.
"It's an important principle for the prime minister that we should be able to have our own independent trade policy" after Brexit, Slack said. "That is one of the key things which she want to deliver as part of the Brexit process."
Still, with May's Brexit deal at risk of being rejected next week, members of Parliament could soon find themselves voting on alternative ways to implement Brexit. And the customs union as an option will be back on the table.
U.K. Said to See Early Monday Deadline for Talks (4:30 p.m.)
Brexit Secretary Steve Barclay and Attorney General Geoffrey Cox could return to Brussels at the end of the week to resume talks that aim to improve the Brexit deal, according to a person familiar with the government's thinking.
Late Sunday or early Monday would be the ultimate deadline to allow time for members of Parliament to scrutinize the text before it's put to a vote on Tuesday, March 12.
If May loses the vote and Parliament then rejects a no-deal Brexit in a vote planned for the following day, the government expects a flurry of amendments on March 14 when a motion on postponing Brexit day will be debated.
The government expects lawmakers to try to seize control of parliamentary business and over the length of the delay.
One thing is clear, according to the person: the government won't head back to Brussels immediately to seek more concessions ahead of another attempt to get the deal ratified.
Lawmakers Renew Push for Second Referendum (2:45 p.m.)
Pro-European lawmakers are ratcheting up their efforts to secure a second referendum. Geraint Davies, a rank-and-file Labour member of Parliament, published a bill that would call for a public vote pitting the Brexit deal negotiated by the government against remaining in the EU.
In an emailed statement, he said he plans to propose an amendment when Parliament votes on May's deal next week, forcing the government to make time for his bill.
"The public is frustrated both as Parliament seems incapable of agreeing a deal and because any deal doesn't look like the promises made in 2016 on jobs, trade and control," Davies said in a statement. "There are compelling reasons to put the choice" to a public vote.
He's not the only one using the tools of Parliament to try to force a referendum. His Labour colleagues are planning a separate amendment that would call for MPs to support May's deal on condition that it's then put to referendum. Davies's plan calls for a plebiscite regardless of whether Parliament backs May's deal.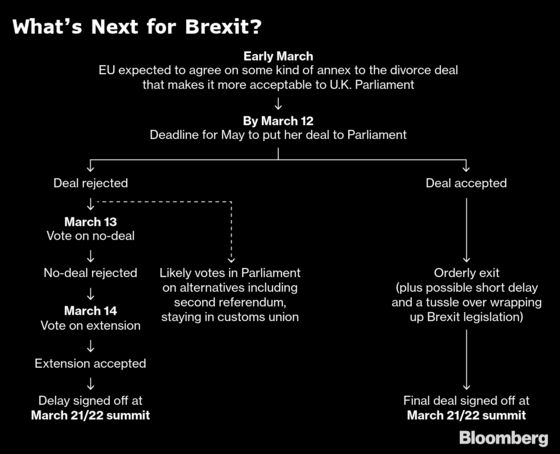 Government Urged to Reveal Its No-Deal Tariff Plans (2:30 p.m.)
Nicky Morgan, who chairs Parliament's influential Treasury Committee, has given Chancellor Philip Hammond until Monday to confirm the department's plans for tariffs under a no-deal Brexit.
In a letter to Hammond on Wednesday, Morgan said lawmakers need to know the Treasury's position before they vote on May's Brexit deal on March 12.
Reported plans to cut tariffs on imported goods by 80 to 90 percent "would represent one of the largest liberalizations of trade policy in British history", and would have a major impact on businesses and the economy, she said.
Earlier, Business Secretary Greg Clark dodged questions on the issue after Sky News reported the plan was for 80 to 90 percent cuts. A U.K. official said on Tuesday the government was unlikely to publish the no-deal tariff regime before the vote.
Labour Says Business 'Positive' Over Brexit Plan (1:30 p.m.)


Business leaders were "positive" over Labour's Brexit plan after a meeting with Jeremy Corbyn, the party leader's spokesman said on Wednesday.
Corbyn met with representatives from the Confederation of British Industry, the Institute of Directors and other groups on Tuesday, his office said.
Bercow: Barclay Should Appear Before Brexit Panel (1 p.m.)
House of Commons Speaker John Bercow said Brexit Secretary Stephen Barclay should appear before Parliament's Brexit committee before next week's votes on Theresa May's deal with the EU.
While the Speaker said he has no power to force Barclay to appear to answer lawmakers' questions, "it's manifest and incontrovertible that it's desirable in terms of the scrutiny and accountability process" for him to go before the committee. "Simply offering individual meetings with members of the committee does not remotely pass muster."
Bercow was speaking after committee chairman Hilary Benn said Barclay "understandably" canceled an appearance yesterday because he was in Brussels, but had refused to agree another date before next Tuesday's vote. Barclay had instead offered times to speak to members of the panel privately, Benn said. Bercow told Benn to "persist."
What's the EU Offering? (12:15 p.m.)
EU negotiators on Tuesday night offered the U.K. "ideas on how to give further assurances" that the backstop arrangement for the Irish border would be temporary, according to European Commission spokesman Margaritis Schinas.
They are still insisting the backstop remains "unless or until" a new trade deal makes a border unnecessary. The U.K. was hoping for more movement than that.
Technical talks will continue this week.
How About a Second Referendum? (12 p.m.)
Two lawmakers are still working on the wording of an amendment that aims to put May's deal to a referendum. Known as Kyle-Wilson, the amendment would back May's agreement but on the condition that it goes to a public ballot.
It's not clear yet if the Labour leadership will support it -- that will be crucial to its success. The key question now is timing -- the MPs plan to propose it next week but are reserving judgment as to which day would give it the best chance of success.
"It is a compromise way of getting through. This means people can look at the facts of the matter now and vote again if they want to," Phil Wilson, one of the two authors, said in an interview.
May's deal is expected to go to a vote on March 12. If it's defeated, then the next day Parliament will vote on whether to opt for a no-deal exit. The day after, they will vote on whether to extend the Brexit day deadline. Opponents of May's deal across the political spectrum have long tried to figure out how to make sure their alternative is the last one standing.
EU Says Talks Were 'Difficult' (11:30 a.m.)
Talks between EU and U.K. negotiators were "difficult," according to the EU side. The U.K. says there was a "robust" exchange of views, and negotiations will continue.
"While the talks take place in a constructive atmosphere, the discussions have been difficult," EU Commission spokesman Margaritis Schinas told reporters, citing EU chief Brexit negotiator Michel Barnier.
Negotiations in Brussels Didn't Go Smoothly (11:10 a.m.)
Talks between EU and U.K. negotiators on Tuesday were difficult and didn't go smoothly, according to a person familiar with the discussions on the EU side.
There's no sign of a breakthrough in discussions with Attorney General Geoffrey Cox and there will need to be some tough work in the days ahead if there's going to be deal, the person said, speaking on condition of anonymity.
Cox told reporters the talks had been "robust," and would resume soon, according to the Financial Times. "We have put forward some very reasonable proposals. We are now into the details of the discussions," he was quoted as saying.
Both sides had played down expectations of an imminent breakthrough, and Theresa May is expected to go to Brussels before Tuesday.

Wilson: DUP Won't Back Deal Without Changes (10:20 a.m.)
The DUP won't back the May's withdrawal agreement in its current form, the party's Brexit spokesman Sammy Wilson said, adding that changes were needed to ensure the U.K. can't be kept in the European Union's customs union indefinitely.
At a parliamentary hearing in London, Wilson said a no-deal Brexit would be better than the agreement currently on the table because governments would be able to mitigate any "short-term impact." He also dismissed the idea that an arbitration mechanism would be acceptable to resolve issues around the backstop, arguing that only a time-limit on the provision would be acceptable to his party.
Wilson also accused the Irish government of sending "gun boats" to enforce a hard maritime border between Northern Ireland and the Republic of Ireland, a reference to an incident between Irish authorities and Northern Irish trawlers last month.
Fox Doesn't Rule Out Voting for No-Deal (10 a.m.)
Fox refused to rule out voting for a no-deal Brexit next week, when asked repeatedly how he would vote in the event that May's deal is rejected on Tuesday, triggering a series of votes on the way ahead.
He said a no-deal Brexit is "hugely sub-optimal" compared to leaving with an accord, and will introduce "friction" into the economy. But he rejected the idea that it posed an existential threat.
If May's accord is thrown out on March 12, the government will ask Parliament to vote on whether it wants the U.K. to crash out with no deal. If the answer is no, Parliament will then vote on whether exit day should be extended.