U.K.'s Brexit Options Narrow as Perilous Choices Loom for May
(Bloomberg) -- The U.K.'s Brexit options are narrowing, and most of the choices are hazardous for Prime Minister Theresa May.
The European Union rejected a key part of her plan for a trade deal with the bloc on Thursday, sending her back to the drawing board with just 12 weeks to go until a divorce deal is meant to be signed.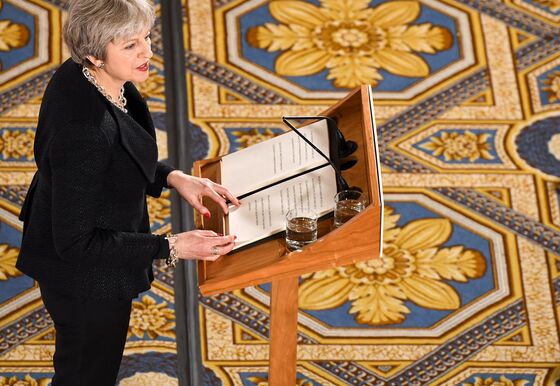 May thought her customs proposal was the best hope of getting a Brexit deal she could also sell to a divided Parliament in London. Now she's left with a range of unpalatable options:
Accept the EU's counteroffer and stay in the customs union. It would be a major U-turn for May and Brexit-backers in her party would probably try to oust her. Business would be pleased.
Postpone the hard decisions: the risk is that it might encourage Parliament to veto the divorce deal she brings back from Brussels.
An election or a second referendum: she risks losing the first, and has vowed not to hold the second.
No deal, ushering in a period of political, economic and financial chaos.
May is boxed in, with all options bringing the risk of her being ousted. The chances of Britain tumbling out of the bloc with no deal at all have gone up. The pound extended its decline on Friday and was 0.1 percent lower at $1.3093 as of 10:15 a.m. London time.
The EU's chief Brexit negotiator Michel Barnier suggested one way out of the impasse would be for the U.K. to stay inside the EU customs union. It's what the EU has long wanted as it solves some problems -- though not all -- with the tricky issue of the Irish border.
But it was a provocative comment. May has repeatedly said she wouldn't sign up to a customs union as it would prevent the U.K. striking trade deals with other countries, which Brexit-backers see as one of the main advantages of breaking free from Europe. The opposition Labour Party wants to stay in a customs union, so May could bet on picking up some Labour votes if she went down that route. Trouble is, Labour is more interested in triggering a general election that they think they could win.
Just a week ago, Brussels was offering May some political cover. Barnier welcomed the U.K.'s new Brexit plan even as he said he had some serious questions and concerns. Then, earlier this week, May said she was taking control of the Brexit process herself. She relegated the Brexit Department that has caused her trouble over the last two years in a move investors saw as a sign she was heading for a softer split than the clear separation that Brexit campaigners want.
But on Thursday Barnier made his position clear: he rejected a plan that May's team had crafted as a way of keeping as many people as possible on the U.K. side happy. May doesn't have a parliamentary majority and her Conservative Party is riven over Europe. The complex, innovative and untested model would allow Britain to strike free-trade deals with other countries, but also maintain free and easy trade with the EU.
If the premier can't persuade her own members of Parliament to back an agreement, the U.K. will be on course to crash out of the bloc with no deal on March 29 next year. Equally, unless she can agree to a blueprint that the EU also accepts, she won't have any deal to sell at all.
Barnier and Brexit Secretary Dominic Raab both said they were committed to working hard to get a deal, and would hold negotiating rounds over the summer. Barnier was encouraging about the progress made toward a future security partnership. Both sides say they want to finalize a deal in October to give the U.K. and European parliaments time to approve it before departure day.
Barnier also opened the door to further discussions on the U.K.'s proposal for solving the Irish border issue, words U.K. officials pointed to as encouraging.
But negotiations have barely progressed since March and both sides have stepped up "no-deal" contingency planning. A big part of Raab's role is preparing for the worst, and the government plans to step up its efforts over the summer. Some of the dire warnings about what no-deal could mean might also serve to encourage lawmakers to vote for whatever May brings back in the fall, rather than risking the cliff-edge.