U.K. Resists Calls for New Restrictions as Covid Surges
The U.K. will not yet be bringing back restrictions to help curb Covid cases, Health Secretary Sajid Javid said, despite a surge in infections and a rise in hospitalizations and deaths.
Javid put the onus on the general public to get vaccinated and behave responsibly, such as by wearing masks in crowded spaces, to avoid the need for further restrictive measures in the winter. He made the plea as he warned that new daily virus cases could rise to 100,000.
"We've all got a role to play," Javid said at a Downing Street press conference on Wednesday. "This pandemic is not over."
Javid struck a cautious tone as the U.K. virus picture deteriorates, with scientists saying the outlook is concerning and there is evidence of a slow uptake of booster vaccinations. He said he would not hesitate to act if pressures on the country's National Health Service became unsustainable, but that point hadn't yet been reached.
In addition to encouraging booster vaccines, Javid said the government will focus on the introduction of antiviral treatments. He announced deals to secure two new Covid-19 treatments: 480,000 courses of Merck & Co's molnupiravir and 250,000 courses of Pfizer Inc.'s PF-07321332/ritonavir.
Antivirals are used to either treat those who are infected with a virus or protect exposed people from becoming infected. The drugs are subject to approval by the U.K.'s Medicines and Healthcare Products Regulatory Agency before they can be rolled out to patients.
"We're looking closely at the data and we won't be implementing our Plan B of contingency measures at this point," Javid said. "But we'll be staying vigilant, preparing for all eventualities while strengthening our vital defenses that help us fight back against this virus."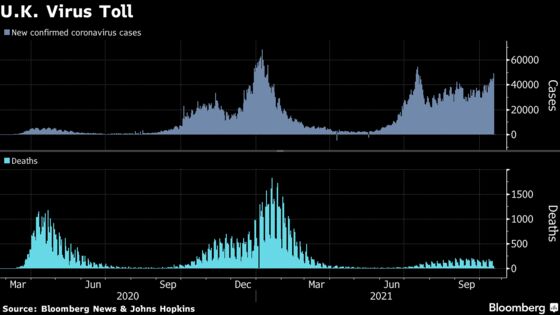 Javid said that while the link between cases, hospitalizations and deaths had been "significantly weakened" by the vaccine program, "it's not broken."
"This virus will be with us for the long term and remains a threat," he said.
Italy's prime minister Mario Draghi spoke critically of Britain's virus situation, saying the country had "abandoned all caution" and was now facing the consequences in the form of elevated cases and deaths.
Under Plan B announced by Prime Minister Boris Johnson last month, masks could be made mandatory in crowded spaces, vaccine passports could become compulsory for large events and people could once again be advised to work from home. That will only happen if the NHS is at risk of being overwhelmed, Johnson's spokesman Max Blain has said.
Ministers have ruled out a wider lockdown this winter. Yet the NHS Confederation, which speaks for the health-care system, has demanded that the government enact Plan B now.
New daily Covid-19 cases in the U.K. have persisted above 30,000 since early September. Admissions to hospitals and deaths are also creeping up. The U.K. recorded 179 deaths within 28 days of a positive test on Wednesday. 
An explosion of Covid-19 infections in U.K. schools is also prompting concern over the country's decision to wait so long to offer vaccines to adolescents. More than 8% of children in English secondary schools -- ages 11 to 16 -- tested positive for the coronavirus in the week ending Oct. 9, according to the most recent government figures. That number is eight times higher than the rate for adults and had risen about 2% in early September before schools restarted.