DUP Strikes Positive Tone as Vote Seen on Tuesday: Brexit Update
(Bloomberg) -- Prime Minister Theresa May is still fighting to get her twice-rejected Brexit deal through the British Parliament, and the most important caucus of lawmakers sounded upbeat on Friday after talks with the government.
DUP's Dodds says talks with government are "constructive"
Third vote on deal most likely on Tuesday, official says
Brexit Secretary defies May by saying he'd prefer a crash-out exit to a long delay

DUP Says Talks Are Constructive (4:30 p.m.)
DUP lawmaker Nigel Dodds said talks with the government were "constructive" as May's team has a "renewed focus" on addressing their concerns about the Irish backstop.
"We have had good discussions today, those discussions will continue over the coming period of time. We want to get a deal. We have always been of that frame of mind," he told reporters after meeting senior ministers.
"I think now the government is very focused on ensuring that the issue of the Irish backstop, the separation of Northern Ireland from the rest of the United Kingdom, that that is addressed," he said. "What is new now is there is a renewed focus in government on ensuring those issues are addressed."
The DUP has 10 lawmakers. More importantly, if the Northern Irish party is satisfied with the deal, it's likely some hardline Brexit-backing Conservatives will also fall into line.
Talks will continue as the government is expected to put the deal back to Parliament on Tuesday.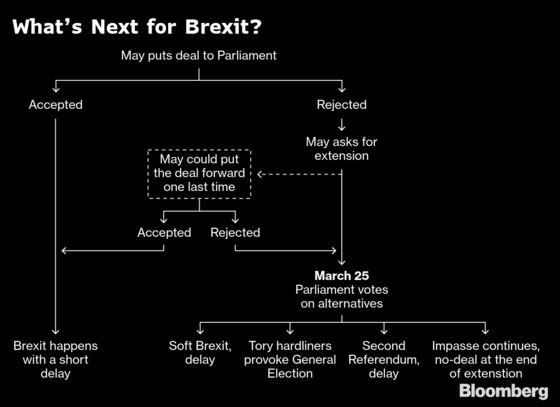 Barclay Prefers No Deal to Long Delay (3 p.m.)
Brexit Secretary Steve Barclay said that it's better for Britain to crash out of the European Union on March 29 than agree to a long delay to the U.K.'s departure, an argument that runs counter to what's now official government policy.
Barclay was one of eight members of Theresa May's cabinet to vote against the government's motion on Thursday evening to delay Brexit. Justifying his decision, he told BBC TV on Friday that while he supported the first part of the motion -- to push for a short technical extension if a deal can be approved by Parliament next week, he couldn't countenance the alternative laid out in the second half of the motion.
"That's separate from whether you just have a long extension rather than no deal and my view is longstanding," Barclay said in the Northeast Cambridgeshire district that he represents. "I support Brexit; this constituency voted in very large numbers for Brexit. We need a deal, we need to get that over the line. But if we don't have a deal we should leave with no deal."
Hammond Joins Talks with DUP, FT Says (2:50 p.m.)
Chancellor of the Exchequer Philip Hammond has joined talks between the government and the Democratic Unionist Party aimed at winning support for May's Brexit deal, the Financial Times reported. Extra spending for the region could bring Northern Irish lawmakers on board, the paper said.
French Concerned About Implications of Long Delay (12 p.m.)
A French official says there's no point extending the Brexit deadline unless there's a clear project -- such as a change of direction, a referendum or an election. And there's no point in a short extension because there's nothing to renegotiate.
But the official also raised concerns about the implications of a long extension. It's problematic to having a country still around the table and making decisions that's on its way out. He suggested there could be measures to limit the U.K.'s role in decision-making in such a scenario.
Third Vote on May's Deal Likely Tuesday: Official (11:35 a.m.)
May's Brexit deal will most likely be put to a third vote in Parliament on Tuesday, according to an official who declined to be named discussing unannounced plans.
While May's deal has already been resoundingly defeated twice in the House of Commons, her team is trying to persuade the pro-Brexit wing of her party and Northern Ireland's Democratic Unionist Party to change their minds. Cabinet ministers are meeting with the DUP on Friday as part of those efforts, the official said.
May has given Parliament an ultimatum of March 20 to approve a Brexit deal. If it does so, she'll ask the EU for a short extension. If it doesn't, the premier has warned that a much longer extension will be required, and the U.K. will have to participate in elections for the European Parliament in May.
Early signs are the Tory Brexiteers, at least, will be hard to persuade (see 9 a.m. post).

Business Should Still Prepare for No-Deal (11:10 a.m.)
Notwithstanding Thursday evening's resounding vote by the House of Commons to delay Brexit, companies should continue to prepare for the country to crash out of the European Union on March 29, said Prime Minister Theresa May's spokeswoman, Alison Donnelly.
"The government is continuing to prepare for a no-deal scenario and that is what businesses should also continue to do," Donnelly said. "Obviously last night set about a process whereby if the House finds a way to support a deal by March 20, we will then seek a short extension at the end of next week at European Council."
Donnelly's comments reflect that delaying Brexit isn't entirely in the U.K.'s control: The EU's other 27 members have to agree to an extension too.


EU's Hogan Calls U.K. Tariff Plan 'Political Stunt' (10:30 a.m.)
Irishman Phil Hogan, the EU commissioner for agriculture, called the U.K.'s tariffs plan "a political stunt" to weaken European support for Ireland. It also breaches WTO rules, Hogan said in Dublin. On a possible prolongation of the Brexit process, Hogan said he would prefer a short extension to force negotiations, although he accepted it could be something longer.
Brexiteers Don't See Irish Backstop Escape Route (9 a.m.)
Pro-Brexit Conservatives said they don't see the Vienna Convention as a viable escape route from so-called Irish backstop -- the bit of May's deal they hate most.
Since the deal was defeated for a second time on Tuesday, May's team has been in talks with Tory rebels and Northern Ireland's Democratic Unionist Party on what extra legal reassurances could be provided to persuade them to back the deal in a third vote.
Efforts have focused on Article 62 of the Vienna Convention on international treaties, spelling out how countries can unilaterally leave an agreement.
But the Brexiteer's panel of legal experts, led by the Tory MP Bill Cash, issued its verdict on Friday, saying Attorney General Geoffrey Cox's understanding of Article 62 is "clearly erroneous."
"Given the high burden that a state must meet to use it, and given the extreme reluctance of international courts and tribunals to accept it," the lawyers wrote, it "supplies no assurance whatsoever that the U.K. could terminate the Withdrawal Agreement in a lawful manner.''

EU Signals a Delay Could Be Over a Year (8:50 a.m.)
The European Union has indicated that if Parliament doesn't pass May's Brexit deal this month, it could force the U.K. into an extension of more than a year, according to the prime minister's de facto deputy, David Lidington
Asked on BBC radio if a long delay could be many months, or over a year, Lidington said: "Those are the indications" from EU institutions and some member states.
He urged MPs to back the deal, which is expected to come back for a third vote next week.
"The great virtue of the deal on the table is that it has been agreed not just by the British government, it's been agreed by all the 27 other governments around the EU," he said. "For that reason I hope that MPs of all parties will be this weekend just reflecting on the way forward."