No Hot Desking: the U.K. Plan for the Workplace After Lockdown
U.K. businesses are being told to avoid hot desking and keep office windows open as Prime Minister Boris Johnson tries to revive an economy reeling from the coronavirus lockdown by getting the country back to work.
The Department for Business, Energy and Industrial Strategy said on Monday firms should first carry out risk assessments, warning them they have a "legal responsibility" to protect workers from threats to their health. Companies with more than 50 employees are expected to publish the results of those deliberations, the government said.
Johnson is trying to strike a delicate balance between kick-starting Britain's economy, which faces its deepest recession in centuries due to the lockdown, and avoiding a second spike of the virus, which has seen the U.K. record the worst death toll in Europe. On Monday, the prime minister set out a plan to ease the restrictions, but unions and opposition politicians said it would be wrong for employees to return to work without adequate protection against the virus.
"The guidance signals big changes for the way that many businesses operate," said Adam Marshall, director-general of the British Chambers of Commerce. "Some firms will now need time to plan and speak to their employees so that they can return to work safely."
In a series of documents, BEIS set out the steps firms can take to manage the risk posed by the virus. Here's a selection of those guidelines:
Employers are advised to stagger arrival and departure times, and provide extra parking. They will need to limit the number of people in elevators, minimize contact between staff, and provide hand sanitizer at entrances and in meeting rooms.
Hot desking and face-to-face meetings will be discouraged. Co-workers may have to face away from each other or sit side-by-side instead of face-to-face. Windows should be opened to encourage ventilation.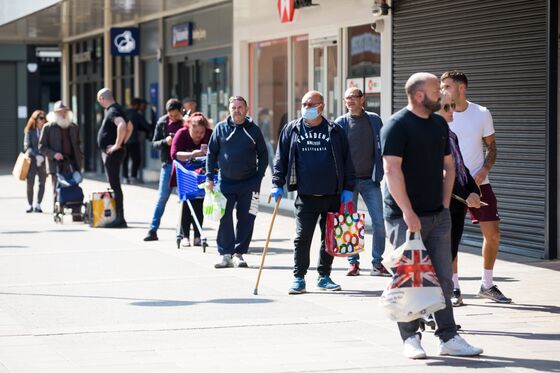 Retailers will need to limit the number of customers in stores so that 2-meter (6.5 feet) social distancing can be maintained. The government says customers should shop alone where possible.
Where it is impossible to move workstations further apart, firms should install screens to separate people from one another.
Employers should provide packaged meals or similar to avoid opening staff canteens, and they should consider using social distancing marking in common areas such as toilets and changing rooms, where queues typically form.
Restaurants should operate as takeaway only, with bar and seated areas closed. Interaction between kitchen staff and other employees should also be restricted.
Builders will have to use consistent pairs of workers for two-people jobs like lifting heavy objects. Shared equipment like forklifts or pallet trucks will need to be cleaned regularly.
The government says tradespeople shouldn't carry out work in a household which is isolating because one or more family members has symptoms of coronavirus, or where someone has been advised to shield. They should also call ahead and discuss how risk can be reduced, and ask that households leave all internal doors open to minimize contact with door handles.
Employers were advised to use protective equipment only if they would normally do so, or in clinical settings. "If your risk assessment does show that PPE is required, then you must provide this PPE free of charge to workers who need it," one of the papers said. "Any PPE provided must fit properly."
Sharing vehicles with colleagues should be avoided if possible. Drivers should also open the windows to ensure good ventilation.